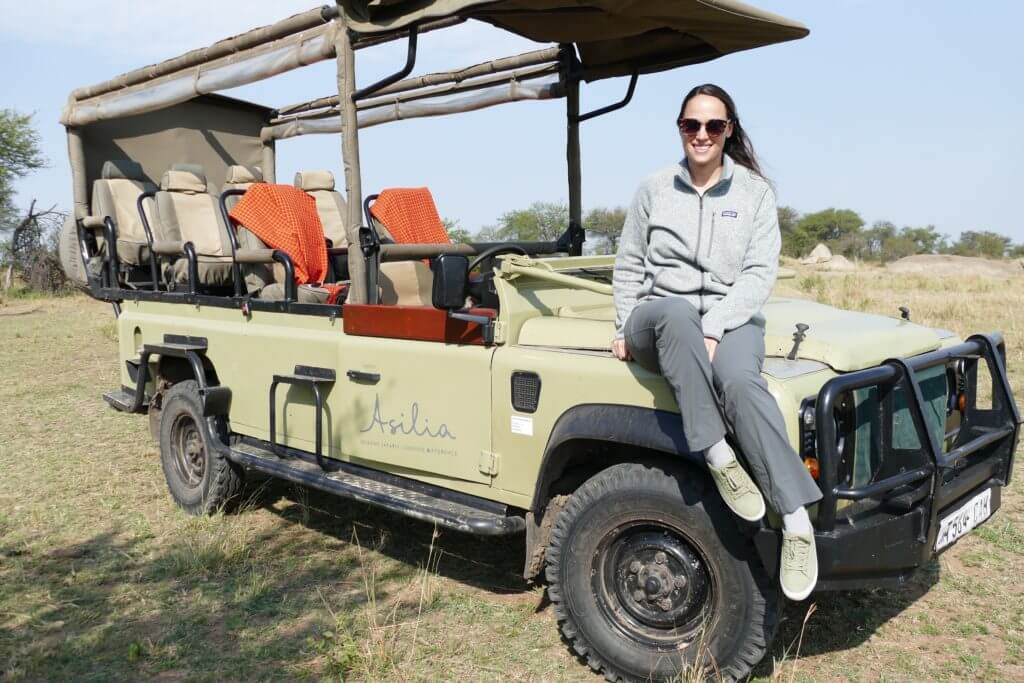 In South Africa, our game drives were roughly three to four hours and we weren't too far from the lodge. In Tanzania, our game drives ranged from two to seven hours (!) so it was important to come fully equipped. We did a ton of research prior to our first safari and learned a lot so this time we felt much more prepared.
First, let's talk about the safari vehicles. These jeeps are incredible!  They are fully stocked with blankets and hot water heaters for the morning and sunscreen and bug spray for the daytime. Additionally, each truck is fully outfitted with a huge custom cooler that houses your coffee and breakfast for the morning and your happy hour drinks / snacks for the sundowners. Whoever made these jeeps and stocks them really thought of everything.
Travel Tip: If you are unsure of what your jeeps come stocked with, I recommend reaching out to your camp ahead of time to make sure you don't forget anything.
Once you arrive to your safari lodge, you are stuck with what came with you – for better or for worse! Odds are that you're located in the middle of the bush and so it's best to do your homework and know that you have what you need. Packing for safari has to be strategic because even though there is a lot that's needed, you are quite limited on space. Lucky for you, I'm here to help.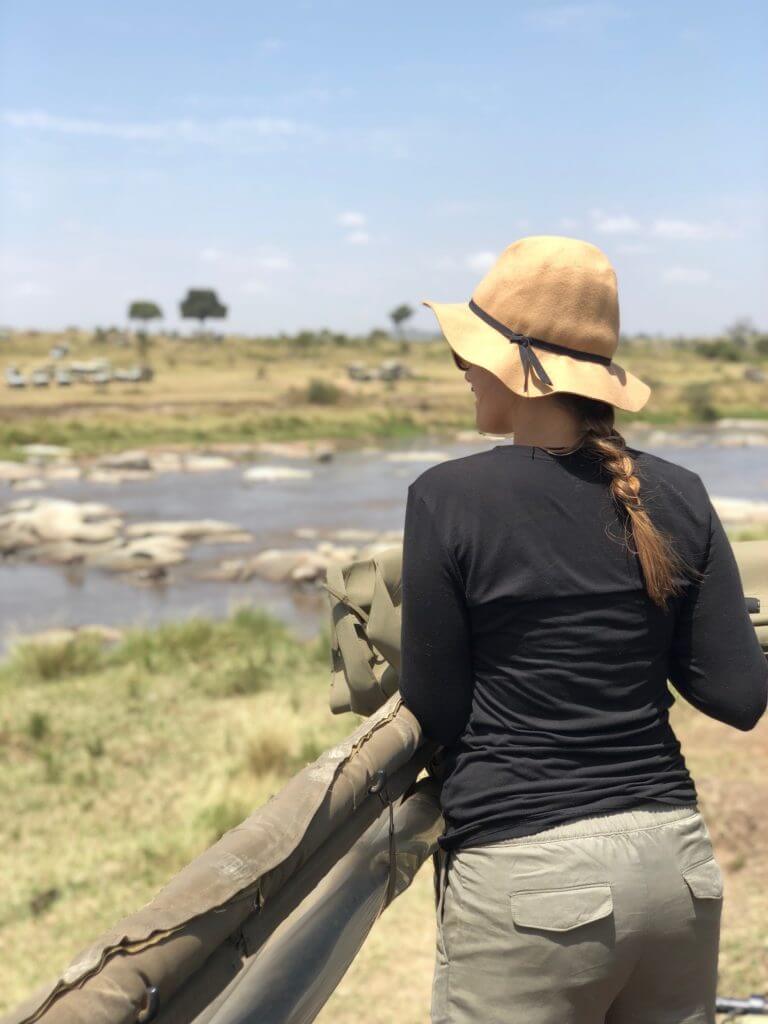 5 Most Essential Items to Pack for a Safari
Electronic Essentials: This includes backup batteries, chargers & SD cards for every camera and phone you have. I also brought portable chargers but lucked out that our Jeep's were equipped with plugs for charging (this wasn't the case on our first safari so I highly recommend a backup). Given that you could be out in the jeeps for hours on end, it's imperative to have everything fully charged, at all times.
Sun protection: Oh baby is this one important! It never ceases to amaze me how quickly the weather in Africa shifts from a chilly, dark morning to a scalding hot afternoon. Most of the jeeps are open on the top and sides, providing no shade. Top that with the fact that you're often times sitting idle baking in the sun and you can see why sun protection is so important. I packed hats (both ball caps and sun hats), sunglasses & sunscreen as well as light weight tops that have sleeved protection (similar to a shirt you may wear on a boat).
Layers: The key to packing for a safari is to take layers. Pack whatever layers you think you'll wear, then add in a few more. To give you an example, I left our tent every morning in pants, long sleeves, a jacket and a beanie. By the time we returned for lunch, I was in a tank top and sunglasses.  The weather can be quite volatile and unpredictable so it's best to have options. I packed 2-3 of everything so that I could mix and match. Most camps provide complimentary laundry which is a lifesaver since everything gets dusty and sweaty pretty easily.
Medicine: Perhaps the most important thing to pack on your safari (and in any foreign country) is a variety of medicine. I made sure that we have a few of everything – cold and flu, stomach ache, allergy, sleeping aids, headache, nausea, you name it. Aside from the standard over-the-counter meds, we had the doctor prescribed ones just in case. We made sure to divide our stash between two bags (1 packed, 1 carry on) in case anything was lost. Let me tell you – better safe than sorry!
A coozie; I'm kidding! Actually, not really. We both had Yeti water bottles which served to keep our coffee hot and our water chilly. Once happy hour rolled around, we would crack open an African beer (remember I said that they keep them in the cooler) and wrap a coozie around them to keep the beers cold and our hands dry. It actually was a handy thing to pack.