When we returned from our incredible honeymoon safari in 2017 after two weeks in South Africa, I did my best to share my tips and recommendations for when you want to plan a trip to Africa. Unlike planning a vacation to Europe or South America (or even Asia), Africa is pretty complex. First things first, have fun! Africa is massive with endless opportunities for vacation styles. Be open minded and go outside of your comfort zone. This is likely a once in a lifetime for most of us; take advantage of that.
Per my previous post, I want to share my 6 tips for the planning portion of my last post. These held true while planning our honeymoon and Tanzania proved to be no different in terms of the initial planning process:
1. Start by picking a country. We knew that we wanted to visit Tanzania on this trip to witness The Great Migration, one of the most incredible experiences on our planet Earth. This made planning much easier. We already have decided that next time (hopefully 2021) we want to visit Zambia and Botswana for their well-known and well respected nature reserves. Each country is vastly different in its offerings (and the price) so do your homework.
2. Said chosen country determines the time of year to go. Again, since we knew that we wanted to see The Great Migration, we were left with a window of July to October. We always like to travel in shoulder season (lower costs, cheaper flights, milder weather) and we tried our best to maximize taking vacation days by coupling this trip with the Labor Day holiday. We actually went to South Africa the exact same time of year and it was perfect. For our next trip, we would like to visit in a different season to experience a different kind of Africa. We hear Botswana in late May is just lovely.
3. Know your budget. I cannot stress this enough. Safaris are expensive and there is just now way around it. My recommendation would be to understand what your desired trip will cost and save up until you can afford to go. A difference of $100 a night in a lodge can make a totally different trip. Be realistic about what you can spend.Given that we have been twice, I can assure you that this type of trip isn't worth trying to "cut corners" to save a few here and there. We used points to fly both times (saved up for about two years each time) so that we could spend our cash on the safari experience. I will say that Tanzania was more expensive than South Africa but that could be because we went at peak season. Either way, it is important to be realistic with your budget so you can plan accordingly.
4. Book your international flights early. We found that most safari lodges (and travel guides) would not even allow us to book a room until we had proof of international flights. Because most of the lodges we were looking at were less than 10 rooms, it wouldn't be fair to "hold" a room in place of someone else. This part tends to be the trickiest and most frustrating to me but it will just take some patience and flexibility. We ended up booking our trip for one extra night because we simply could not find a decent flight home on the day we initially wanted to return. I used sights like ITA Matrix and set Kayak reminders to let technology work for me!
5. Find reputable travel agency to plan. This is perhaps the most important piece of advice that I could possibly give you. Ask around, do your homework and make sure that you are using a travel agency that comes highly recommended and with a perfect track record. We used Go2Africa for our South Africa trip and then Go2Africa and Asilia Africa for Tanzania. Our first trip went absolutely flawlessly and our second was pretty darn close. We did have a logistical mix up (travel agent error) which was incredibly frustrating at the time but the agency was able to remedy the situation and refund us for our troubles. I would not use this specific agent again but I would use our first one and I would recommend them. There are quite a few well known, reputable agencies out there so be sure to select the best one you can find.
6. Narrow down your "want" list. With hundreds (if not more) of lodge options, it is important to do your own research and be very clear and concise with what you are hoping to get out of the safari, what type of accommodations you want, etc. For example, do you want a luxurious feeling lodge with air conditioning and huge king beds and a pool with a spa? Or do you want to feel like you're "in the action" and stay at a tented camp with limited resources? Do you want a family friendly lodge or would you prefer adults only? Do you want to stay at a bigger camp with more people or at a smaller, more intimate camp? Do you need a day before and after the big international flights to acclimate? There is much to consider and given how much you'll be spending, take the time to think about this.
Traveler Tip: Per my experience, it is well worth it to visit multiple camps if you have the time. I would say that if can spend 3 nights at one camp and 3 at another, you will really appreciate the differences.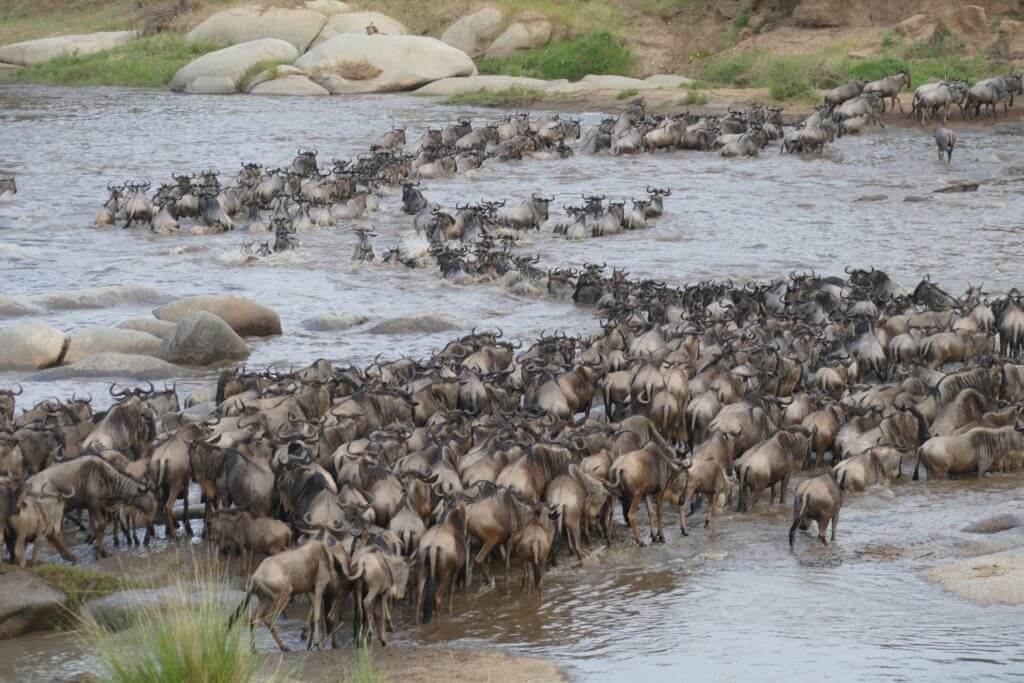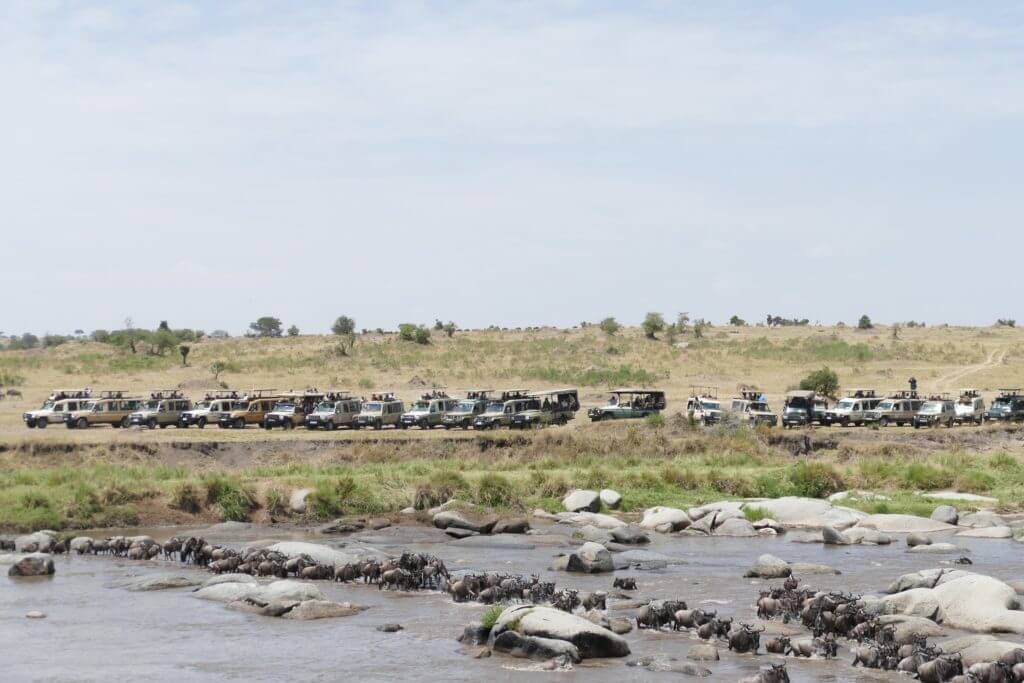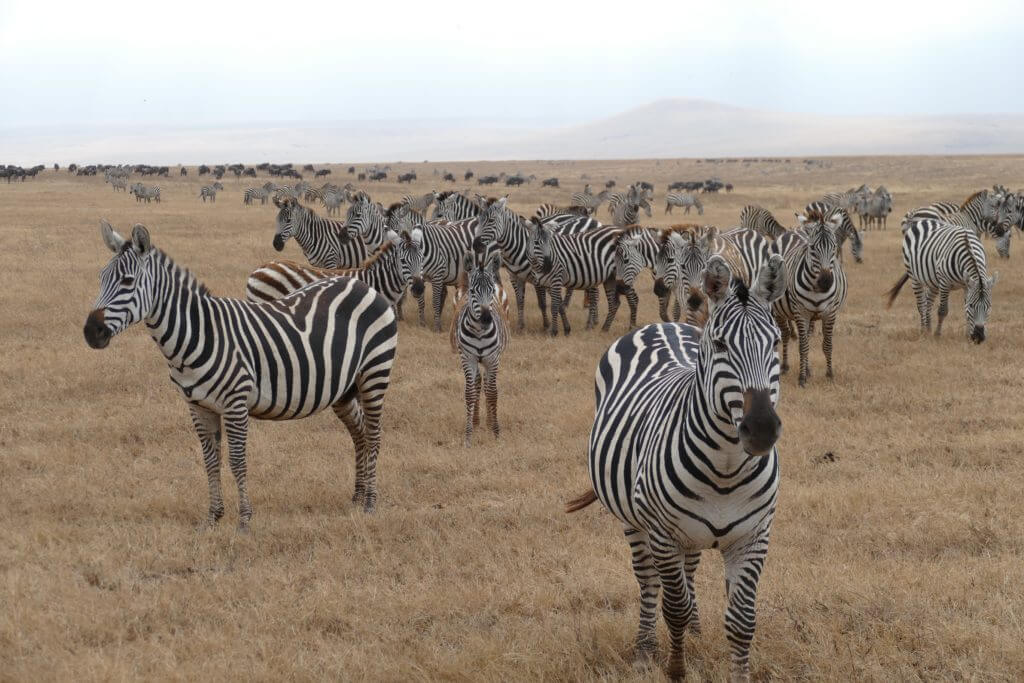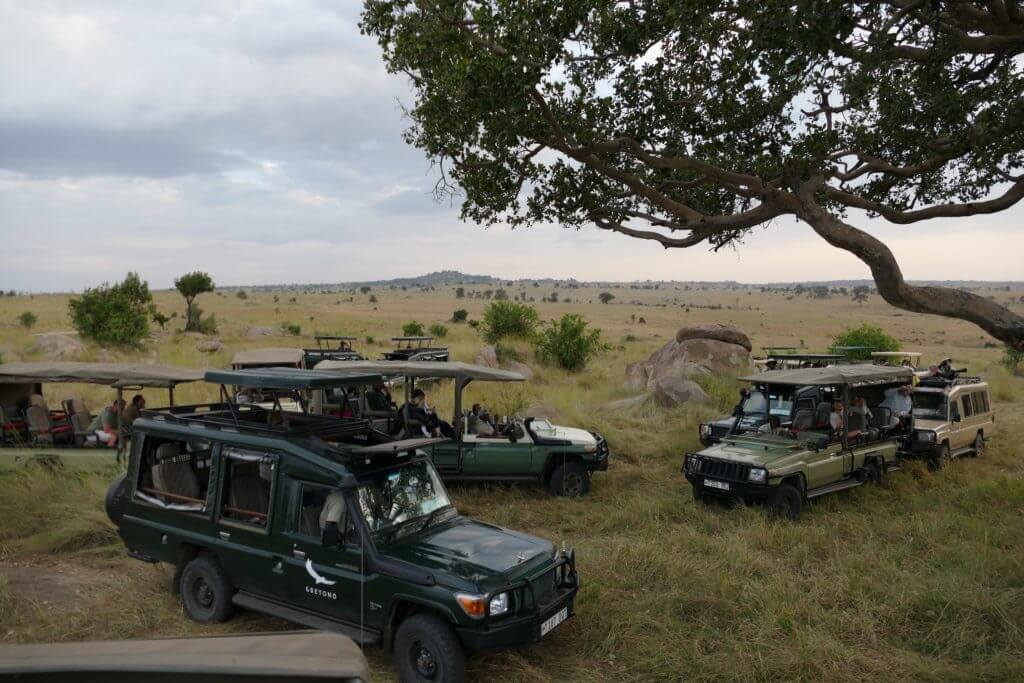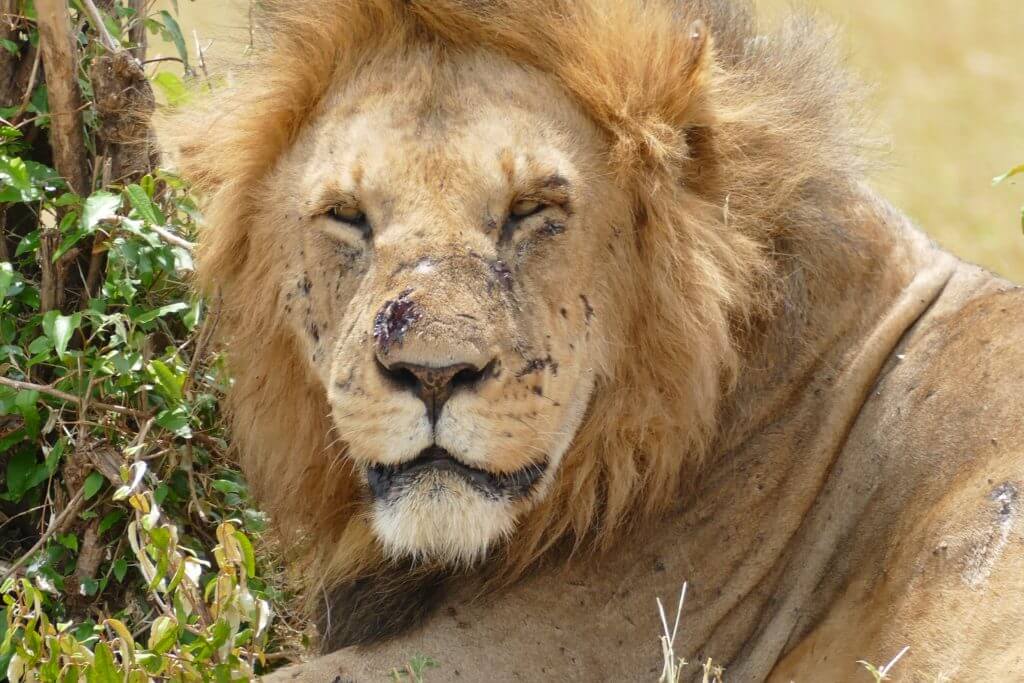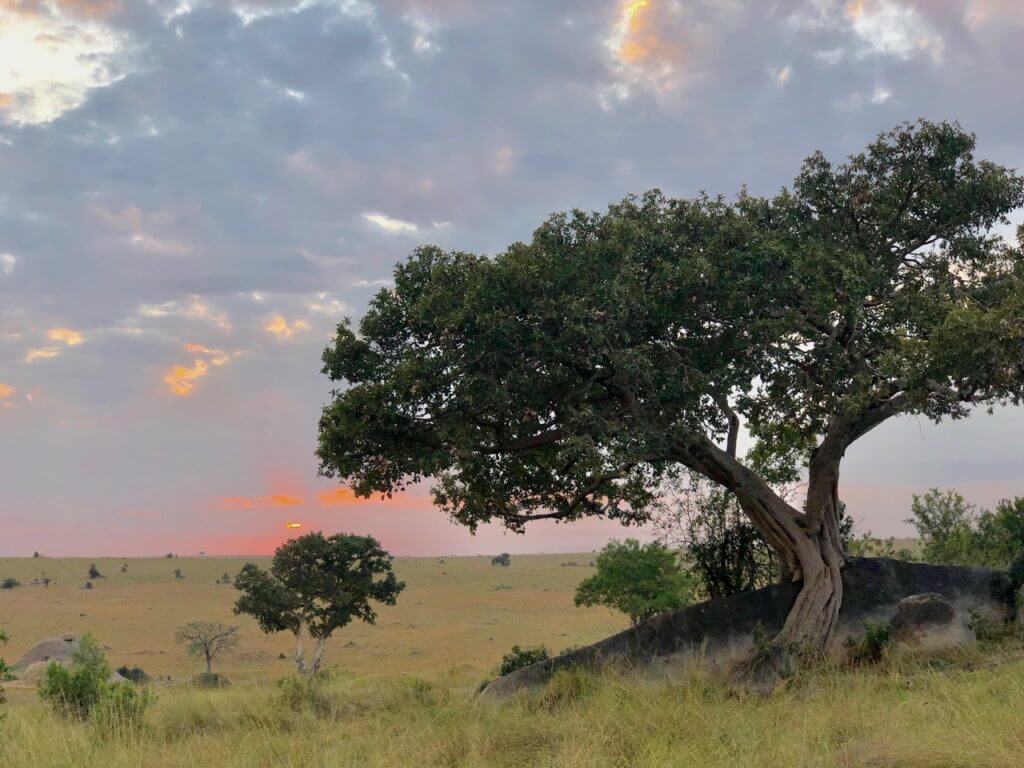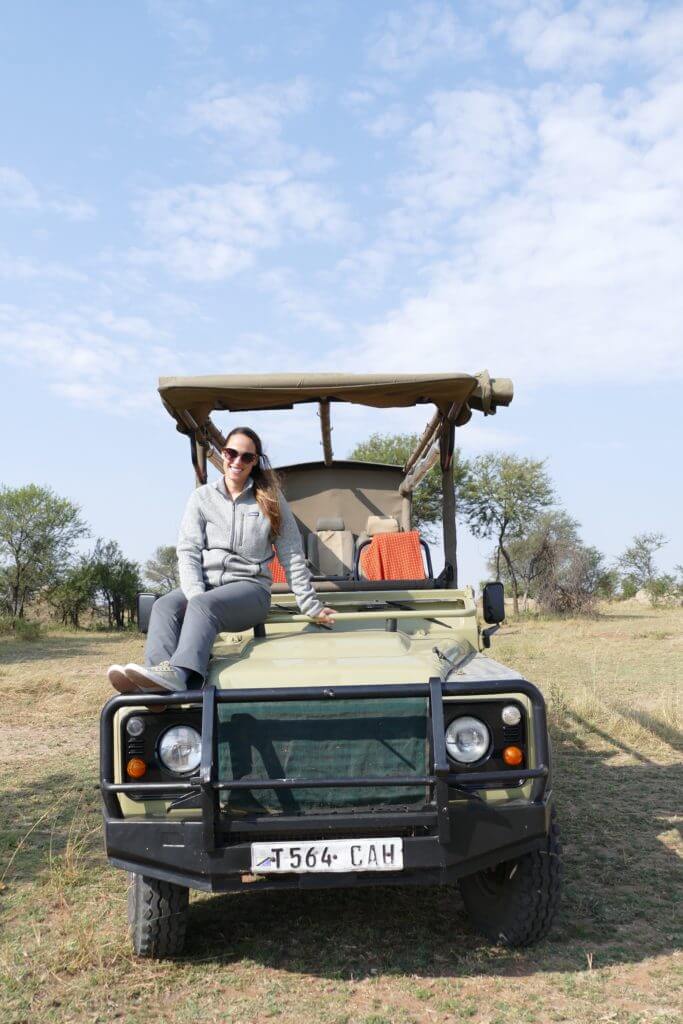 All of this said, our experience in Tanzania and in South Africa were incredibly different. When we got back home the first question everyone asked us was "which country did you like better?" Honestly it is too difficult to choose as the two are so drastically different. In South Africa, for example, we experienced a cosmopolitan city, a wine country and a safari all in the same trip. We essentially had three vacations in one. In Tanzania, however, we experienced two different safari camps and one relaxing beach vacation. The scenery and the style trip was very different. In South Africa we saw two lions, a small herd of elephants, a pair of leopards, etc. In Tanzania we saw hundreds of zebras, thousands of wildebeest and multiple herds of elephants and prides of lions. The quantities of animals that we saw – all interacting – was mind-blowing. It truly felt like we were in an episode of National Geographic!
Plus, let's no forget that South Africa was both our honeymoon and our first time to Africa. The anticipation was sky high and we were in total awe at every single moment. We had no idea what to expect. The trip hit every single box for us and was without a doubt a 10/10. Fast forward two years later to Tanzania where we were returning to Africa, knew what to expect (and had very high expectations) and had done a lot more research. Though our trip was not as flawless as our first one, we still left on a total high and I would say the trip was also a 10/10. Different yet equally amazing.
One thing that did not change? The people. Oh my goodness, I cannot even put into words how much we loved these people. They live in a challenging third world country where crime is rampant, the government is unstable, money is minimal and danger is all around. Somehow, through all of that, they are the kindest, most loving, most genuine group of people I've ever met. They have hearts of gold and are so grateful for what they do have. There are many, many lessons that we could all learn from them.
Who's going on a safari soon?!