Let me start by saying that going on an African safari is hands down, without a doubt, the most amazing experience I have ever had in my life. Ever. It is worth every single penny and six months post-trip, I am still constantly dreaming of the day I get to return. It's that good y'all.
I'll back it up for you…going "on safari" is one of those things I had always dreamed of, but I wasn't even sure what it meant. I always had so many questions. Do you stay in tents? How close are you to the animals? What's the vibe like? Why are they so expensive? Will I be scared?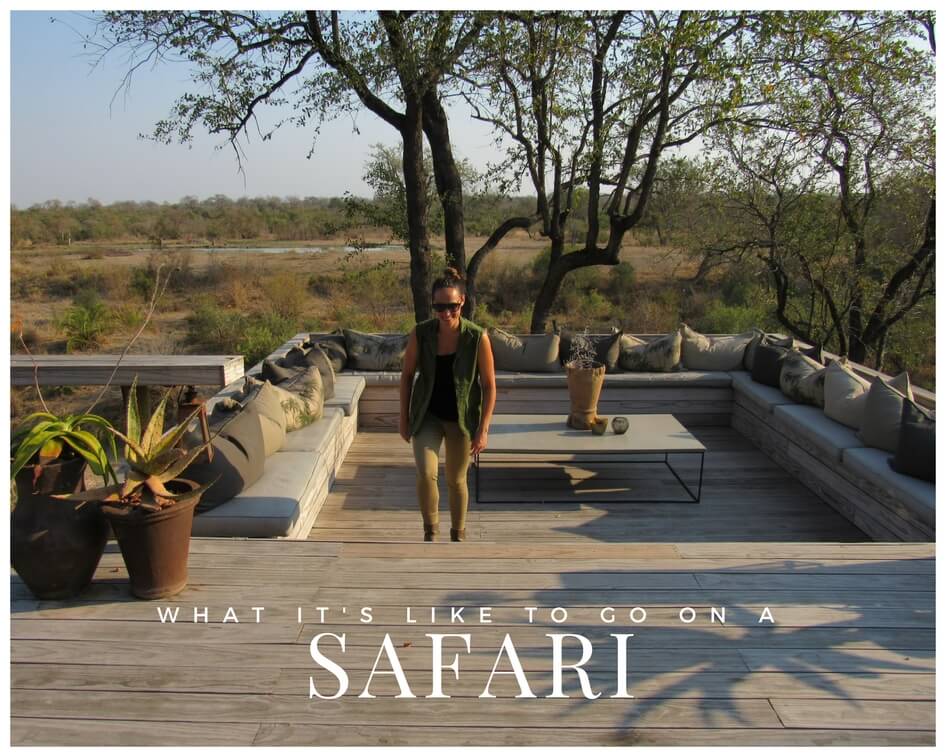 So today I'm going to share with you my personal experience of going on a safari and what it was like for me. I could seriously write a novel about our experience but I'll try to break it down into a few key points to keep it simple for you.
Common Safari Lingo
Lodge = safari accommodations (could be a massive tent on stilts, an actual hotel looking lodge or individual suites that look like huts, like ours)
The bush = the land the animals live on (kind of like saying a jungle, but just in a different area)
A drive = the hours that you're in the jeep, out in the bush, searching for animals
Guide = the jeep driver, he tells you facts, stories, etc. about the area. Ours literally knew everything and it was fascinating. You'll eat meals with them and get to know them really well.
Tracker = the guy who sits high up on the front of the jeep. He likely grew up in the area and is highly familiar with it. He is basically a total badass ninja and can spot animal prints from feet away and has no fear. Ours was stampeded by an elephant years ago but wasn't scared to keep tracking. Like I said, a total badass.
Sundowner = African happy hour. About 2/3 of the way through the evening drive, our guide would pull over into an open area where everyone gets off, stretches their legs & has a happy hour drink and snacks. The jeeps are equipped with full bars and snacks. We did this during the morning drive also but with coffee and snacks. Our guide's sundowner of choice was gin + tonic.
Watering Hole = A pond. Or lake. They're essentially small bodies of water where the animals gather to drink water, to cool off, to frolic. We would often spot hippos, rhinos, warthogs, monkeys, and other animals near watering holes. You're hard pressed not to see something there.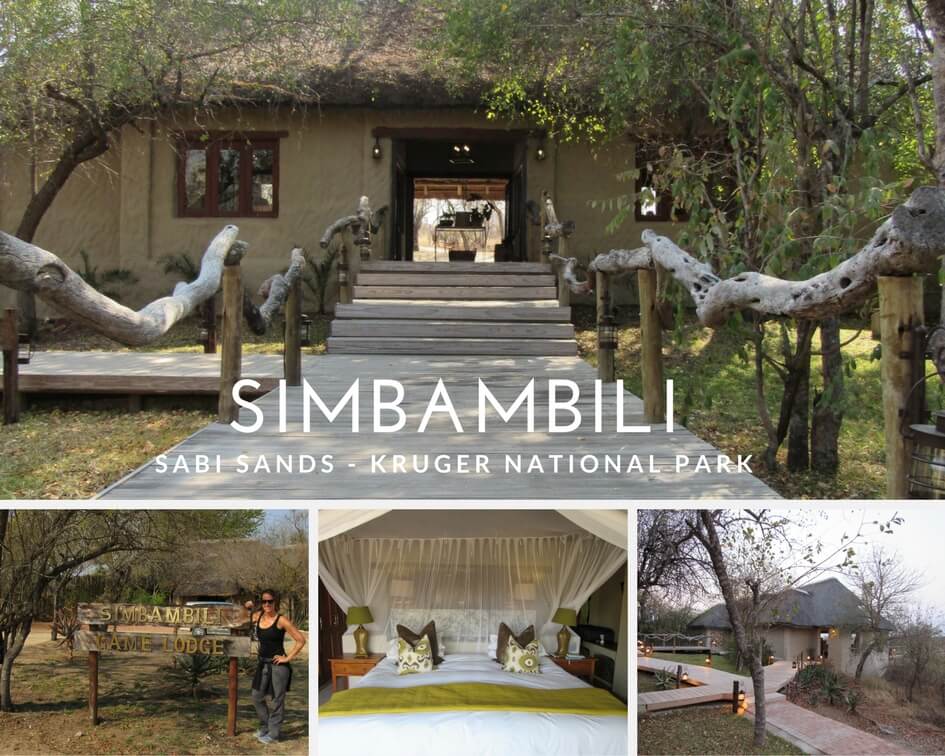 Your days are both busy + calm.
Basically, here's the daily run down:
5:00AM: Wake-up call (knock on your door); change into safari clothes, sip on a warm coffee or tea waiting for you in the lodge along with some light snacks; make sure you've got your camera. Hop onto jeep where thick, warm blankets are waiting for you. The air is unbelievably fresh and there is a crisp, calm feeling in the air.
5:30AM – 8:30AM: Your morning drive. We had 4 people (the same each drive) in our jeep and the guide is driving around while the tracker is looking for footprints, blood, droppings, etc. – anything to help identify what animal has been here. You are literally tracking the animals to go find them. The early morning drives are great because it's a new day, the bush is calm, it's still cool out and many of the animals are feeding (remember, the cats are all nocturnal). Some of the best sightings we had were within the first 45 minutes of our morning drive.
8:30AM – 5:30PM: This is your down time. It sounds like a lot but I assure you it flies by. We had breakfast upon returning to the lodge (1 hour), immediately upload all of our pictures to our computer & "ooh" and "ahh" over our captures (1 hour), spend time reading and lounging by our plunge pool (2 hours), head to the main lodge for a delicious lunch overlooking the watering hole (1.5 hours), then either hit the gym or the spa (1 hour). By the time you add all of that up, take a shower, get all of your things organized and rest for a few minutes, it's safari time again!
5:30PM -8:30PM: Your evening drive. Our same 4 people hopped in and by the evening, you're super excited to follow up with what animals you were tracking that morning. It truly becomes a game of hide & seek! There's a restlessness on the evening drives that gives a bit of added excitement – if the animals haven't eaten yet, they're in full on hunting mode. Many are cooling off in watering holes so we spotted a lot during these drives also. Post-sundowners your drive is in pitch black. It's so incredible to see how wide and vast the sky looks in a place like the bush, where there is no light pollution and minimal noise. It's just spectacular.
8:30PM – 11:30PM: Dinner events. Each night dinner was a different theme, which always kept us guessing. One night we had a boma (African bonfire type), one night we had a fireside dinner IN the bush (yup, armed guards and all!), one night we had a full-service restaurant-style dinner on our back deck overlooking the watering hole, where we could hear lions roaring. Every single meal (breakfast and lunch too) was in a different location, with a different theme, and different food. We'd eat as a group, tell stories, talk about the day and learn about our new friends. After one too many cocktails, we would all head back to our rooms, eager to repeat it all the next day!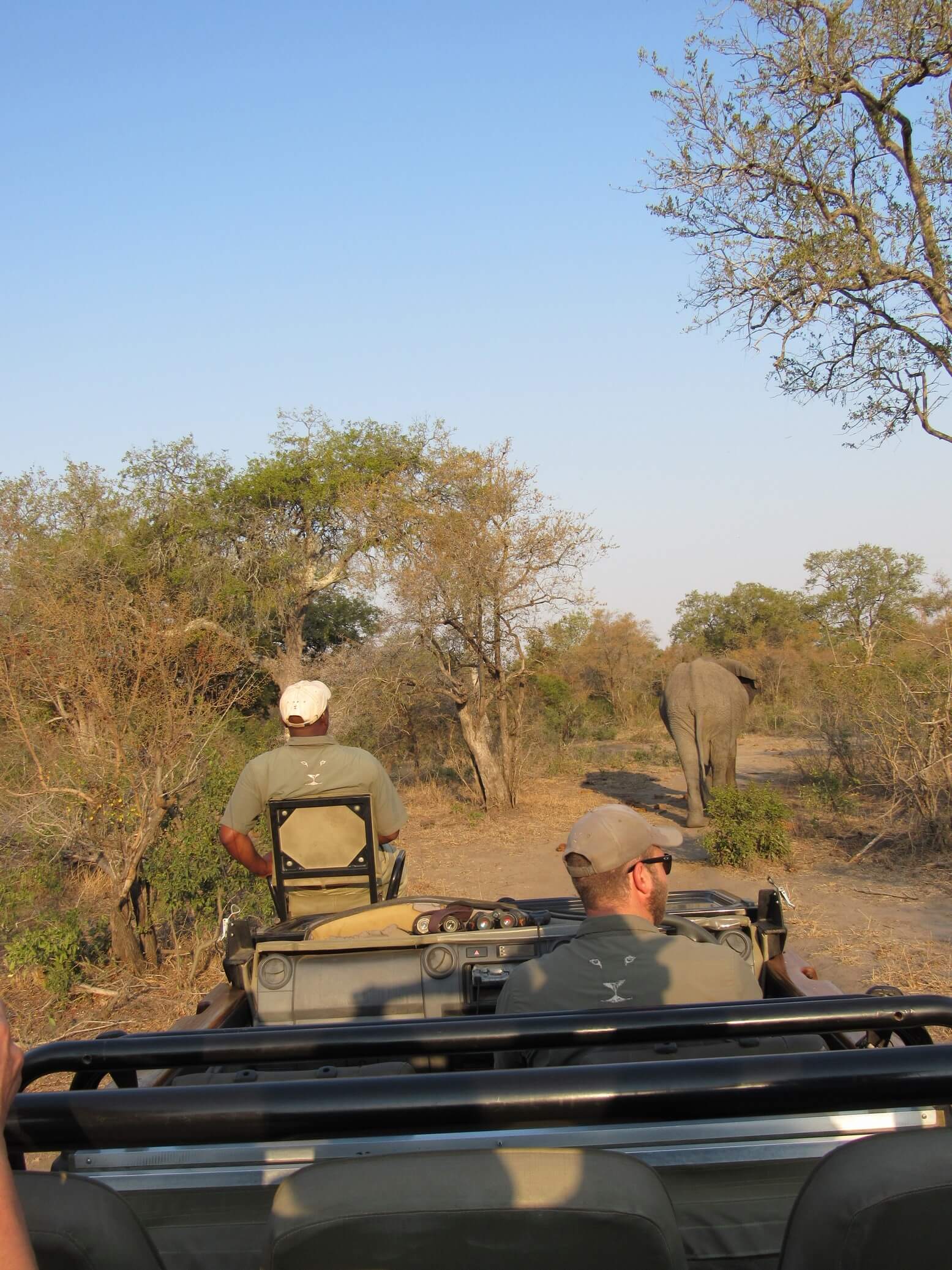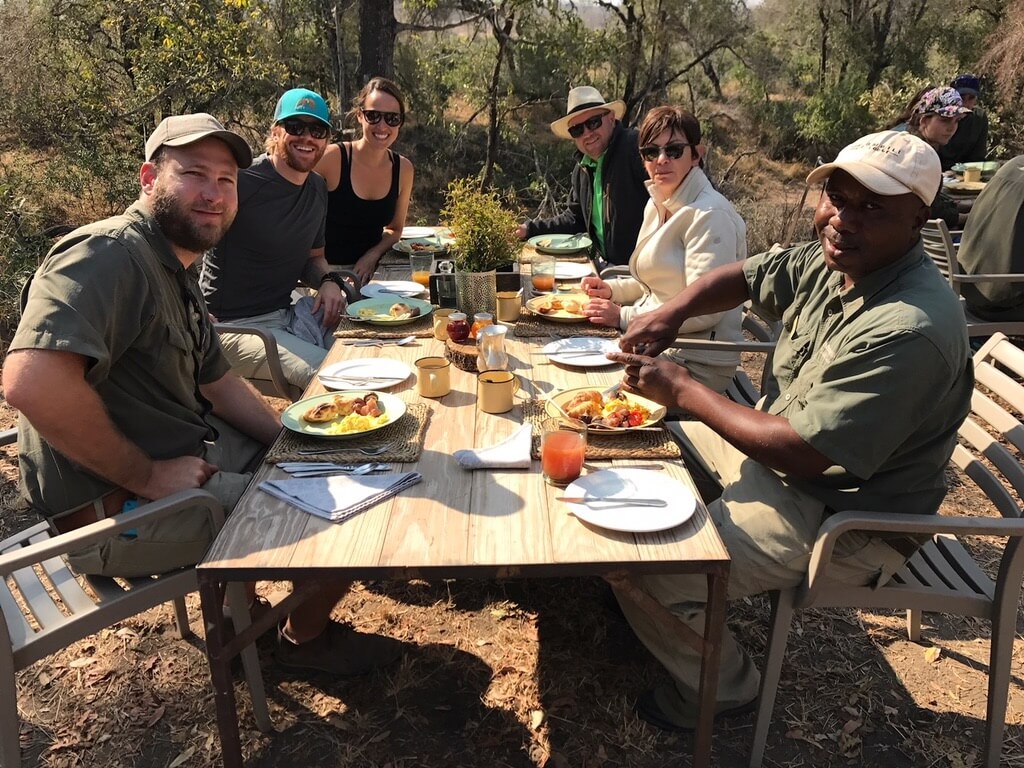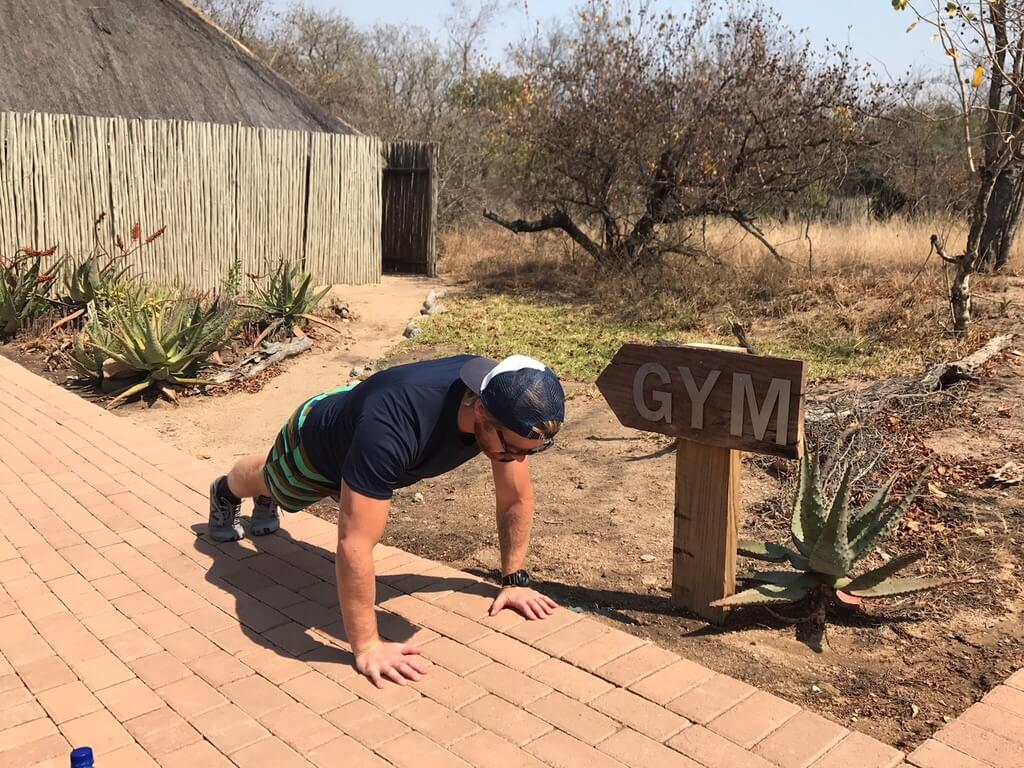 Time of year is so important.
One of our biggest challenges while planning our safari was what time of year to go. Like many foreign locations, safari seasons are categorized by "wet" and "dry". There are many benefits to both. Wet season, Jan – March, in Kruger Park is ideal because the grass is green, the bush is lush, the animals are out & there are baby animals too. The downside is it's hot (like 90+) and more likely to rain. Dry season, July – Sept, in Kruger Park is ideal because the bush is sparse (easier to spot animals), the watering holes are full and the climate is much better. We went back and forth between the two, but ultimately decided that September was best. Best decision ever – it was cool in the morning/evenings and hot during the day. We would have pants/jacket/beanie on during our morning drive and be in bathing suits poolside after lunch. We saw so many animals that I can't imagine we would have found with 6' tall thick grass. Personally, I recommend September for your first trip, though I would love to see what the bush looks like during wet season.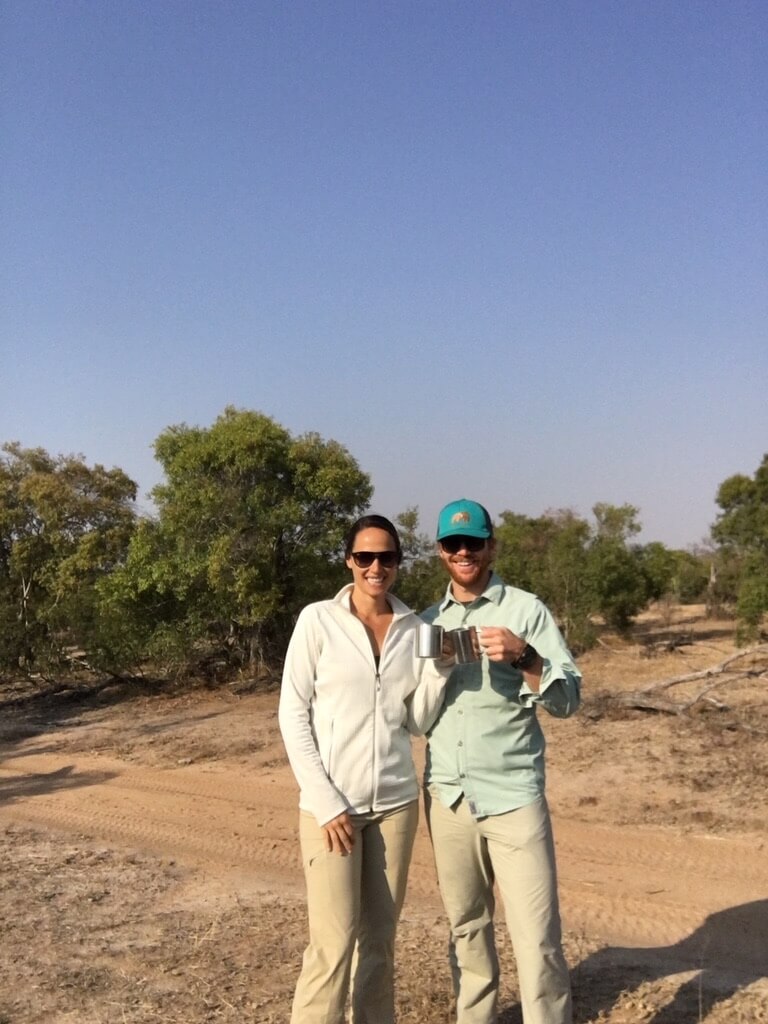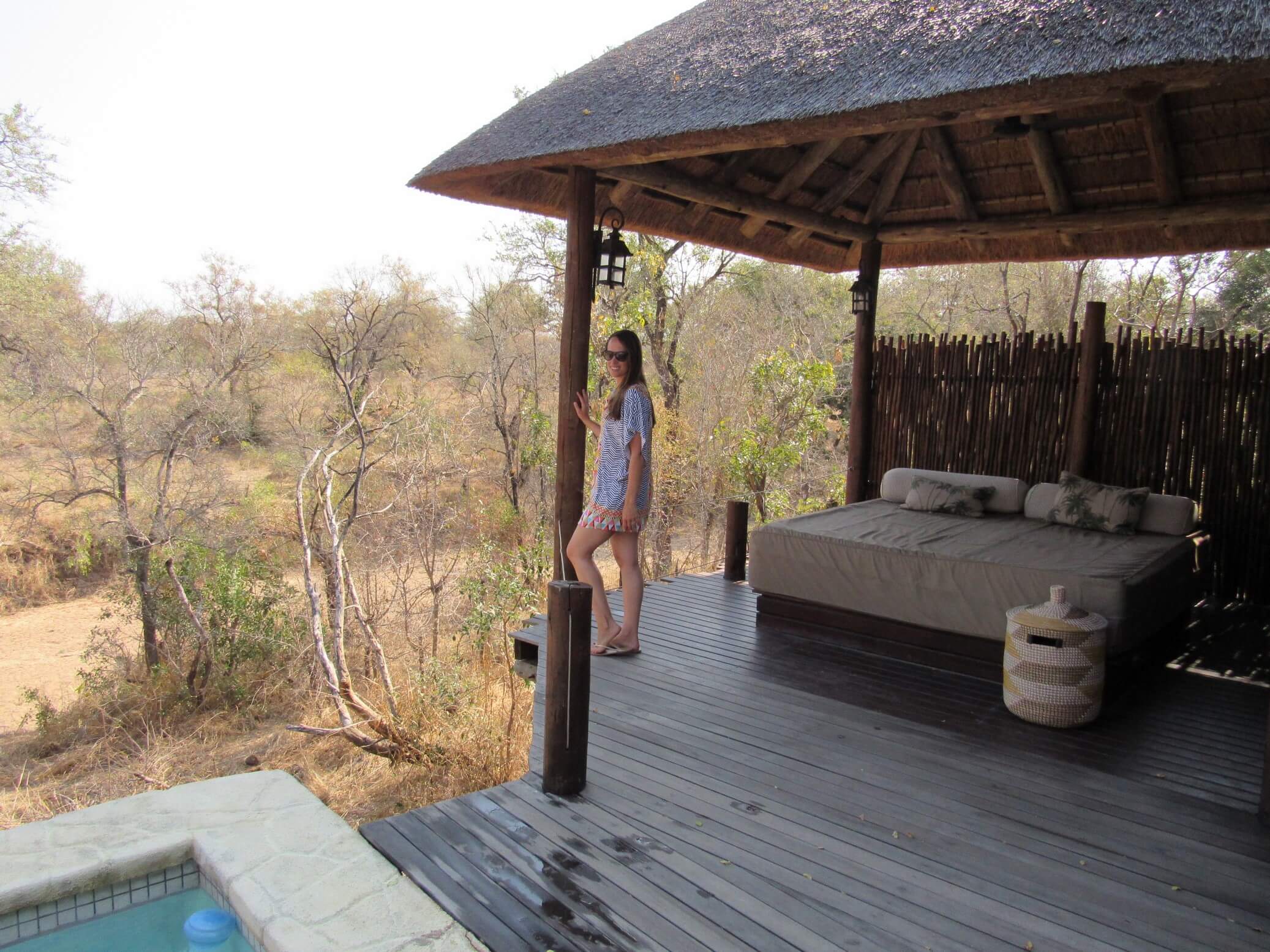 You'll leave having a new respect for animals.
Let me start by saying that I am a HUGE animal lover. But the magic of a safari is that whether you're obsessed with them or you're "meh" about animals, you will leave with a newfound love and respect for them. Nature is fascinating. It's truly survival of the fittest out there and I cannot even describe the thrill that comes with seeing an animal in its element. Not in a zoo, but in the wild. We were fortunate enough to spot "The Big Five", which consists of elephant, lion, leopard, buffalo & rhino. We also saw warthogs, zebras, hyenas, kudu, giraffes, monkeys, birds, snakes and more. We saw leopards mating (unbelievable!) and hyenas hunting and leopards feeding and rhinos playing. I left with such admiration for these animals and for those people in Africa trying to protect them.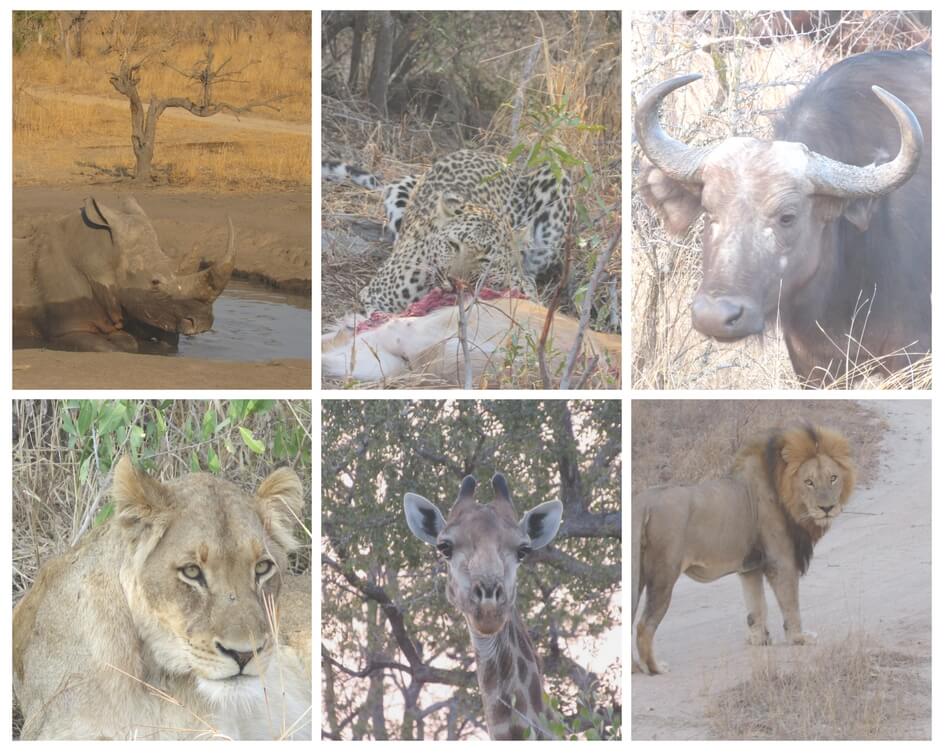 The service is top notch.
From the moment we booked our safari trip via Go2Africa, we knew that this was no ordinary trip. Our lodge (this is what safari "hotels" are called as they're basically small camps). We received a questionnaire asking about our food preferences – vegan, gluten free, etc. – and any other specifics they should know about (honeymoon!). To say these lodges are accommodating is a huge understatement. They are here to serve you and will do any and everything they can to make you feel like you are the only guest in the place. In fact, when we arrived to the lodge from the airport, there were 6 staff members, including our guide, our tracker, our butler and 2 management members waiting for us outside (literally, standing waiting for us to pull up) with fresh towels, a refreshing drink & we were greeted with "Hello Mr. and Mrs. Kozmor, we are so excited that you're spending part of your honeymoon with us. How was your flight from Cape Town?". Damn, now that's service. From fresh drawn post-drive bubble baths to surprise bottles of champagne to our favorite meals waiting for us – the level of service was unlike anything I have ever experienced in my life.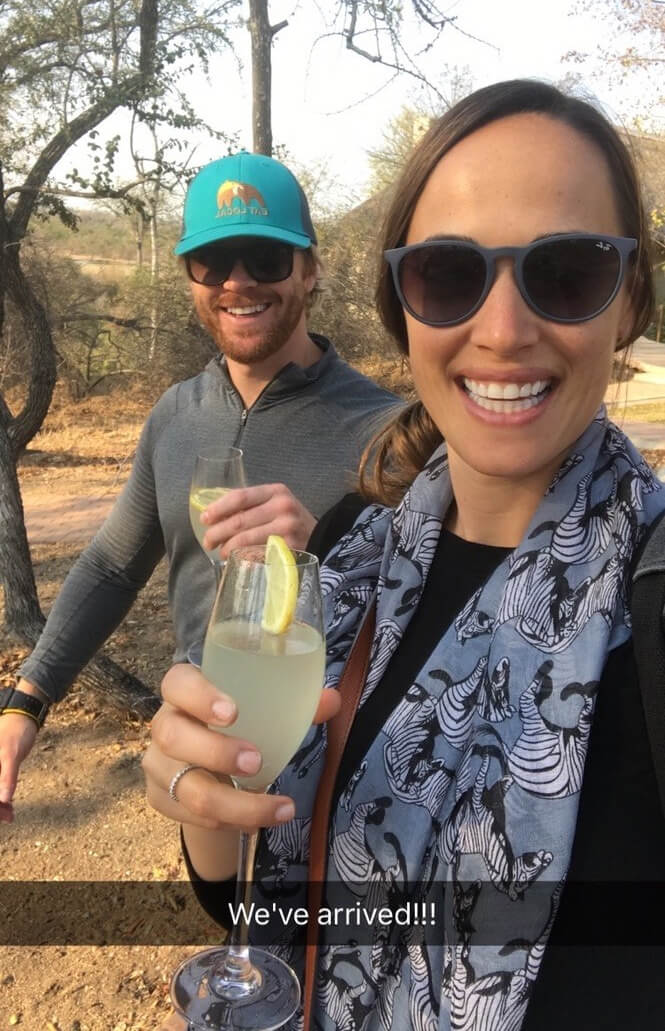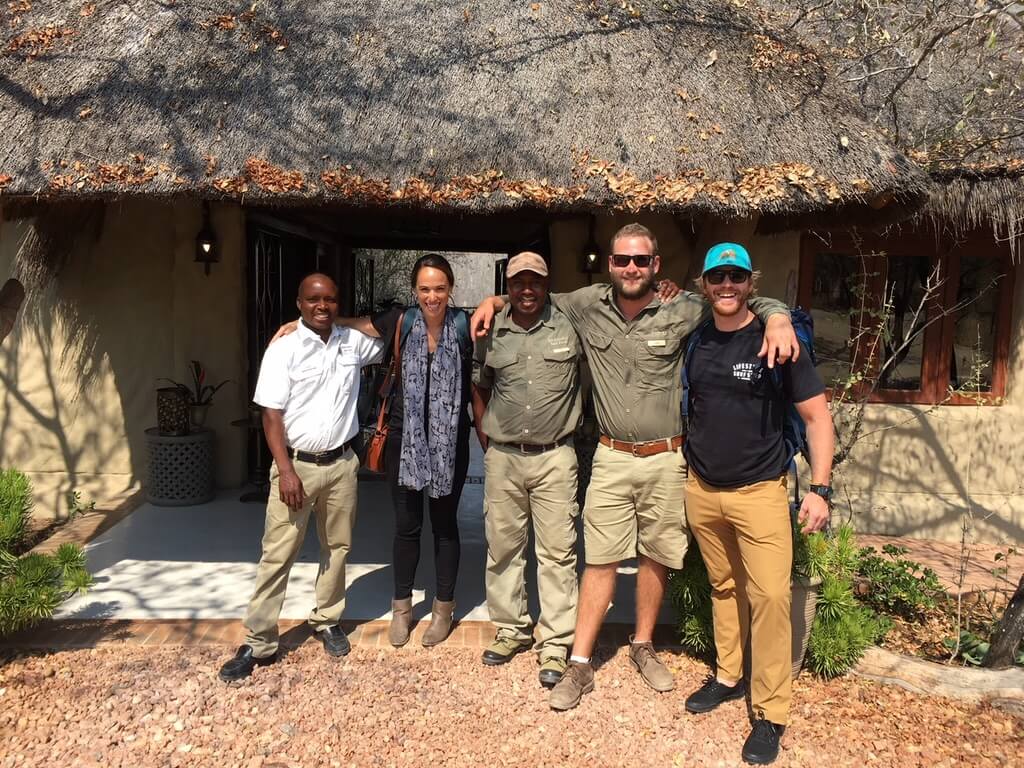 It's easy to forget that you're in the wild.
When you're staying at a five-star resort and you're drinking a glass of champagne in your private pool on your back deck, you think you're at the Four Seasons. Then you see a monkey trying to steal your towel and hear a lion roar in the background and snap back into reality with an "oh, sh*t", I forgot I'm in Africa. Ha! Though we always felt comfortable, safe and relaxed, we always had to remember that we are, in fact, in the wild and that every single animal here is faster, stronger & hungrier than we are. There were so many *pinch me* moments where I just tried so hard to soak it all in. A few that stand out are eating breakfast in the bush, spotting the hyenas that decided to join us at our Boma on night one (they left without trouble) and the rides back to main camp at the end of the night. Looking up at the starts after our last drive brought tears to my eyes.
Side note: be sure not to keep anything outside and be sure to lock your doors. Those monkeys are sneaky little punks and we heard story after story about them breaking into people's huts and causing serious damage.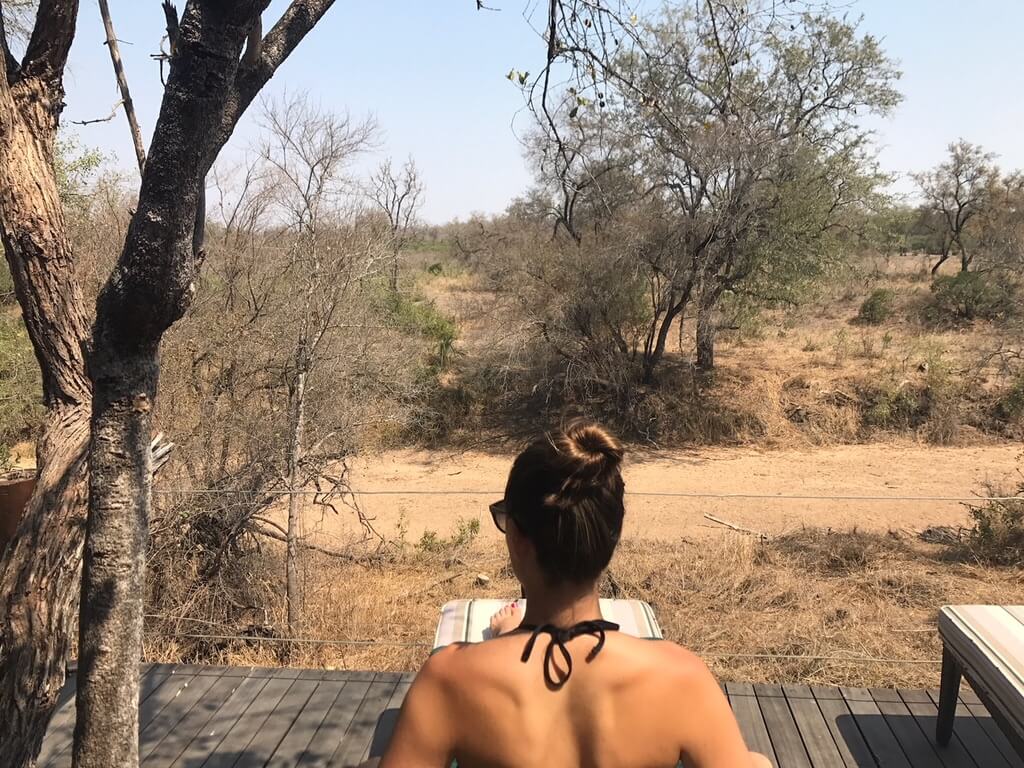 Random Safari Fun Facts:
Kruger National Park is the main park where you will find the majority of safari camps in South Africa. It's in Northeast S.A., borders Zimbabwe & Mozambique and is known for spotting "the big 5".
Sabi Sands is a private game reserve within Kruger National Park very well known for high end lodges, popular for honeymooners.
Thornybush is a company that own 10 safari camps within Sabi Sands.
Simbambili, the lodge we stayed at, is an 8-room, 5-star lodge owned by Thornybush. It holds 18 people max and is very intimate with outstanding service. The entire camp is built on a wooden walkway (don't venture off it) and there is a small electric fence that surrounds the perimeter, but it's quite open so animals roam freely.
Each lodge has a specific property they're supposed to stick to. It's heavily regulated for poaching & conservation reasons. Each lodge's vehicles are tracked daily and have specific tires so the authorities can track if you go off course. The guides all carry armed guns in case of danger.
Our lodge had a "staff village" where all 40 staff members live full time. They're mostly apartment or dorm style and they have no air conditioning.
We were placed in one of four jeeps for our daily drives. Our guide is in constant communication with the other three, discussing what animals have been spotted. This makes it easy not to miss anything.
Each lodge has their own style of "safari". Ours was very educational, exploratory & relaxed. They would go off road, over trees, and did whatever it took to get as close as possible to the animals. We really enjoyed their style and it was perfect for us.
Every night they left printed out little stories on our bed as part of turndown service. Legends or African tribe stories.
Be sure to come with cash. The staff works incredibly hard and should be tipped accordingly. Though an extra $20 may not mean much to us, it can mean a world of difference to them. Be generous!
Food. Scenery. People. Animals. Service. Everything is the absolute best of the best! I cannot recommend this enough. A safari is the absolute trip of a lifetime and one that everyone should experience. Best money I have ever spent.
Are you ready to book a safari yet? Speaking of, I'm putting together a handy guide on how to actually plan a trip to Africa, as it's no easy task. It took a LOT of planning, strategy, referrals and time. Hopefully I can give you a guide that would have been helpful for me.