I can't believe that it has been since months since Terry & I said "I do". To say that the time has flown by quickly would be a huge understatement. Granted we've had a lot of big changes within the past six months (moving, new jobs, etc), I still can't believe it – our newlywed year is halfway over (and I hear the time flies by even faster when kids are in the mix!). Though I'm no expert on marriage yet, I thought it would be fun to share my six favorite moment of marriage thus far…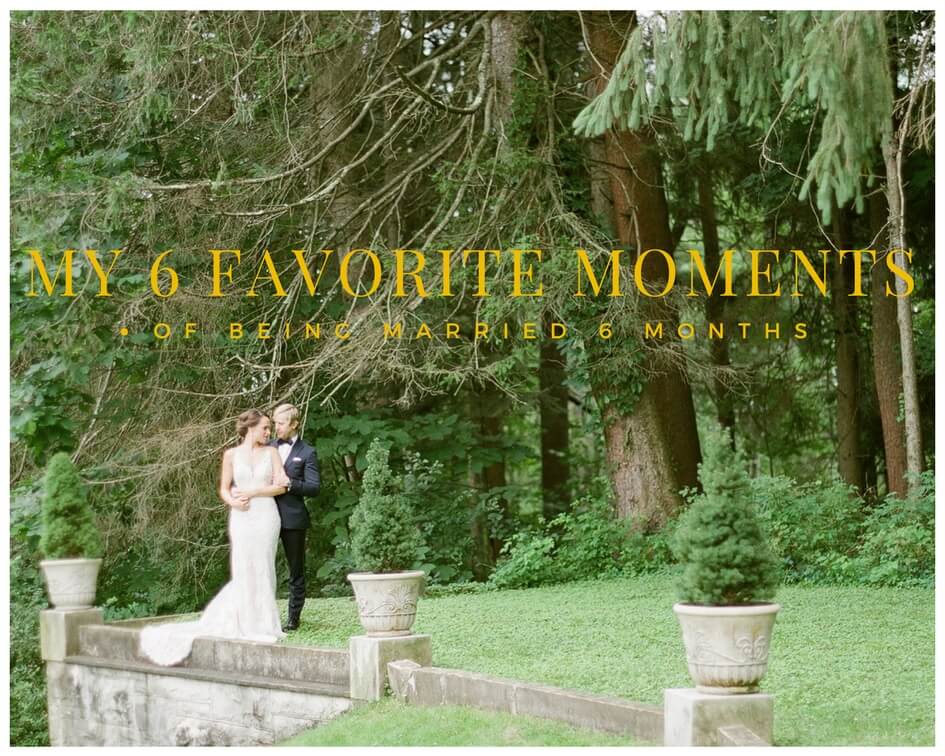 Our Trip to Africa
I'm sure that you are sick of me talking about how Africa was the best trip of my life, but it was that good for many reasons. Of course, I loved the culinary, the scenery, the people, the safari, the wine country, the hotels, etc. That was all fabulous and unlike any other vacation I've ever had by itself. However, without a doubt, the best part of the trip was being able to experience it together, as husband and wife. We were still on the blissful high of the wedding and we felt so incredibly special everywhere we went. We were both checking off our number one bucket list item, and we were doing it together. We will always have an unattainable memory from Africa – one that we know will never be matched. We learned so much about ourselves and were so humbled by the people and animals of Africa that there really was no better way for us to start our marriage.
Moving Into "Our" Home
This has probably been the biggest change for us, and in the best possible way. When we were engaged, I moved into Terry's place and while he allowed me to throw out all of his stuff redecorate, it never truly felt like our home. Moving back to the South End has made our life infinitely more enjoyable (hello parking spot, in unit laundry, outdoor space and dishwasher!) and it allowed us to create a warm, loving, comfortable home environment that is ours. Oh, and Mela loves it too!
Hearing "My Wife"
I just was getting used to "fiance" when all of the sudden I'm supposed to say "husband" (still so weird and I catch myself saying fiance or even boyfriend sometimes haha). On the flip side, it's so exciting to hear him say "my wife" with such pride and joy. It still makes me swoon and it is not something I am used to yet (I mean, I haven't even changed my name). It's a silly thing, I know, but it's one of those exciting moments that will fade with time so I want to enjoy it while it's still new :-).
Becoming A True Team
One thing I've always loved most about Terry is that from day one of dating, I have always felt like we are partners, we are equals, and he both respects and values my opinion. We've always felt like partners. But something about being husband + wife has made it feel more real and more meaningful. We make decisions together, we take the ups and downs together, and we plan for our future together. It's so comforting to know that he is the person I am creating this life with and we're truly each others' #1 fans.
Reliving Our Special Day
This is a fun thing that we have been doing recently, as our wedding albums are being put together, our video is being edited and we're seeing some family & friends again for the first time since our wedding. We watched our entire wedding ceremony and it was such a bizarre, emotional experience to hear us reading our vows. Both Terry and I feel that the wedding was a huge blur and that it flew by way too fast! Being about to recap fun stories with friends, discussing favorite moments with family and reliving the best day of our lives through picture and video has been so special.
Having "Firsts" Together
A lot of the aforementioned favorite memories are indeed firsts for us. Visiting Africa together, moving into our new home, watching Terry start a new job – they're all new and exciting. It's hard to think of what "firsts" you'll have with someone after you've been dating a while. Sure, kids are the obvious answer but I'm trying to really soak in all of the smaller moments. While they may not be major life milestones, they're important to us and it is so wonderful to experience these together. Like our first Christmas as a married couple. It doesn't get much more special than that.