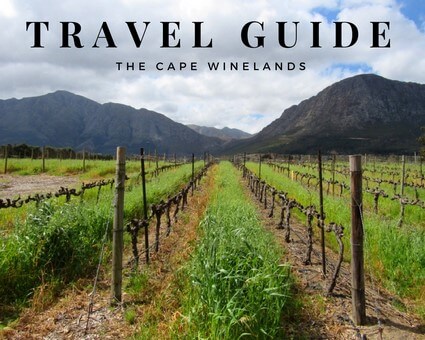 The Cape Winelands is a huge portion of the Western Cape, but the only two towns we visited were Franschhoek & Stellenbosch. The region has a Mediterranean style climate and a lot of Dutch influence. Stellenbosch is home to one of South Africa's leading universities and has more of a "city" like feel, which Franschhoek has a quaint, more European small town feel. They both are home to many, many wineries and let me tell you – they are fantastic!
An average wine tasting is only about 40ZAR (~$3) and there are plenty of amazing bottles under $15USD. I highly recommend shipping back or taking home what you can. We only found 1 winery that exported their wine. Keep in mind, these aren't tiny Napa pours…these wineries give you like a quarter of a glass per tasting so take your time & be sure to eat something.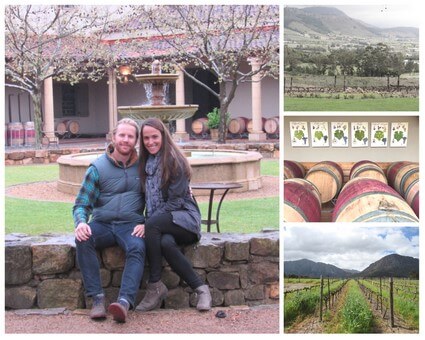 What To Do
+ Franschhoek Wine Tram: This is the best, most popular and least expensive way to hit various wineries in Franschhoek. You pick from 4 pre-selected routes and they organize the entire trip- so easy! Tickets can be purchased ahead of time or day of so you don't have to stress about it.
+ Hire a driver: In Stellenbosch, opt for a private driver, as it's much more personalized and they tend to know the best places. We paid 1440ZAR + tip and was well worth it.
+ Have a picnic: Most wineries will have the option for a lunch or picnic to be organized ahead of time. Had the weather been warmer, we certainly would have opted for a picnic.
Where To Stay
+ The Devon Valley Hotel: We stayed here while visiting Stellenbosch and it was a nice hotel, set away from town and in the Devon Valley. If you have multiple nights to stay or want a more serene vibe, this could be an ideal location for you.
+ Oude Werf Hotel: This hotel is located in the heart of downtown Stellenbosch and came recommended to us. Though we didn't stay here I would definitely consider it for my next trip.
+  Le Petite Ferme Hotel: A close drive from downtown Franschhoek, we stayed here and absolutely loved it. The restaurant is fantastic, the rooms are beautiful and the service is stellar. I highly recommend this hotel.
Where To Eat + Drink
Kanankop (Stellenbosch): This winery, known for their reds (mainly pinotage & cab) was on a huge plot of land. The staff was super knowledgeable and bonus, they sell this wine in a store in Boston. We loved their Pinotage so much that we brought home a special reserve bottle to be opened on our five year anniversary!
Glenelly (Stellenbosch): The property was really beautiful as it feels like you're walking into a secret garden! They've got a huge patio with hanging mason jar lights and a tasting room upstairs with a large deck overlooking the vineyards. This winery is owned by a badass 93 year old French woman (she is even on the label). They were also known for their reds (we came home with 2 bottles)

Waterford (Stellenbosch): Perhaps the best known winery, it has a more estate/corporate feel. The property is huge but the tasting room is surprisingly warm & cozy. The tastings are done at tables or sofas in front of their huge wood burning fireplace. It was pretty crowded, but in a good way. We did a private cellar tour which was fascinating. We also did the wine & chocolate pairing, which I highly recommend!
Delaire Graff (Stellenbosch): This estate is truly that…an estate. The property has lodging, a spa, multiple restaurants & of course, many acres of vineyards. If you stay here you really don't need to leave the property. The service is outstanding and one of the most grand places we visited.
Mont Rochelle (Franschhoek): Owned by Sir Richard Branson, I must admit that this was one of my least favorite spots. While the place itself is very modern & cute inside, we didn't love the wine. It was okay.
La Bourgogne (Franschhoek): What a cute, charming winery this was. You're greeted by four adorable little dogs who live on the property, creating an immediately welcome vibe. We sat outside on the picnic tables to sample our chardonnays (we bought 2 bottles) & dine on some avocado toast. It's a great place to catch a mid-morning snack.
Holden Manz (Franschhoek): By far the most beautiful property we visited on day two, this winery has their tastings downstairs in the wine cellar and a stunning dining room upstairs. I imagine that many people get married here or hold private parties – the upstairs is that incredible! HM is known for their red wines.
Rickety Bridge (Franschhoek): The last stop on our tour, we enjoyed a cheese plate and a variety of wines. While it was nothing to write home about, the place was warm (it was rainy & cold this day) and the staff was friendly. A nice place to end!
Babylonstoren: We did not make it here but I've heard great things about this working Dutch farm. It's recommended that you stay on the property to fully enjoy the wine, restaurants & all that the farm has to offer. On our list for next time, for sure!
Indichine (Stellenbosch): One of the restaurants within the Delaire Graff Estate, this has been voted one of the best restaurants in South Africa by many. The vibe is modern meets funky with oversized copper tables and navy leather chairs. There are fresh orchids on every table and a huge wood burning fireplace. The art and flowers alone are worth seeing. The food was, as expected, spectacular. It is a very fancy restaurant and while they have a 7-course tasting menu, we opted for our own. The menu is small (4 each of starters, mains & desserts) but delicious. For example, we ate scotch egg, chicken larg, tiki grilled prawns and matchi pineapple. All unique and well worth it.

Tokara (Stellenbosch): The restaurant has a breathtaking view over the valley below
and Table Mountain. The menu is South-African with a hint of Europe. A stone's throw
from the Delaire Graff Estate. Closed Mondays.
The Bird Cage: (Stellenbosch):  Quirky café thatdoes lovely breakfast dishes. Their main business is wedding cakes. This is one restaurant that will look great on Instagram, FYI.
Makaron (Stellenbosch): Located at the Majeka House winery. Arrive 30 minutes early to have drinks by the pool.
Tiger's Milk (Stellenbosch): Delicious casual chain with great pizzas, salads & burgers.
Sacred Ground (Franschhoek): On the way in/out of town – a cute coffee shop with take away breakfast.
The French Connection (Franschhoek): French style cuisine; cute outside area.
Foliage (Franschhoek): Highly ranked on trip advisor. Beautiful, creative dishes using foraged ingredients.
Tuk Tuk Microbrewery (Franschhoek): Downtown by where the wine tram dropoff is. Great for a beer and a light snack or casual dinner.