Ahh, the thought of sunnier days. Given that it's pretty cold & dreary here in Boston, designing a sunroom has me dreaming of warmer days. I'm working with some newlyweds who are moving into their first home. We've already knocked down walls, demolished old bathrooms/cabinetry, re-wired for new lighting, and painted the entire home. The major reno stages are over and now we're planning room layouts, purchasing furniture, eyeing decor, etc. This week starts install and I can't wait to see the first pieces come in!
When envisioning a sunroom, this is exactly what I was picturing in my head:
This couple has the exact same amount of oversized windows & natural light. We're sticking to the same color scheme throughout the house- ivory/cream, blues, natural wood, gray. It's a monochromatic classic with a touch of rustic.
Here's the sunroom game plan: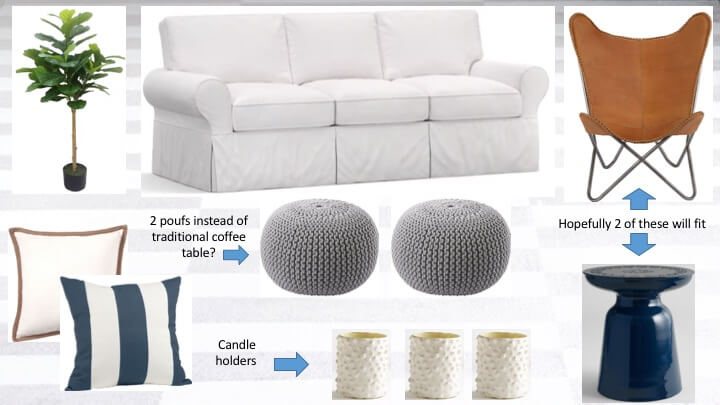 I really wanted to keep it neutral but bring in pops of color with blue accessories and plants/greenery. It's more of a rectangle shape so opposing the sofa will be a big buffet/bar cabinet, with the tv mounted over. I think they're going to enjoy spending time in this room, watching football games, and hosting family & friends.
Thoughts?!