Last week I shared a bit about our plans to refresh our back patio space. It's safe to safe that, if nothing more, this "great pause" has given us plenty of time to spend some TLC on our homes! Outdoor spaces are in full decor mode right now and I find that the front door is often a forgot about space. It is easy to create a warm, welcoming outside entry with a few key items.
+ Think symmetry. When in doubt, this is a great place to start. It is hard to go wrong when you work with symmetry in design. Throw some matching oversized planters, with sprawling greenery, on either side of the door. Make sure the outdoor lighting is appropriate on either side.
+ Make it lush. I think to go bigger versus smaller. Bigger, wider, greener plants – a trick of mine is to buy beautiful hanging plants (already pre-arranged) and simply place them into the planters. Boom, gorgeous!
+ Light it up. There are so many affordable, beautiful lights for front doors – all colors and all styles. Find a matching set (again err on the side of larger) and make sure they contrast against your home exterior so they pop!
+ Layer rugs. I love a beautiful monogrammed rug but often times they'll come in a 2×3 which is too small for a grand front door entrance. A great trick is to layer this on top of a larger patterned rug to create a visually bigger entry space. Bonus: you can swap the bigger rug when desired while keeping your classic monogrammed rug.
+ Keep accessories minimal. There is nothing that makes me cringe more than an overly accessorized front door with tons of planters, signs, chairs, pillows, etc. Holidays aside, I prefer a simple yet impactful setup. Hang a gorgeous wreath. Get a fun front door knocker. Display some pretty house numbers. Mix and match or switch out your accessories all year long to keep it fresh.
Here are some gorgeous, versatile items currently in stores to help you get started: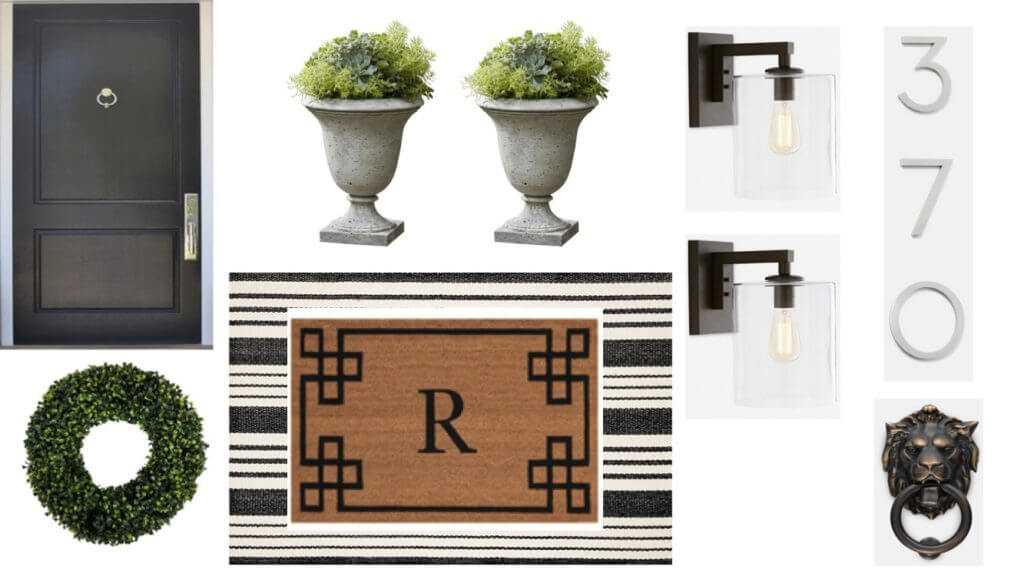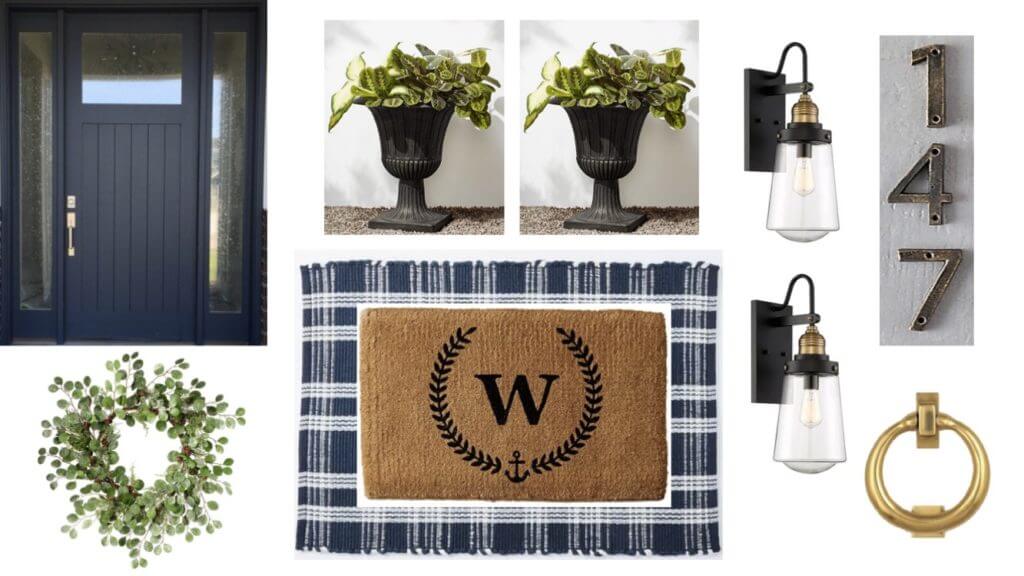 Sources: eucalyptus wreath / plaid rug / monogrammed rug / house numbers / black outdoor sconce / black & gold sconce / black planters / striped outdoor rug / 'R' monogrammed doormat / gray urn / ring door knocker / lion door knocker / silver house numbers / boxwood wreath