One of the questions I get asked ALL of the time is "what do you pack in your carry on bag"? Now, truth be told, I almost always try to carry on both pieces of luggage – my 20″ spinner bag and my trusted Longchamp (my favorite carry-on because it's liquid proof, has a zipper, an internal pocket & seriously holds a ton!). Today I'm sharing what's in my personal bag – you know, the one that goes at your feet (unless you're like me and stick it up in the overhead bin to have more footspace…#sorrynotsorry).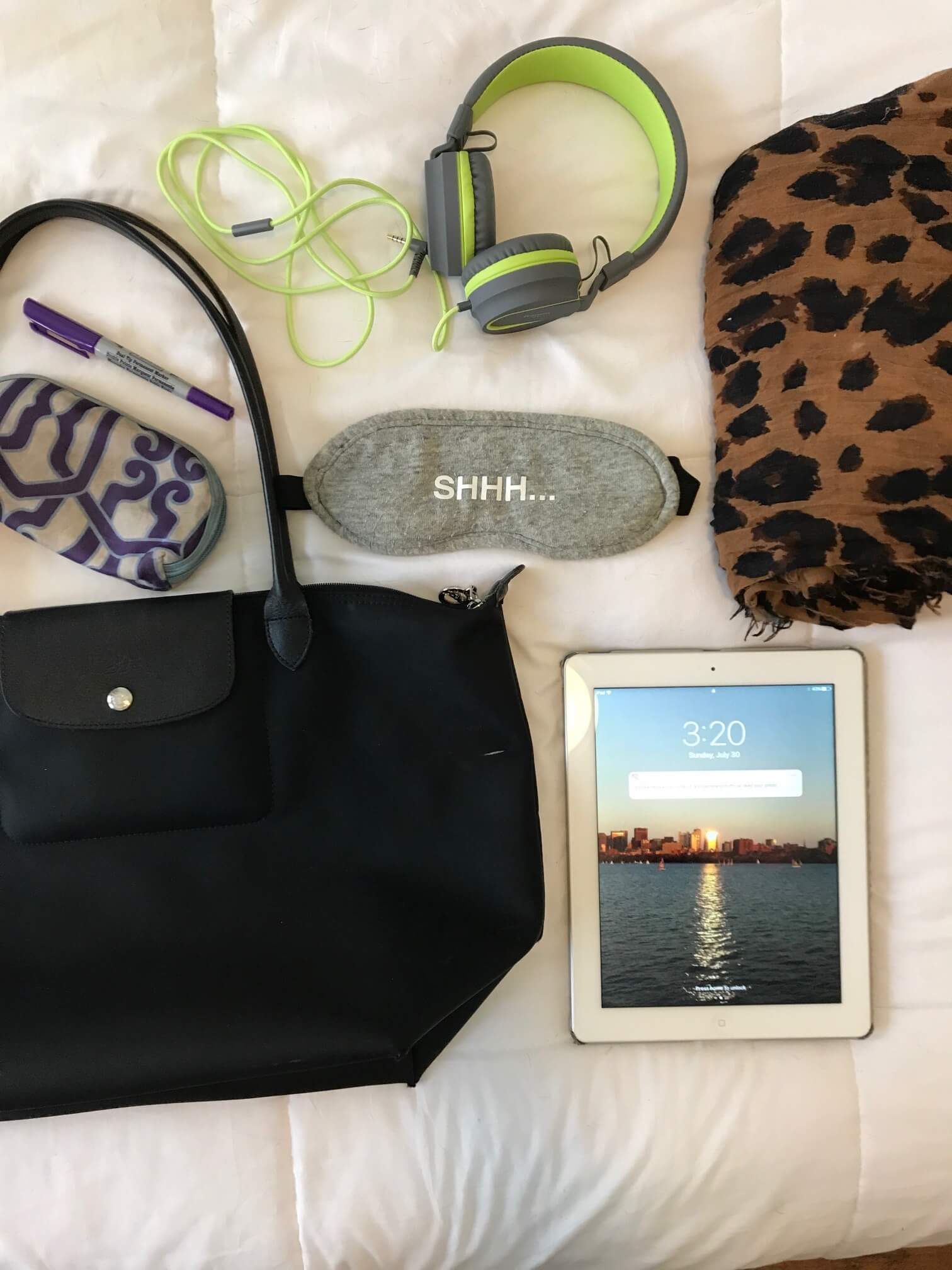 Ok, so now let me break it down for you. Given that I travel a TON and I pretty much have packing down to an art, I have a solid list of items I take on almost every trip. This list is tried & true and will be sure to help you get you through any flight:
Headphones…and not just earbuds- those kill my ears after a while & don't drown out the background noise well enough. I recently was gifted these headphones and let me tell you – they're great! They're very affordable, stylish & lightweight. If you don't want to spend the money on Beats or Bose (the crème de la crème), I definitely recommend them.
Bonus: they've also been great to run with.
So if you're flying business or 1st they'll give you an amenities kit; otherwise I always pack one myself with some face wipes, toothpaste/toothbrush and a few mini toiletries. When flying overnight or more than 3 hours, a little freshening up works wonders.
A couple of key items that are easy to forget, but critical for flying are an eye mask to help sleep and a pen for crosswords, Sudoku or customs forms. They're so small and take up no space in your bag, but make a huge impact on your trip. Trust me.
iPads, books and magazines are a must to keep entertained, especially on a long flight. I usually read the magazine during takeoff and then try to watch a pre-purchased movie on my ipad while in flight. Thank goodness for in-flight internet!
Tip: if you're not flying a carrier with free tv (such as Jet Blue or Virgin), head to the GoGo website to pre-purchase internet for a lower price than you'd pay once on board the plane.

I never leave for the airport without a water bottle – it's cheaper than buying airport bottled water and it's more eco-friendly. Plus, we all know that staying hydrated while flying is key. This is my #1 item that I must have while flying (or road tripping!).
Two critical pieces of clothing I always bring with me on flights are extra socks (the more plush, the better) and either an oversized scarf or an open front cardigan. Planes are notorious for being chilly & layering is key! I never, ever wear jeans – usually a maxi dress or these leggings with a long v-neck top. Comfort, while remaining presentable, is key my friends. Let's not forget we're in public.
So there you have it, 9 critical pieces that must go with you on your next flight. Use this list as a base and you'll be sure to be comfy, cozy & have what you need to get through the most painful of flights (I'm looking at you, United).
What's your "must have" item in your carry on?!