If you've been following along, you know that I'm doing a little bit of self-discovery this year and I'm reading my way through The Happiness Project as I work through it myself (which I discovered via my love for Podcasts!). In January, my focus was vitality (mainly health + wellness and de-cluttering). Each month, I'll share what the previous month was about – the overall goals, some takeaways and general practices that I've implemented. I also want to highlight what has stuck with me as habit, month over month.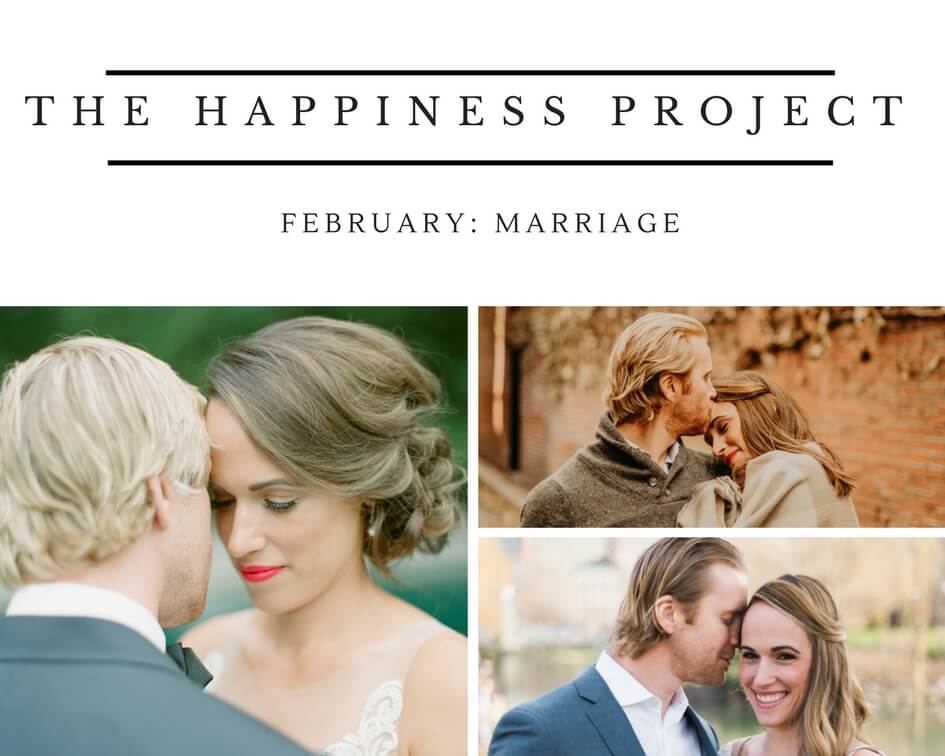 FEBRUARY: MARRIAGE
As newlyweds, I thought this would be the perfect time to make sure we're on the same page from day 1 (spoiler alert: we are!). So much of what we uncovered that we want to work on isn't actually being "unhappy" – it's more so making sure that we both actively implement healthy marriage habits in our everyday lives to avoid in future pitfalls. I think that a lot of people tend to be unhappy in their relationship because they get in bad habits – it's best to try and recognize those right away so we can make ourselves (and each other) aware when we're doing them.
Part 1: Don't Sweat the Small Stuff
This one is huge! It's way too easy to fall into the pattern of nagging or complaining about small, unimportant stuff. Does it really matter if he left a shirt on the floor again? A lot of this falls into what I call the "roommate' type stuff – cleaning up, keeping tidy, house chores, etc. While I think it's important to divide and conquer, you have to pick your battles. In fact, when I took out the trash for the third day in a row (so not my "job"), I was annoyed but then I quickly thought, "why does this matter?" My husband left the house at 5:00am for work because he has the most incredible work ethic and is providing for our family. I wouldn't want to take the trash out either! At the end of the day, we are a team and that's what matters.
The verdict: I found that as I think twice, try hard to pick my battles and really just be more easy going, we both are happier. Nobody wants to be a nag and certainly nobody wants to be around one. If you find yourself in this position, I encourage you to try really hard to ask yourself why you act this way and hope that you, too can lighten up!
Part 2: Give Proof of Love
Giving "proof of love" can mean a lot of different things to different people. In my wedding vows to Terry, I said that I always want "to create a home full of love, compassion & kindness that we can grow our family in". I always want home to be the place where we both want to be, no matter what challenges we face. That means having a home that is full of comfort, warmth, and unconditional love.
One other practices that I wanted to implement (remember what I said about forming positive habits?) was praise in public, address in private. We are a united front and I always want my husband to know that I have his back, no matter what. Though we will of course have disagreements, those need to be handled in private, between only us two. It's critical to praise with kind words and gestures in public (I think the same goes for your children) as it creates a trusting, loyal relationship without resentment.
A big component of this topic was to make time for a monthly date night. We are two very busy people and it's easy to let weeks go by without having a dedicated time for us. Even if it means the two of us heading to the local Italian joint and splitting a bottle of wine, it's "us" time that's much needed.
The verdict: This part was easy to implement. Just remember, we are a team. We come first. Laugh more, hug more, kiss more. There's never too much love to give!

Part 3: Learn Each Others' Love Language
Perhaps the most important to me, learning each others' love language is critical in developing and maintaining a fulfilling relationship, for both parties. If you haven't read the 5 Love Languages Book, I highly recommend it – we read through it prior to marriage and found it to be highly insightful. What you  think makes your partner happy is not necessarily the case. For example, your husband can bring you home jewelry and gifts every week but if all you want is an act of service (i.e. picking up dry cleaning or handling the dishes after you clean) then neither of you will be fulfilled. It's a commonsense approach – kind of a "put yourself in their shoes" – that has been proven to help any relationship. To me, it was worth reminding myself what makes Terry feel loved and what makes me feel loved. Since Terry is acts of service & I am quality time, we have been making sure to let the other know – in their love language – how we love him. When I meal prep his weekly food, he's over the moon. When he dedicated time to just me, I feel loved.
The verdict: We've implemented an electronics-free dinner since often this is our only time during the day to connect one-on-one. I'm getting the quality time that I need, while he's able to share his week so I can know how I can help. It's a win-win.
Happiness Habits Implemented

From January – "Power Hour": I'm still incorporating 1 hour each Friday where I basically Get.Sh*t.Done. It's proven to be impactful and worthwhile.
From January – Decluttering: Somehow I cleaned out two more bags from our closets and I'm working very hard not to re-purchase items. If you want more info on decluttering, especially emotional, read this article.
Have you started your Happiness Project?!