As someone who is in the car for at least 5+ hours a day for work, the radio is often my friend. While I love music, I can only listen to so much of the same stuff over and over. Audio books are too much of a commitment to me so about a year ago, I decided to give podcasts a try. I am totally hooked and they have made my days of driving infinitely better! In fact, I listen to them not only in the car, but also while walking around the city or home alone cooking dinner/doing laundry/cleaning the house. They are such a great alternative to television…and better for your eyes (plus we don't have cable)!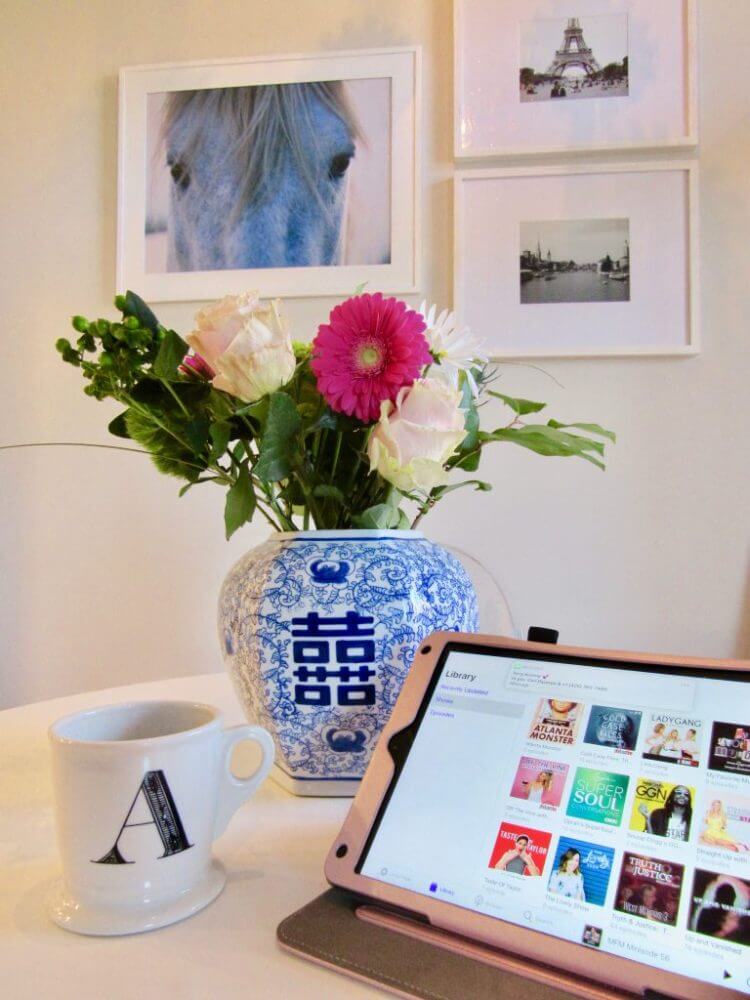 I've had a ton of requests lately so share my favorites, so without further ado:
LIGHT AND FUN

Straight up with Stassi
If you watch Vamderpump Rules and you don't listen to this, download it immediately. This is one Podcast that I look forward to every week (though you certainly don't need to listen in order). Stassi is surprisingly smart, refreshingly funny and down to earth. As a woman in my 30s, I can totally relate to about 99.9% of what she's saying and I love how her topics switch between somewhat serious and light hearted. Examples include friendships, food/health, travel, family, dating/love and entertainment/celeb gossip. It really feels like you're in a conversation among friends, discussing everyday stuff that you would over brunch. She also shows real emotion which I appreciate.
My Favorite Murder
Okay, I know you're thinking…murder isn't funny or light. Well, technically you're right; however, Georgia and Karen are so enthusiastic over true crime and their back-and-forth banter is hysterical. The girls go off on random tangents which really lightens the mood. Just imagine that you're around in your living room hypothesizing with some friends about a well-known, old murder case – Ted Bundy, Jon Benet Ramsey, Son of Sam, etc. That's what this is. They also have a weekly bonus episode where they have readers share their hometown murder stories, which are fascinating. In fact, their podcast is so popular that they just got back from a world tour. So, if you're into true crime and enjoy hearing cases with a twist of humor, this is for you!
Other podcasts in this category that are on my list: Off The Vine with Kaitlyn Bristowe, The Lively Show, Lady Gang.
DEEP & THOUGHT PROVOKING
Oprah's Super Soul Conversations
This is exactly what you would expect from Oprah – deep, meaningful, soulful. Similar to her show interviews, Oprah has one-on-one conversations with well-known people about various topics, from spirituality and God to finding your purpose and fulfilling your dreams. A few ones that I've thoroughly enjoyed lately are conversations with Nate Berkus (on loss and design), Cheryl Strayed (on bravery) and Rob Bell (on religion). Each episode is roughly thirty minutes and can be listened to in any order. If you're looking for a deep podcast or for some soul searching, this is for you. I think this would be a great podcast to listen to with significant others or family members to spark some meaningful conversations.
S-Town
My mom turned me onto this podcast and I just loved it. It's only one season and while there is an end, you are left asking questions. Set in rural Alabama, this is a real time story about small town corruption, drugs, money and murder. Most of the episodes are telephone calls between the journalist and John, the man living in "shit town" Alabama. Each episode leaves you wanting more and it's an easy, quick podcast to run through (only 7 chapters total). It's hard to categorize this because it's true crime meets humor meets mental illness. While it's funny at times, there is a lot of underlying sadness and I found it to be quite thought provoking.
 Other podcasts in this category that are on my list: The Moth
CRIME & NONFICTION

 Cold Case Files
If you watch Criminal Minds, SVU or…you guessed it, Cold Case Files, then this is for you. I am super fascinated with true crime and there are so many podcasts out there on this topic. The thing I like about this one in specific is that each episode discusses a different case that was once a "cold case" but was solved decades later…which is crazy because only about 1% of all cold cases are ever solved. Each episode is super enthralling and will have you guessing the outcome. They are only 30 minutes long and can be listened to in any order.
Serial
Unless you're living under a rock you have probably heard of Serial. I feel like it's what turned a lot of people onto podcasts in general as there was so much buzz and publicity around it. While I enjoyed this podcast, I felt that it was pretty biased. It paints an interesting picture of this murder case and has us wondering, was this guy wrongfully accused? If you drive a lot or are headed on a road trip or are ready to spend some time going down the rabbit hole, get started with Undisclosed next.
Undisclosed
Hosted by three lawyers, this podcast dives deep into the legal aspect of the Adnan Sayed case. Since it's approached from a completely different angle than the journalistic approach of Serial, they provide a different narrative of this story. You learn many more facts about the case, discover the likely scenarios of what happened and understand what went wrong from a legal perspective. The amount of injustice that Adnan experienced will have you fuming by the end of episode one. If you like criminal justice or want to learn more about our legal system, this is for you. There are multiple seasons of wrongfully accused, but season one is the only one I listened to.
Truth & Justice
What started as one man's personal interpretation of Undisclosed turned into a huge podcast dedicated to proving innocent those that have been wrongfully accused. Working closely with many state Innocence Projects, host Bob Ruff's initial season was regarding Adnan's case also. He now has a vast following and has worked on multiple cases helping prove innocence (one man even is about to be released from prison thanks to his work). This podcast shows the power of crowd sourcing, as Bob utilizes each of his followers in their specific area of expertise. The current season is revisiting the case of the West Memphis 3 and it's absolutely fascinating. It can be super slow and time consuming so I save this one for my longer drives.
Atlanta Monster
Fresh out the kitchen in January, this podcast is new and it is GOOD. It's from the same guy who did "Up & Vanished" (next on my list, it's about a cold case that happens to be solved while the podcast is airing. Insane!). If you're from Atlanta or live in Atlanta, you need to download this immediately. It's about a crime spree in the late 1907s/early 1980s where children were being abductions, yet not much was being done to help these poor children. This tale has haunted Atlanta for decades as it was a horrifying, scary time in the city's history. It's episodic so you'll definitely have the urge to binge this one, as I'm doing right now.
Other podcasts in this category that are on my list: Up & Vanished, Crimetown, Homecoming (a psychological thriller)
What's your favorite podcast?