Happy Monday folks! It's hard to believe that Easter is less than a week away. Last year we hosted some friends and the year before we spent time with family, but this year I think we will just lay low and maybe have an impromptu cookout with friends if the weather allows. I've said it before, but one of the main things I look forward to about owning a non-hobbit sized real house one day is being able to host friends & family for holidays, events, birthdays, etc. Hosting is one of my favorite pastimes and it's something my husband & I have become pretty good at (hint: team work makes it WAY easier!). While these tips are for this Easter Sunday, they're really applicable to any holiday or event that you may be hosting.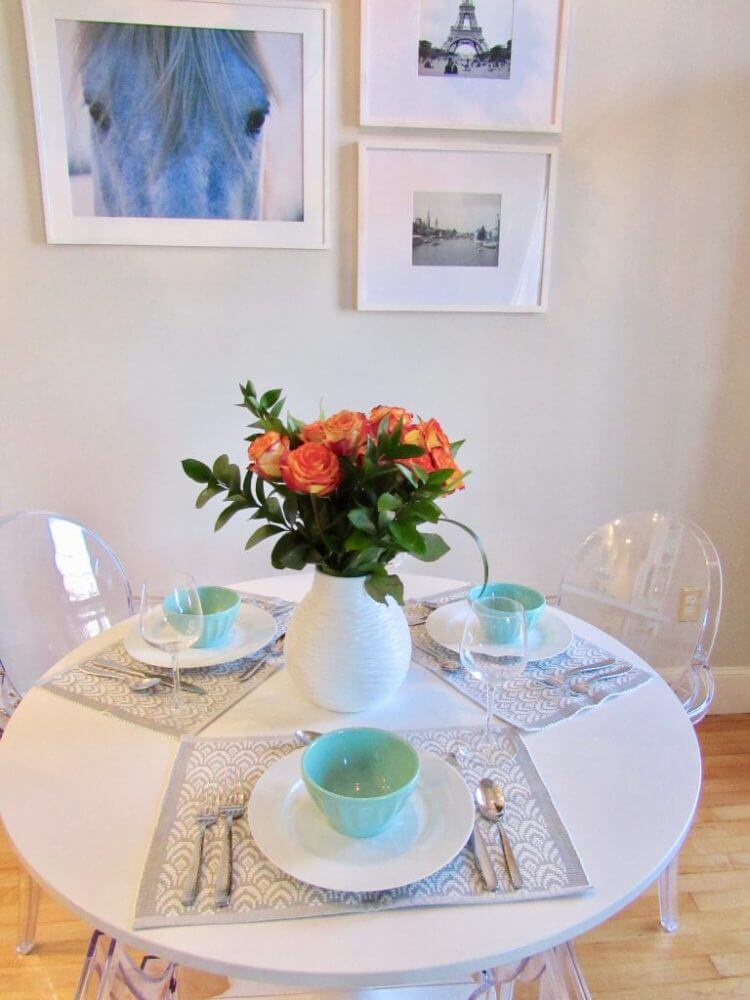 Set the Mood
 We always have 3 key elements that I believe to make a home comfortable for guests:
music on
shoes off
candles lit
  There is nothing more awkward than walking into someone's home (especially if you don't know them super well) for a dinner party or event and the place is dead silent. Awkward AF. So let your guests kick their shoes off and walk into a home with a warm welcome – candles in the living space & bathroom and music always seem to do the trick. We like to have either jazz, a light country or some oldies playing. The background noise is nice and when a great song comes on, usually somebody has a fun memory to share.
Set a Pretty Table
It's not too often these days that we get to really set a beautiful table. I love a festive set up where you can tell the host really went above and beyond – tablecloth, place mats, nice silverware, pretty napkins & accessories to boot. For Easter in specific, I love a white setup with some pastel accents – green, blue, pink, yellow…whatever you desire! If you're looking for a new piece or two, try Crate & Barrel, Anthropologie or Homegoods.
Splurge on Fresh Flowers
Head to your local grocery and with less than $20 you can find fresh flowers for the dining table, the bathroom (a fun touch) and maybe even the kitchen area. Roses, peonies and tulips are all in season now and make for beautiful displays! Set them in a ceramic jug, a marble vase or a patterned pitcher for a pretty centerpiece. If you're unsure of how to arrange flowers, I like to start with either (a) the same flowers in various colors (i.e. pink, white & yellow tulips) or (b) different flowers in the same color (i.e. pink peonies, roses and tulips). Add in some greenery and your arrangement will be beautiful!
Prepare Ahead of Time
Almost everything that you need can be done the day(s) leading up to Easter – house cleaning, grocery shopping, table setting, food prep, etc. Make it easier on yourself by making a list and knocking off as much as you can prior to your event. I prefer to set out the bar & set the table the day before, bake most desserts and marinate any meat the night before, and wash / chop / assemble as much food as possible the day before or morning of. Don't let hosting ruin your weekend! Don't make it harder than it is. If you need a refresher or are limited on time, check out my post on 5 easy ways to get your home ready for guests.
Be a "Cool" Hostess
What I mean is, relax. You've done your prep work, you've cleaned your home, you've set a beautiful table…pour yourself a drink and enjoy the day! The hostess typically sets the tone for the day so don't make your guests feel nervous or tense by cleaning up after people or worrying about every little thing. So someone spills on the carpet – it'll come out! So the cake is a little over cooked – people will still love it. Don't forget that you invited everyone over to have fun and enjoy each others' company…the dishes can get done later. Pour another glass of wine and go hang out!
What's your favorite Easter hosting tip?!