Believe it or not, it's that time of year again! Here we are, the first full week of November. Today we are a mere 17 days away from Thanksgiving, 50 days from Christmas and only 57 days from 2019. Holy Moly this year has flown by. Now, I am not going to inundate you with gift guide after gift guide; however, every Monday in the month of November I will be providing a guide. I have also created a "Gift Guide" page that dates back to 2014 so you can reference all of my old gift guides (from birthdays to Valentines Day to Christmas) for additional ideas and some delicious homemade cookie recipes!
I'm hoping that this will help us all be proactive with some seasonal shopping so that we can actually enjoy our time spent with family and friends come December, rather than frantically running around from store to store!
Each gift guide will be very different and target a specific type of person, yet will be broad enough to find ideas for various people in your life. Admittedly, most are female based guides (as that is most of my audience) but they will cover gift ideas for everyone from your child's kindergarten teacher to your grandma to your best friend. I hope you leave here each and every Monday inspired and full of unique, thoughtful gifts for your loved ones this holiday season. Happy Shopping!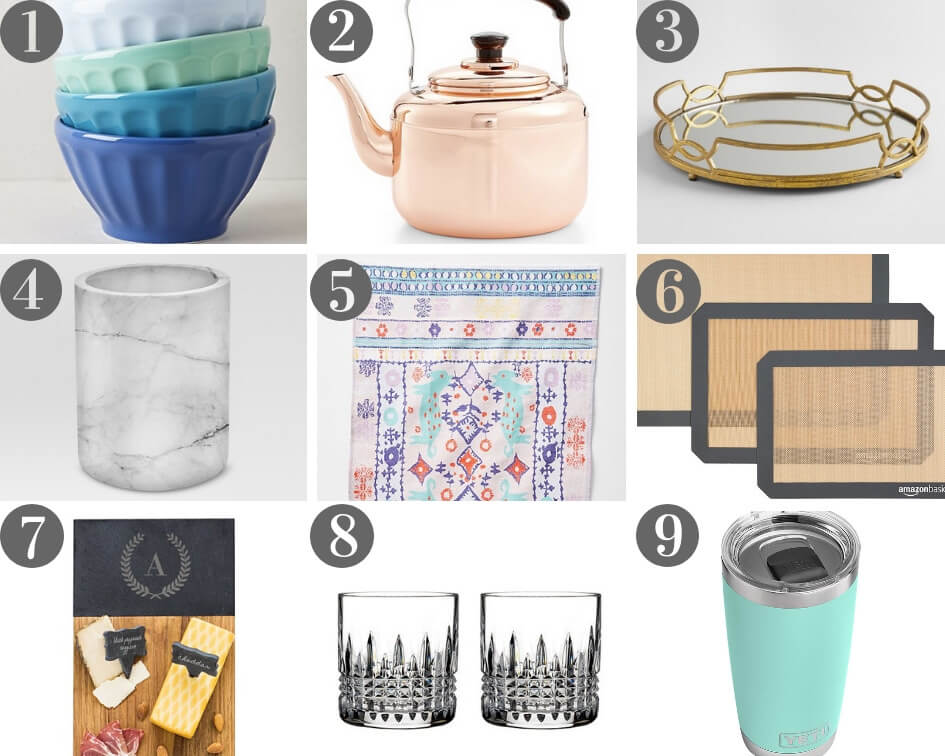 1. Anthropologie bowls: We actually registered for these for our wedding and have 8 in total- they're perfect for a bowl of ice cream, cereal or soup. They're classic with a twist.
2. Brass Teapot: This is the cutest teapot for the hot tea / hot chocolate lover in your life. It would be such a cute addition to any home for the colder months and mixes well with most styles.

3. Round Mirrored Tray: I love a versatile piece like this that can be used for any home – to hold perfumes on your dresser, as a centerpiece on a dining table (put a white vase with flowers in the middle), or as a grouping piece on a coffee table.
4. A bottle of wine + a marble wine chiller: If you aren't sure what to give someone or how much to spend, this is a great "go-to" gift. Everyone loves learning about new-to-them bottles of wine and a chiller (or decanter) is the perfect accessory.
5. Two dish towels: Anthropologie is my favorite place to gift stylish, higher end gift towels. Great for anyone who spends time in their kitchen and there are so many options to choose from!
6. Handy silicone baking mats: If you know someone who likes to bake, this is for them. I like to gift these (roll them together and tie a cute ribbon around them) along with some homemade cookie dry mix.
7. A personalized cheese board: Perfect for any style hostess and ideal for anyone serving appetizers, cheese, charchuterie, and more (cute slate option here).
8. A set of crystal glasses: What a cute gift this is, along with the ingredients for your favorite cocktail! Though this exact set is on the pricier side, I found a 4-pack of Waterford crystal cocktail glasses at Homegoods on clearance for under $30!
9. Yeti rambler: Y'all, this is the best to-go cup for keeping drinks cold or hot – it's an excellent gift that your recipient will use every single day.
What's your "go to" gift for a foodie, wine-o, host(ess) or entertainer? Check back next Monday for the ultimate gift guide for any woman in your life <– guys, this one's for you!