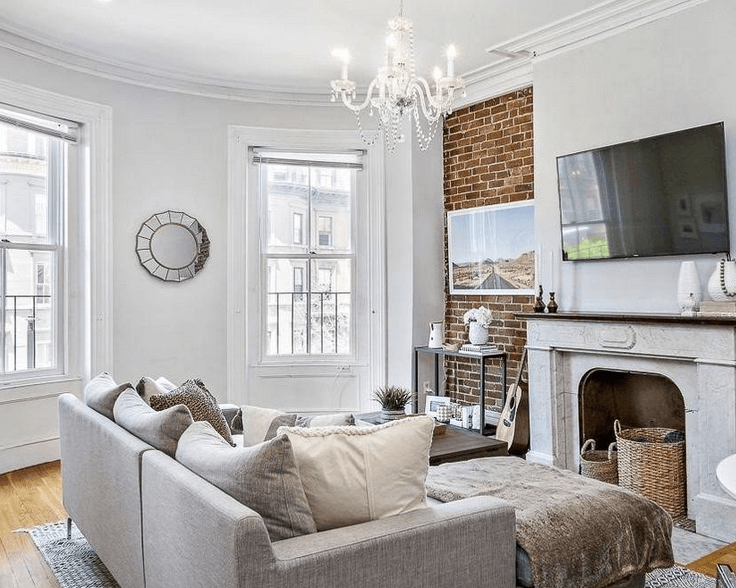 With winter coming (a reference that I finally get now that we watched GOT during the quarantine) and a baby on the way, we have been spending more time at home than usual. Throw in an upcoming move down South and I am in a total "purge what I don't love and keep only what I do love" mode. The year of 2020 has been one of savings for me as I feel like I have hardly spent any money shopping. With nowhere to go, what would I buy something for?! All of that said, I want to share a few things that I have been really enjoying and that I either recently purchased or will be re-purchasing.
Home + Entertainment
Give me all of the warm, cozy blankets right now! My all-time favorite faux fur blanket has been a tried and true favorite of mine for like 7+ years now but it's starting to wear so I am going to try and snag another soon. It is pricey but the quality is excellent and it is heavy, which I love. This Pottery Barn one is a bit lower in price point and equally beautiful. I also own this one (in ivory) and is much lighter if you live in a warmer climate.
Side note, if you have been at home more than usual lately, like myself, and need something to watch, here are some shows I have been into: The Queens Gambit, The Crown, Emily in Paris, Schitt's Creek, Real Housewives (both Salt Lake City & OC), Yellowstone…to name a few!
Pregnancy + Beauty
I am on my third refill of my Spoiled Mama Tummy Butter. Y'all this stuff is unreal. I originally bought the Starter Trio which includes the most indulgent body scrub (used in-shower), a body oil and a body lotion. I refilled the lotion but am about to be out again of the others, so I am going to purchase one more trio so that I can have all 3. I have learned that when you are pregnant and not feeling yourself, it's the little things that make the difference, including delicious, stretch mark preventing oils and lotions. Highly, highly recommend.
Health + Skincare
My favrorite skin care line, Beautycounter, is having a sale right now! Their products rarely go on sale and they're pricey, so I am definitely refilling my stash. My personal favorite is the Countertime line, specifically the day cream, night cream and eye cream. I like how they're all thick but don't leave a heavy feel. I have pretty "normal", combination skin and this line definitely hydrates me without making me feel oily. This will be my 3rd or 4th refill and I have been religiously using it for about 2 years so I feel confident recommending this to anyone.
Food + Drink
Now, I have always been a big cooker / baker / meal prepper but it's been taken up quite a few notches since covid began. Even though I've seen every single blogger pushing the Our Place "Always" Pan (an amazing Christmas gift right under $100), I have yet to bite the bullet. It does look really amazing and so I will likely try it out but for now I am sticking to my trusty T-Fal Nonstick pan with lid, coming in right under $45. I've had this nonstick pan for years – and in various sizes – and it never disappoints. This lidded size (12″) is big enough to make my favorite Pad Thai, homemade spaghetti sauce and scrambled eggs & bacon all in one pan. If you live somewhere with minimal kitchen space like me, just get the trio set plus a lid and you're good to go for pans, trust me! 
Wardrobe
I'm pretty sure loungewear is the new black in 2020. Like many of you, I have been living in my lululemon Align leggings for what feels like the entire year. These babies are soft, comfortable and stretch with my growing belly. I have 5 or 6 pairs in various lengths and colors but plan to pick up a couple more of the 7/8 length in black, navy and dark green. They're just the perfect legging, if you ask me! I also have been living in my joggers set (or what Terry calls my "J.Lo jumpsuit" lol) – super inexpensive & comfy. Perfect for a chilly New England fall night at home!
Random
I had to throw in one more shout out to my new favorite coffee table book, Make Life Beautiful, by the talented duo behind Studio McGee. They have been a longtime favorite design studio of mine and provide me with constant inspiration. This book would make a great holiday gift or hostess gift for a fellow design lover. Not only do Shea and Syd have impeccable taste (hello to my dream kitchen, dream bedroom and dream living room!) but they have a chic, affordable line with Target – in my cart is this ribbed vase, this distressed rug, these woven baskets & a set of throw pillows.