When we were house hunting (which will be an entirely separate post on its own as I learned a lot and have so much to share on the topic), we looked at a variety of homes. Some were new build / turn key, others were total gut jobs and some were "move-in ready" but not exactly our style. The home we ended up buying fell into the last category. The home itself has a killer layout and was beautifully cared for over the years; however, the style wasn't exactly "us". I knew that while home renovations would be expensive, it was much more practical to do what we could prior to moving in, laying out furniture and having a baby.
We opted to give the house somewhat of a facelift, if you will, to make it more "us". There are three main areas we focused on:  paint, flooring and the staircase.
Paint: I have said it once and I'll say it again – absolutely nothing changes the look of a place more than a fresh coat of paint. Even if you end up painting the exact same color, it makes a difference. The previous owners had most of the home painted in earth tones – browns, greens, tans, reds, etc. Our style is much more of a monochromatic  vibe with cool tones like whites, ivories, grays and blues. We opted to just go for it and paint the entire home, including every single inch of wall, ceiling, trim and door. It was pricey but absolutely the right decision! We went with Classic Gray (in satin) and White Dove (in satin) for the majority of the walls with Chantilly Lace as the main trim (in semi-gloss) and ceiling (in flat) color. The house does not feel boring or sterile though – we have so much intricate molding, a massive stone fireplace and a few rooms with wallpaper. I went outside my comfort zone with Anchor Gray (in a powder room) and Amazon Green (in the nursery) which was one of the best decisions I made. We couldn't be happier with our paint selection and it truly has transformed the house and it feels brand spankin' new and looks a million times better.
Flooring: The house was built in 2004 and the first floor hardwoods were original to the home so they were a bit beat up, especially considering the previous owners had a dog. The hardwoods were also a yellowish gold color and reminded me a lot of what a standard apartment flooring color is. Meh, at best. The upstairs was entirely carpeted with a beige carpet which was also pretty worn from time. We debated back and forth what to do with the floors. Do we replace all carpets with hardwood? Do we choose real hardwoods or pre-engineered? What stain color should we do? I've got to be honest – the flooring was by far the hardest decision, and quite frankly, the most impactful. We chose to replace the upstairs hallway, master bedroom and staircase carpet with real hardwood (which is what the first floor already had) and sand and re-stain the entire home's hardwoods.
Since the hardwoods are red oak – and it was way too expensive to replace them all with white oak – we decided to work with what we had and go for a more medium brown versus the light stain I originally thought I wanted. I just love the look of the new, modern homes with super light hardwoods and black windows but the reality is, that isn't our home. We are a traditional meets modern and so super light floors just weren't in the cards. Luckily we have the absolute best floor guy who was extremely patient with our back-and-forth. My main goal was to remove all red and yellow tones and to not have the floors be too dark and minimal shine. We tested about 10 stains and various finishes and he ended up creating a custom blend for us of 70% dark walnut, 30% classic gray with a satin oil-based finish. They are sheer perfection and I am SO glad that we took our time and didn't settle with our choices.
Staircase: Normally, a staircase wouldn't be at the top of my list for any first round of renovations; however, our staircase is quite the show stopper. No matter which door you enter from, it's the first thing you see. We have a grand staircase that wraps around with a landing and is the focal point of our vaulted ceiling, double entry. When we bought the house, the banisters were very dated (think early 90s style) with spiral balusters and round, ball posts that you probably grew up with. They were extremely dated and really just looked old. Once we decided to change out the carpet for hardwoods and refinish the stairs, we got a quote to replace all of the posts, balusters and handrails. Since we were already removing everything (for the flooring), we decided to just bite the bullet and replace everything. Wow! I really underestimated what a difference this made. We are beyond thrilled with the square posts, the iron balusters and the modern look this brings the home. It really anchors the space and makes all of the renovations look complete.
Below are some before & afters for you – take a look at the difference and let me know what you think!
staircase, before & after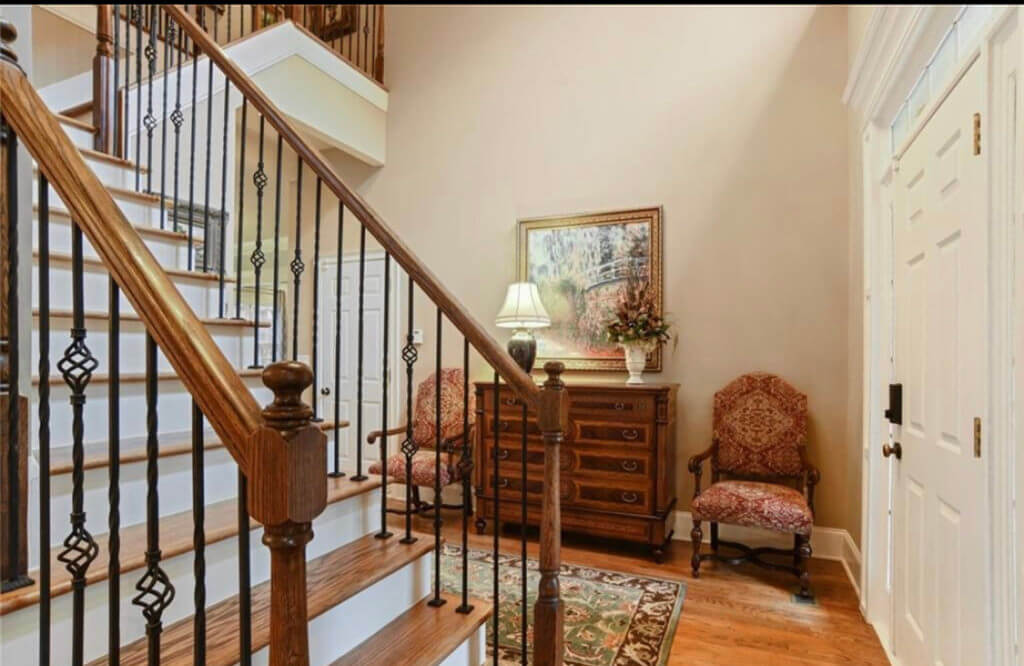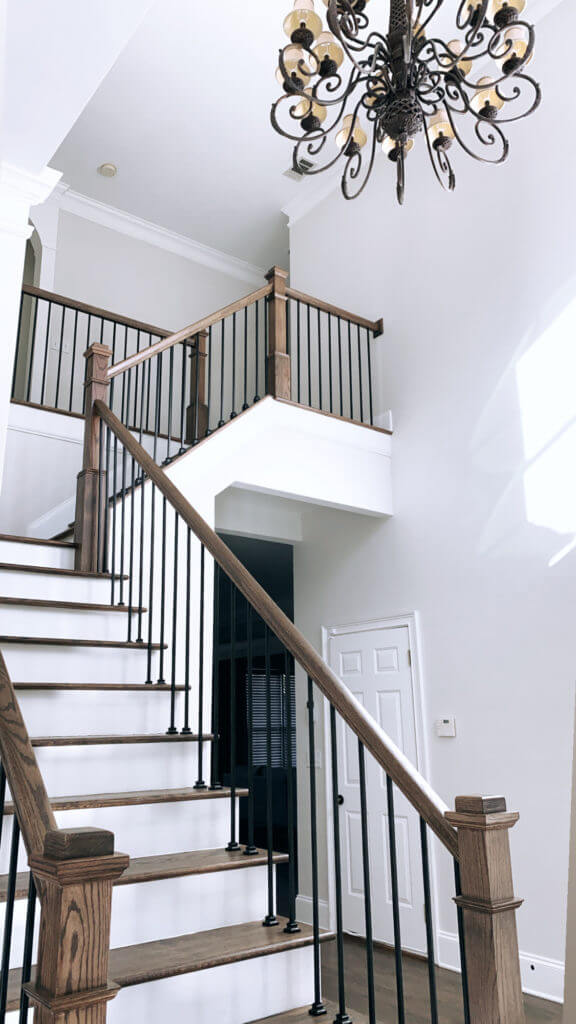 dining room, before & after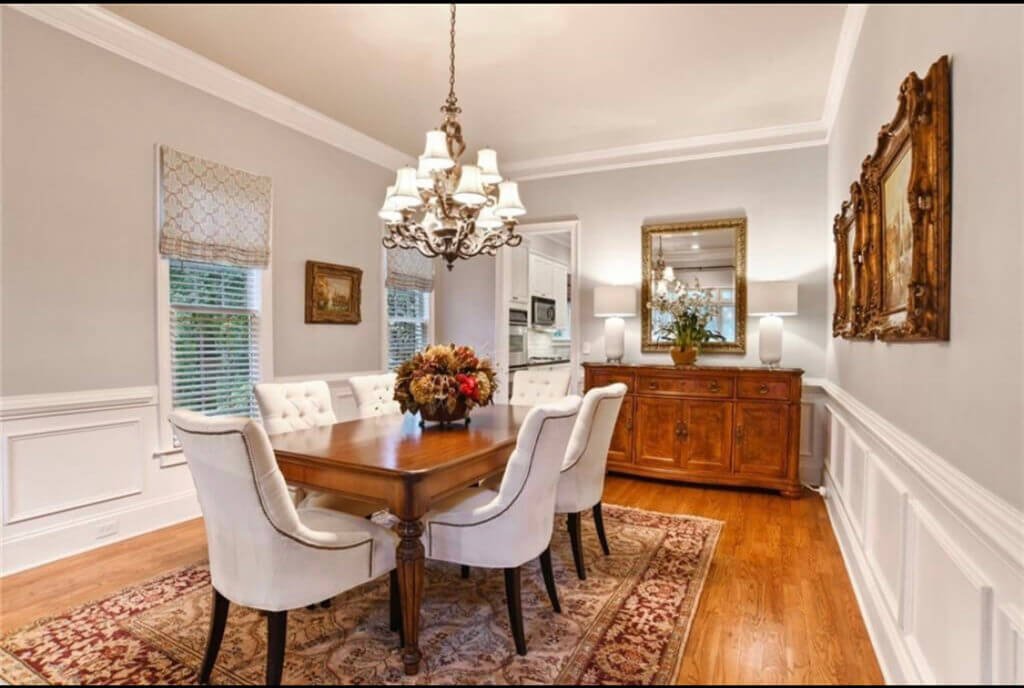 nursery, before & after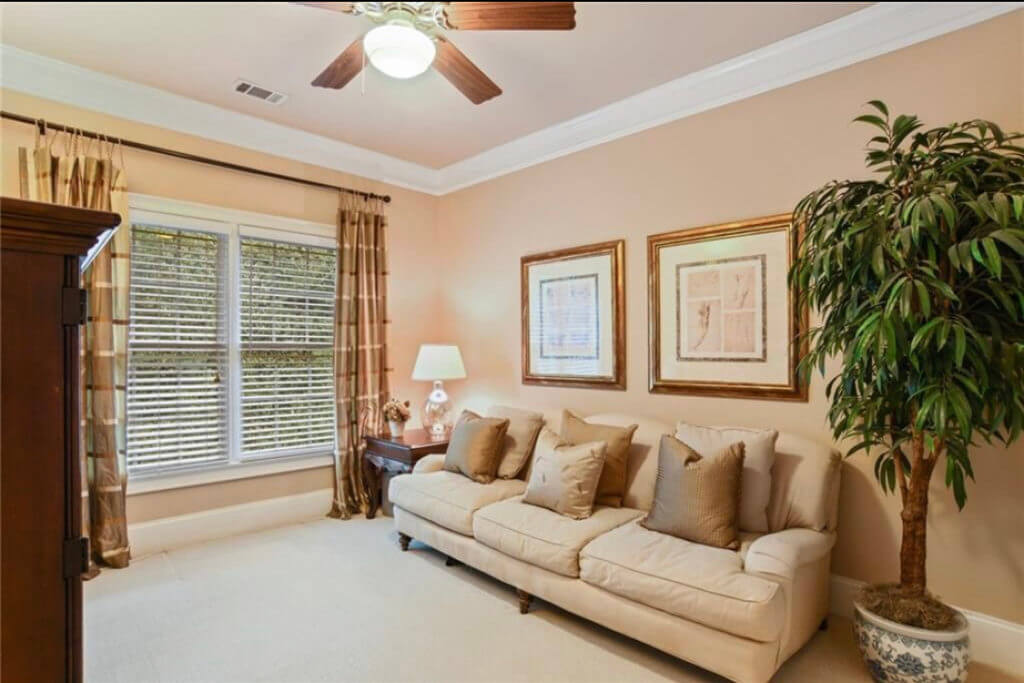 master bedroom, before & after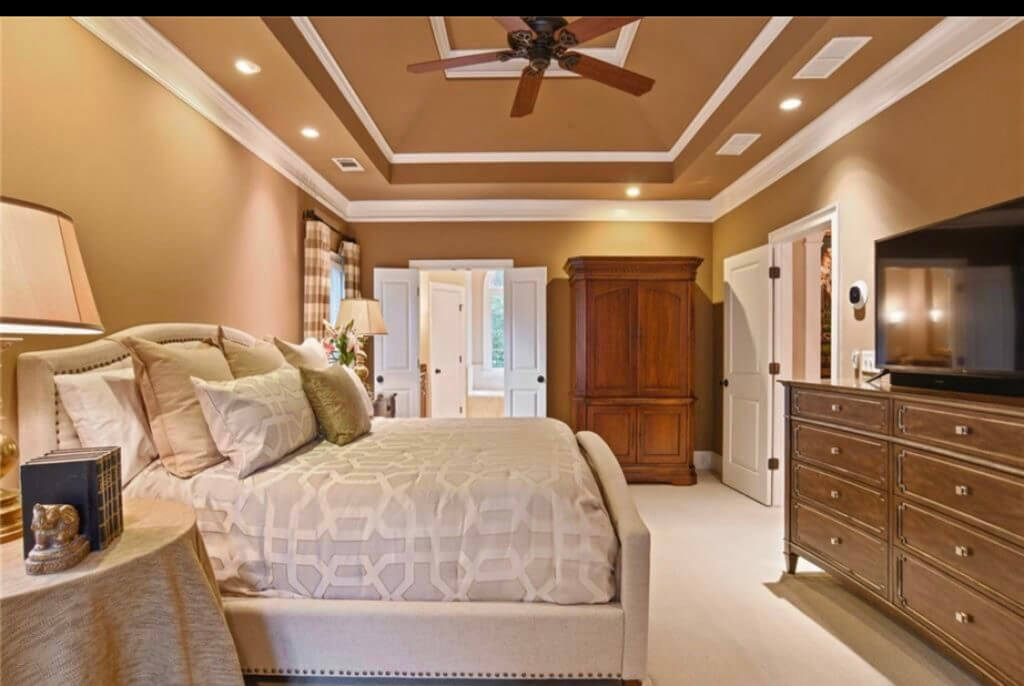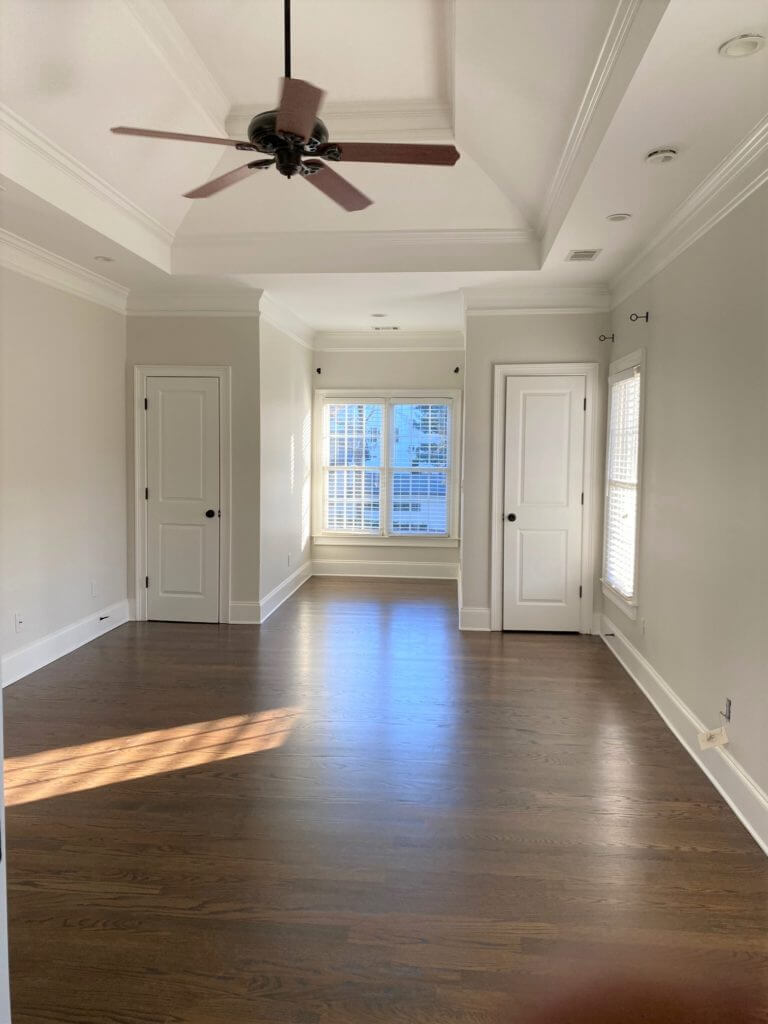 guest bedroom, before & after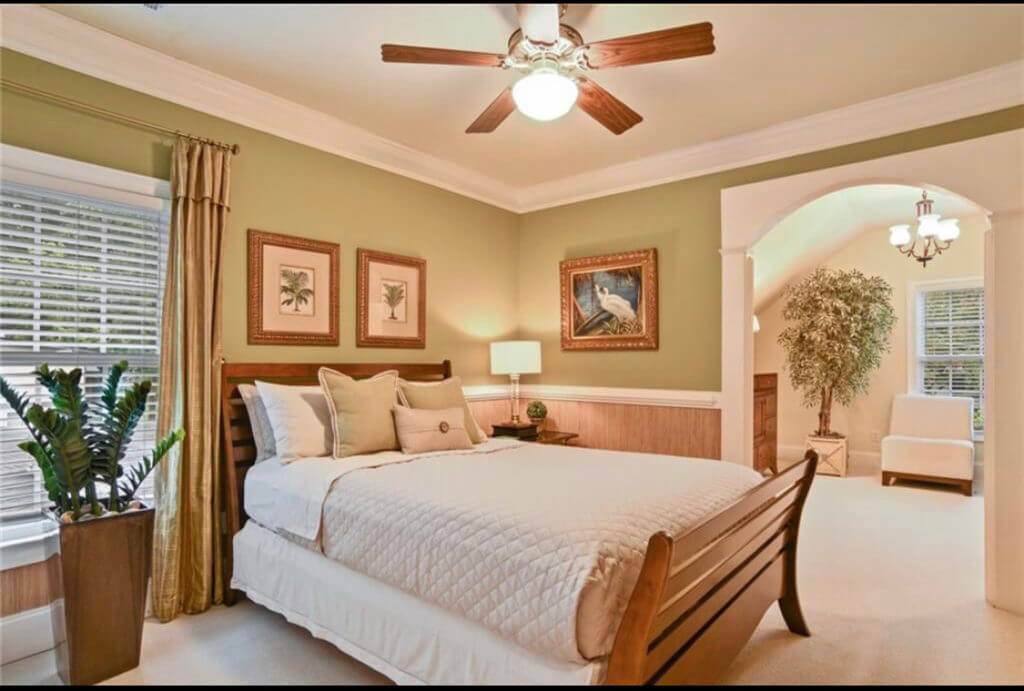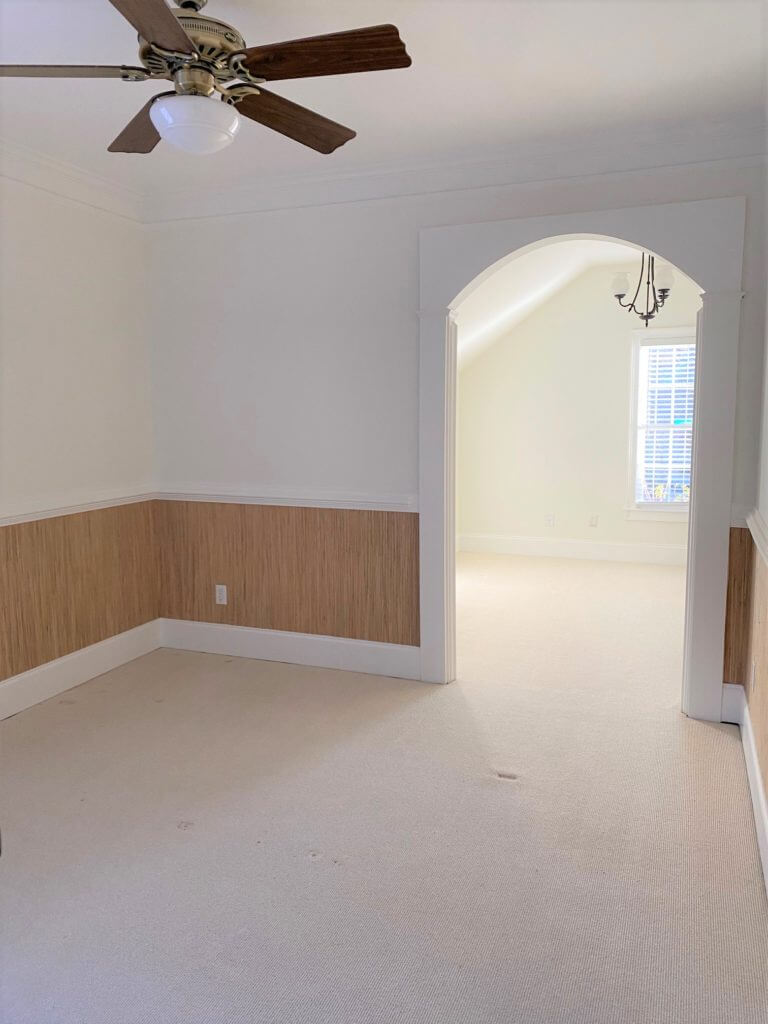 hallway, before & after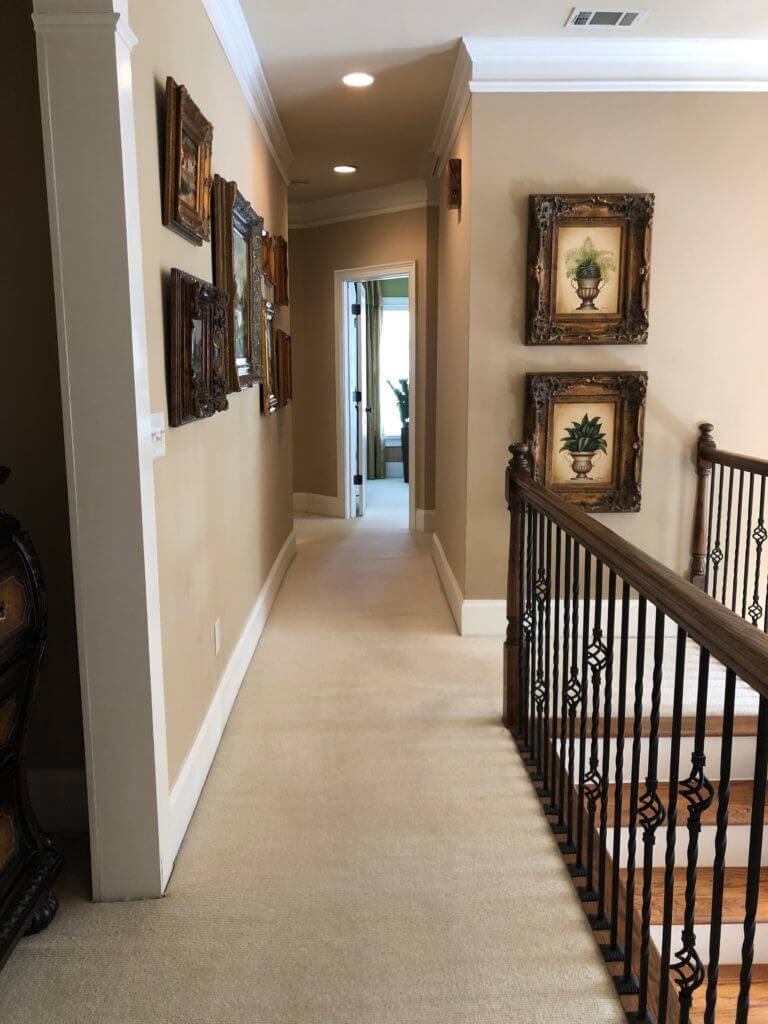 kitchen, before & after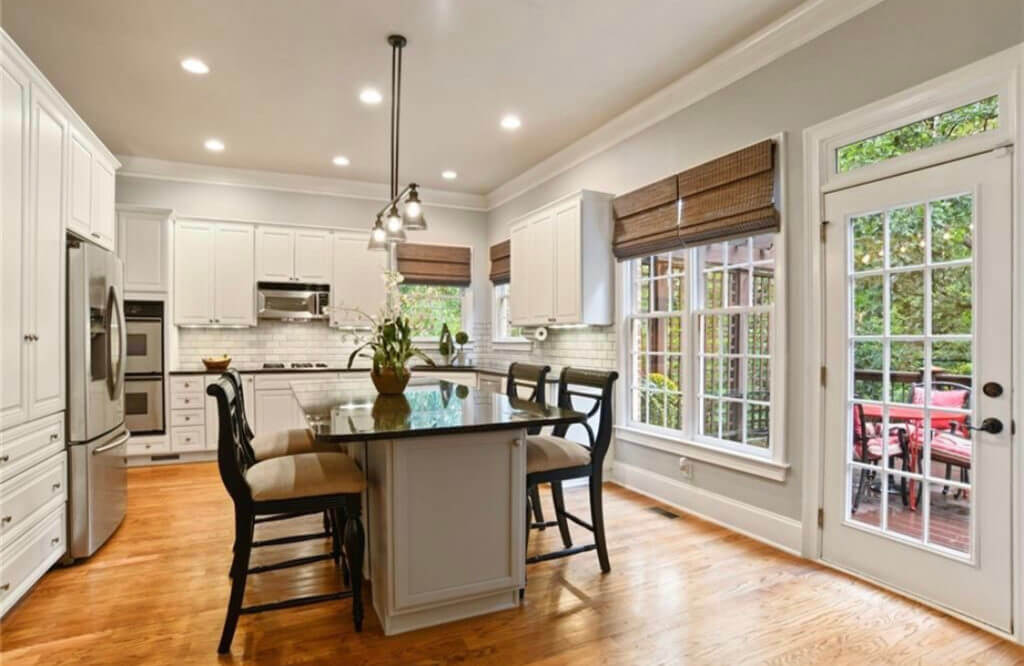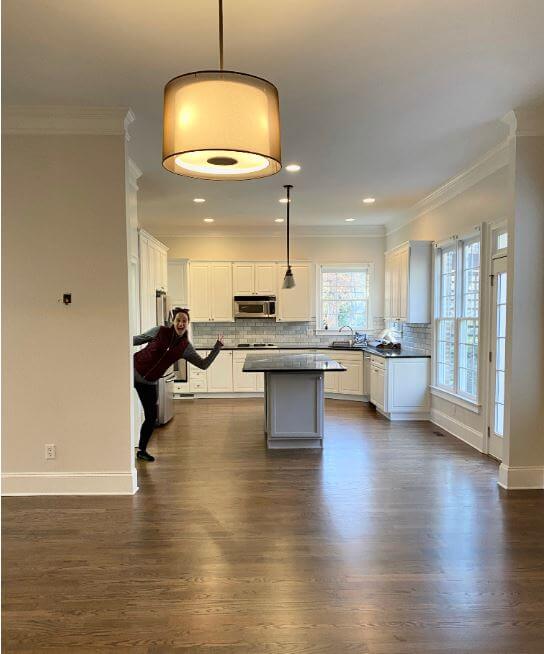 Of course, we still have a ton do to. Most of the lighting will be changed (or has already been), window treatments installed, furniture added, rugs changed, etc. But hopefully you are able to see what a big difference a fresh coat of paint, stain and woodwork has made in our home!
Overall, we could not be more thrilled with the changes that we made. I am so glad that people pushed us to spend the money upfront, get stuff done before the baby arrives and to just take our time doing it right so that we are able to feel settled and pleased with our choices. The entire project took about 4 weeks, start to finish. Our crew of sub-contractors were professional, thorough and very meticulous which is exactly what we wanted. When you're spending the money to renovate, you want it done perfectly!