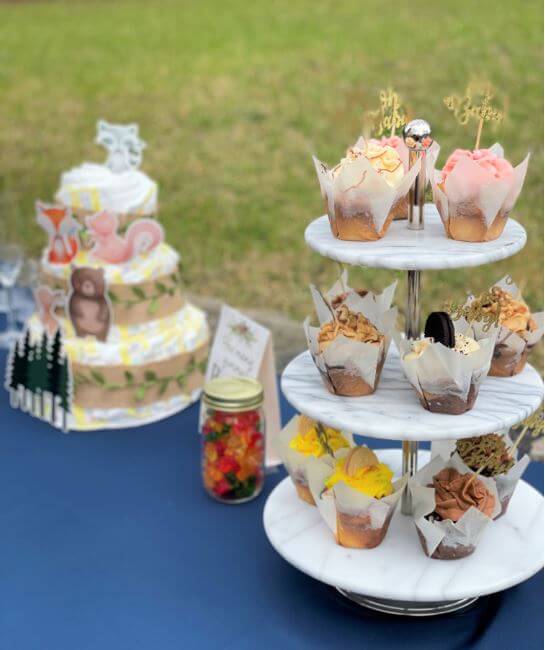 how darling are these details from my baby shower last weekend?!
I must start by saying "happy birthday" to my beautiful grandma! She had a birthday yesterday and I was able to bring her some lunch to celebrate – what a perk, now that I live in Georgia. I also baked her some German Chocolate cupcakes (I used to bake these for my grandfather every year on his birthday so I am carrying on the tradition). Aside from celebrating her this weekend, we are in major "nesting" mode over here. We have a million items being delivered and more than need to be put together so we can get our bedroom, the nursery and our living room done. Our washer and dryer are (finally) being delivered so I can't even tell you how excited I am to do a load of laundry! In between all of our "to do" lists, I'm hoping to escape outside for a few walks around the neighborhood. Enjoy your weekend!
+ A girlfriend made these sesame chicken dumplings last week and raved about them so I'm giving it a shot tonight for dinner.
+ Fellow expecting mamas – I snagged these workout leggings (in black and maroon) and these everyday black leggings to wear for the next two months.
+ If you're a fellow tea drinker, this electric kettle is for you. We got one for my parents for Christmas and it's awesome!
+ Adding the Palm Springs Surf Club to my travel list…this place looks cool!
+ Dang, SJP made a sweet profit on her West Village townhouse.
+ Speaking of SJP…Sex & the City is coming back! Mixed emotions over here but I know I'll be watching.
+ I'm in search of new PJs and torn between these striped ones and this thermal pair.
This Week on South End Style
The Highs & Lows of House Hunting