Happy Friday y'all!
I'm in the motherland of ATL here with some of my besties, celebrating a friend's wedding. It's 70 degrees & sunny and I couldn't be happier. While I was sad to leave the boyfriend & the frenchie, a girls weekend is long overdue. I'm ready for some mani/pedis, happy hour action, fly wheel spinnin' & some serious girl talk. Is there anything better? I think not.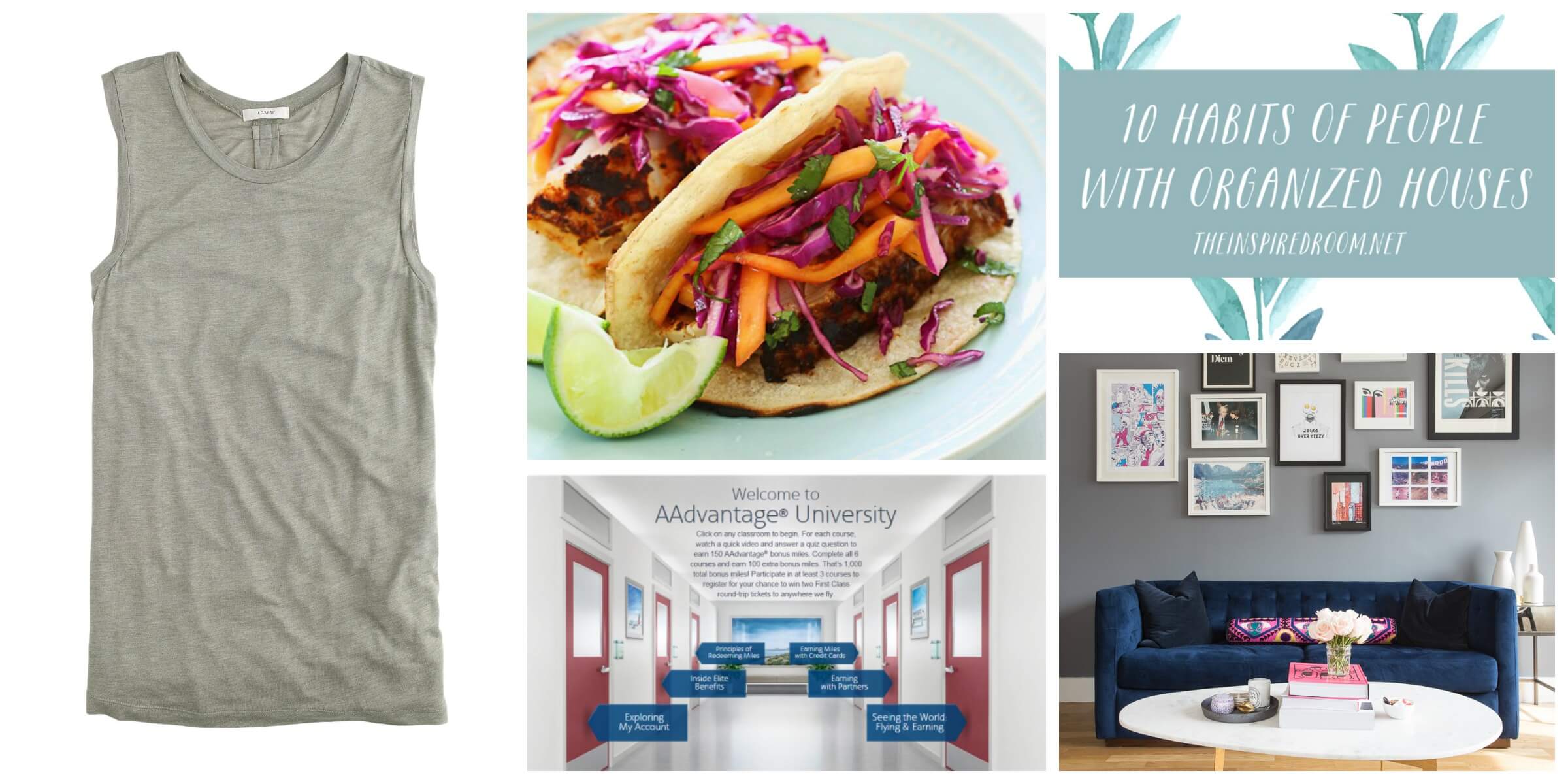 1. I picked up a couple of these J. crew slinky tanks while I was out shopping with my friend Kaitlin. She was wearing a heather gray one paired with black leggings, a green military jacket, gray suede booties & a dainty gold necklace. It was the perfect Sunday brunch-to-shopping outfit…effortlessly put together. I've already worn mine! A good quality, versatile staple in every closet (and 30% off!)
2. This Rue Magazine home feature has, yet again, confirmed my love for blue velvet sofas. I may dedicate an entire post to this, as I have seen them used in SOOO many different, fabulous ways!
3. Skinnytaste does it again! Nothing says "welcome to spring" like some delicious fish tacos. Oh baby, they may in my top 5 favorite all foods. All tacos really- us Georgians don't discriminate when it comes to Mexican food. These blackened fish tacos with cabbage mango slaw are going to be a hit, I already know it- fresh, healthy & tasty. I can't wait to make them!
4. Travel with American Airlines often or live in a hub city? Or just wanting to rack up some miles? AAdvantage has this deal going on now- it's an easy, free 1,000 miles from watching a few 60 second videos (trust me, I did this and it took all of 2 minutes). With the US Airways/AA in full effect, this mega airline has a seriously stellar miles program (read: WAY easier to accumulate/redeem than Delta, SW, United or Jet Blue). Not quite sold? Read this article for more details.
5. Are you one of those annoyingly organized home people? (currently raising hand because I am a total OCD house freak). Well if you are- or if you aspire to be- here are some great tips for you. Reading through these "10 habits of people with organized houses" actually cracks me up because I definitely do them all, especially #2 & 1#0- I am like the total opposite of a hoarder and probably get rid of too much. Hey, I'm a work in progress.
What's on your weekend wishlist?!