It's been a little over a week since I introduced the first post in my new series, "New Year Revamp". Now that we've got our home office all updated & tidy, let's move along to the guest bath!
I find guest bathrooms to be quite an easy thing to revamp. For starters, they're usually not used too often, so it's easy to keep them organized! Secondly, you don't need many updates to make a big impact. If you're unsure of where to start, just think of the most relaxing, luxurious hotel bathroom you've seen & try your best to recreate it!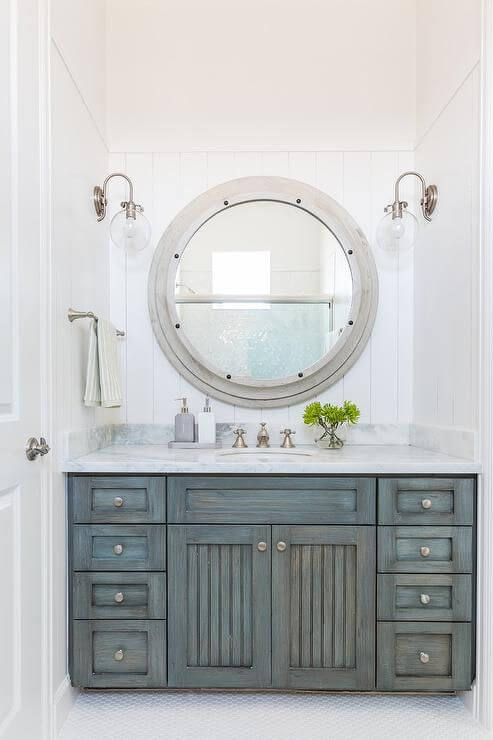 While we may not all have the stunning views that come with 5-star hotel bathrooms, we do have the ability to recreate the overall patterns:
Go white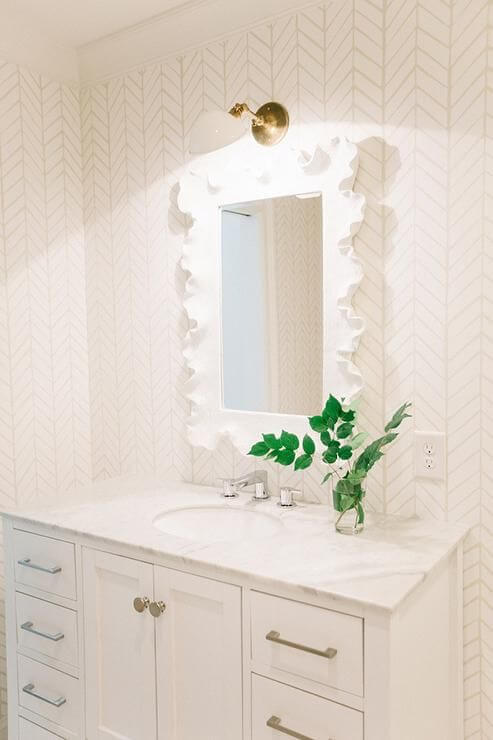 Now you know me, I've never met a white space I didn't love. White tile, white cabinets, white linens, white mirror, white shower curtain…yay team white! Think it's starting to feel like a room in a mental institution? Keep reading…we add color, textures, warmth & serenity with the next 4 pieces. Trust me.
Keep it functional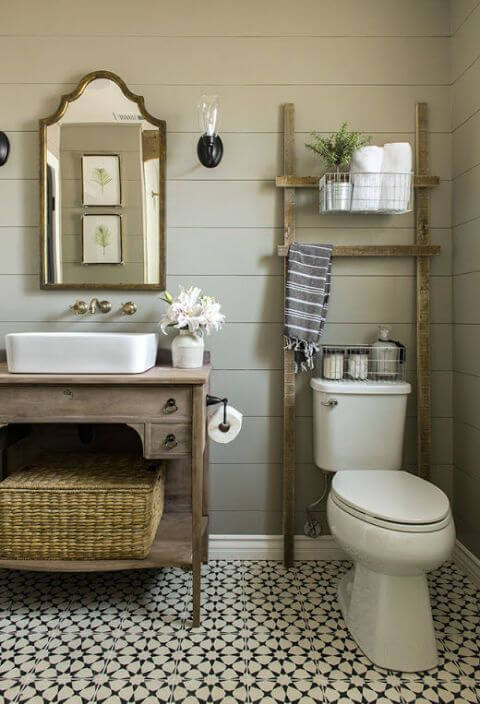 The three rules of bathroom function: storage, style & samples! Make sure that if you don't have proper under-the-sink storage, you've got a way to display towels, TP, etc. (the ladder above is a super cute idea). Keep it stylish! No need to buy one of those ugly over the toilet shelving things you had in your college apartment. Search Pinterest, get some inspiration & keep it classy. Finally, don't forget to have some toiletry samples for your guests- try an upscale brand of travel sized items. They're so small, it's worth the splurge.
Upgrade your linens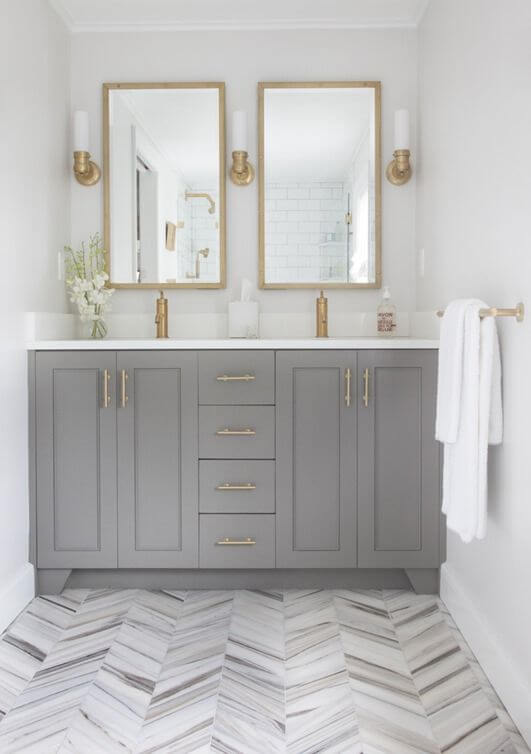 This is key for all bathrooms, but especially your guests! I read a quote the other day that said "if you wouldn't let your mother-in-law use these towels, it's time to replace them". Ha! So true…towels are an inexpensive, yet luxurious way to update your guest bath. After all, is there any better feeling than hopping out of a warm shower & wrapping your body an a plush, oversized towel? I think not. Some good options are these, these or these.
Wow with art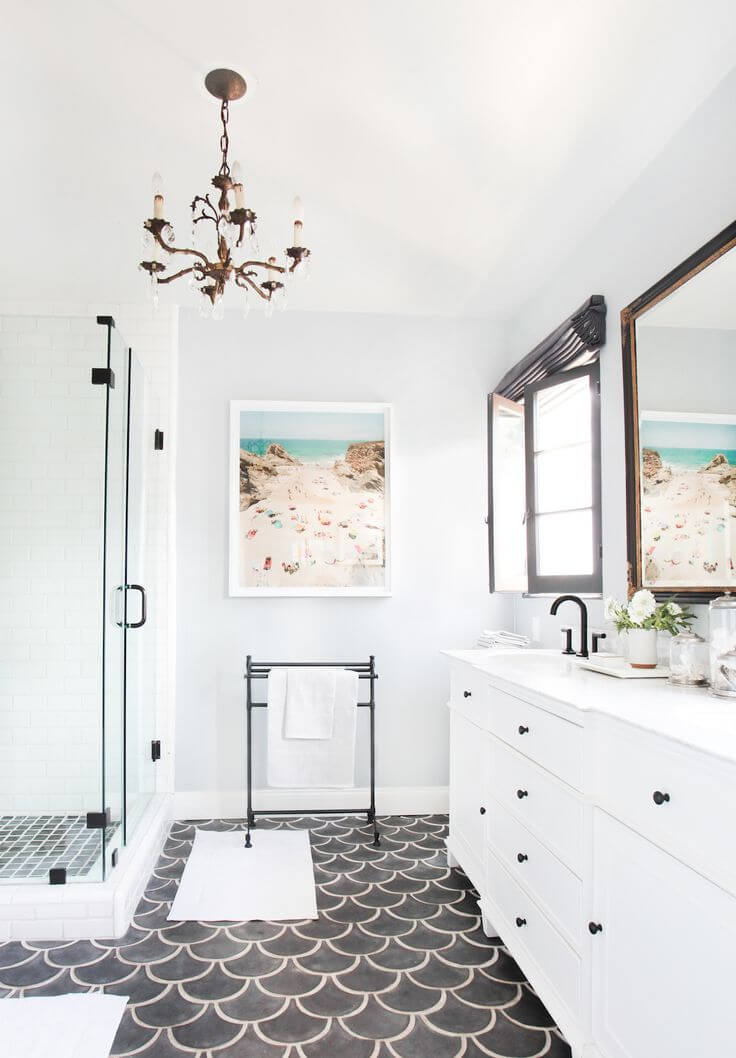 Beach photo? Black & white? Oversized? There are so many options for art, yet usually so little room in a guest bath. Go for a piece that's not bland or boring (please, no canvases with writing!). The picture above is a beautiful Gray Malin- see how it totally brings color & a pop of "wow!" to the space? Think of it as the jewelry on your outfit.
Add a touch of luxury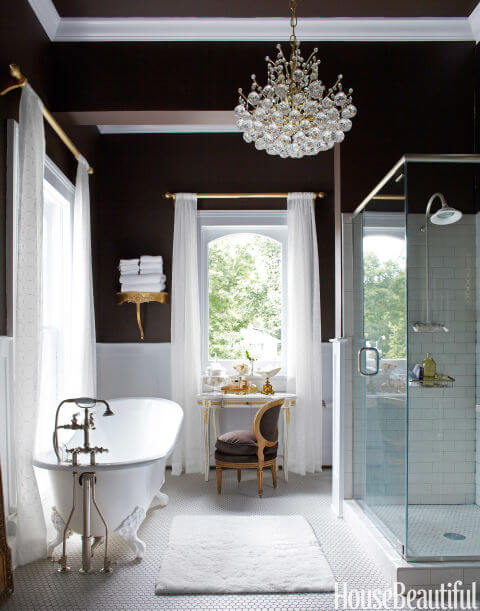 We talked about towels above, but there are many ways to add luxury to a guest bath- lush linens, a gorgeous mirror, a huge soaker tub, a chandelier, or stunning fresh flowers (the easiest!). The list goes on and on. The trick is to either take something that makes your guest think "wow, that's really beautiful"…and wa-la, mission accomplished!
What's in the plan for your bathroom revamp?!