A couple of weeks ago, we traveled to Austin, TX to visit one of our favorite couples. Going into the trip, we really had no expectations for Austin and were just hoping to spend a casual weekend catching up with friends. Well, let me just say- Austin blew us away. We loved this city!!! Austin is one of those cities where you can't have a bad meal. And if you do, you're doing something wrong.
One of the best parts about Austin is while they have incredible food,it is also an incredibly active city.  There are so many outdoor activities you can do and ways to stay active, including hiking, biking, kayaking, lake water sports, and more. Whether you're a foodie or an outdoors lover, this city offers something to you. I have so much to share about this badass country-hipster town and I can't wait to go back to experience more.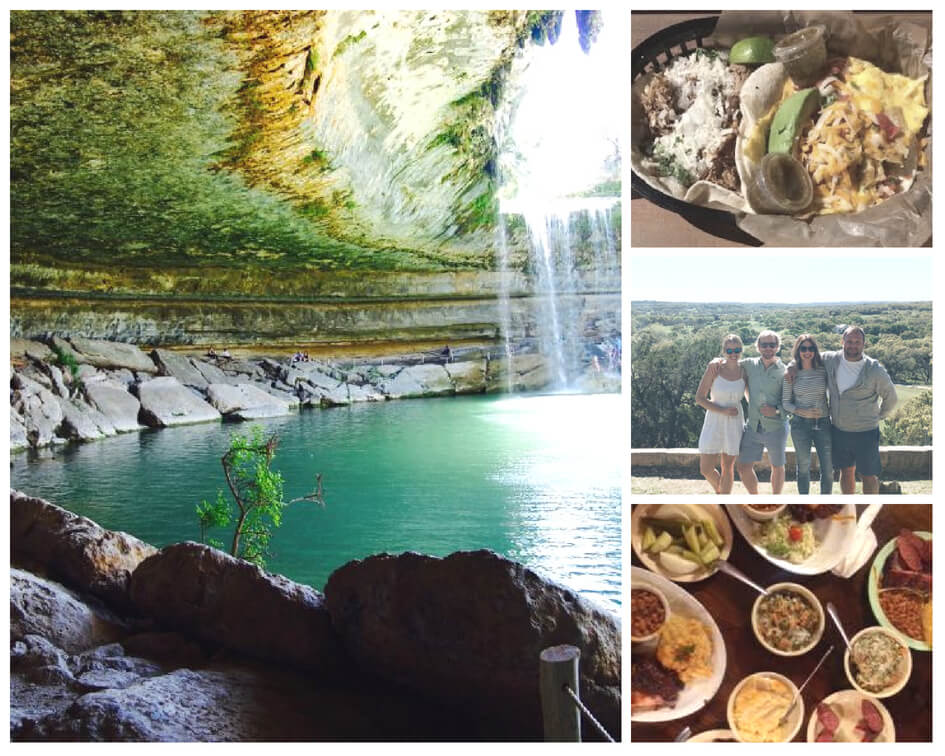 What To Do
+ Driftwood Estates Winery: and enjoy a little sun & wine tasting (only $12!). It's no Napa, but the wine was tasty, the views were gorgeous and the weather was just perfect. You'll need a car to get here but we had a wonderful time – they've got a big lawn to relax on and they're just down the road from Salt Lick BBQ so you can indulge after.
+ Barton Springs:  This 3 acre natural cold spring is the perfect way to refresh yourself on a hot Texas day.It been formed into a swimming pool where you can drink an ice cold brew, lay out in the sun, or swim some laps. It's a public space but feels a bit more private because you're surrounded by trees. Best part? It's less than $10 to get in.
+

Hamilton Pool: This was our favorite thing we did while in Austin! About 30 minutes west of Austin, there is a stunning nature preserve that is basically a huge swimming hole/grotto that was formed when an underground river collapsed thousands of years ago. We began by hiking for about 45 minutes into the woods and then all of the sudden, the trees open up to the beautiful spot. The water was a gorgeous blue-green color and so refreshing (warning: it's freezing!) We spent a few hours there jumping off rocks, exploring the waterfall & frolicking in the water. You can hike & explore the area for hours, which I highly recommend.
+ Murals: You must do the touristy favorites and snap a few Insta-worthy photos. There's the  "i love you so much" sign, the "greetings from Austin sign" and more. Check out this article to read about all of the creative, beautiful murals in Austin.
Where To Stay
+ W Austin: This hotel is located downtown in the heart of Austin, walking distance to many of the bars and restaurants you will want to visit. They also have a rooftop pool which comes in handy on those hot Austin days.
+AirBNB: As I mentioned, we stayed with friends. It was nice having pool access in their complex (Austin is hot, y'all) and being able to save a bit here. I found quite a few amazing rentals in the downtown area, near the W – that's where I would opt to stay if I went back.
Where To Eat + Drink
+

Food Trucks

: There are an abundance of food trucks in Austin (isn't this where the "food truck" trend started?). There's one attached to every bar with an outdoor space & there are multiple food truck parks. And y'all don't be fooled- the food is legit. I had the best fish taco of my life at the food truck park. The guys split a Monte Cristo & couldn't stop raving about it.
+ Veracruz: We had the most amazing breakfast tacos here. If you visit Austin, you have to go here- their tacos are probably my #1 recommendation. We sat outside on picnic tables in the 80 degrees to enjoy these flavorful & authentic babies.
+ Torchy's Tacos: Now that it's a chain, a lot of the locals think this place is touristy, but I disagree. We had taco brunch here (1 breakfast taco, 1 lunch taco) and they did not disappoint.
+ Salt Lick BBQ: Texas barbecue, y'all. What an experience. To start, I just loved the vibe. It's a huge indoor-outdoor space with multiple family-style seating at picnic tables. While waiting for your table outside, it's BYOB (the wait can be hours) and there's a guy playing live music. You really feel like you're in a friend's back yard. We had way too much and every last bit- from the pickles to the chicken to the ribs to the blackberry cobbler- was out of this world. Can't recommend this spot enough!
+ Justine's: Located in East Austin, this swanky dinner spot has really stellar French food (think steak frites, mussels & a world famous pork chop). The ambiance is super sultry and dark- a really fun spot. Get a dirty martini if you go.
Traveler Tip: If you are at all a sparkling water lover, you must get Topo Chico!