Happy Monday Y'all! We had a fun filled weekend with some dear friends that came up to visit us from NYC. Sometimes a weekend full of laughter & good conversation with great friends is exactly what the doctor ordered. I'm feeling refreshed this morning!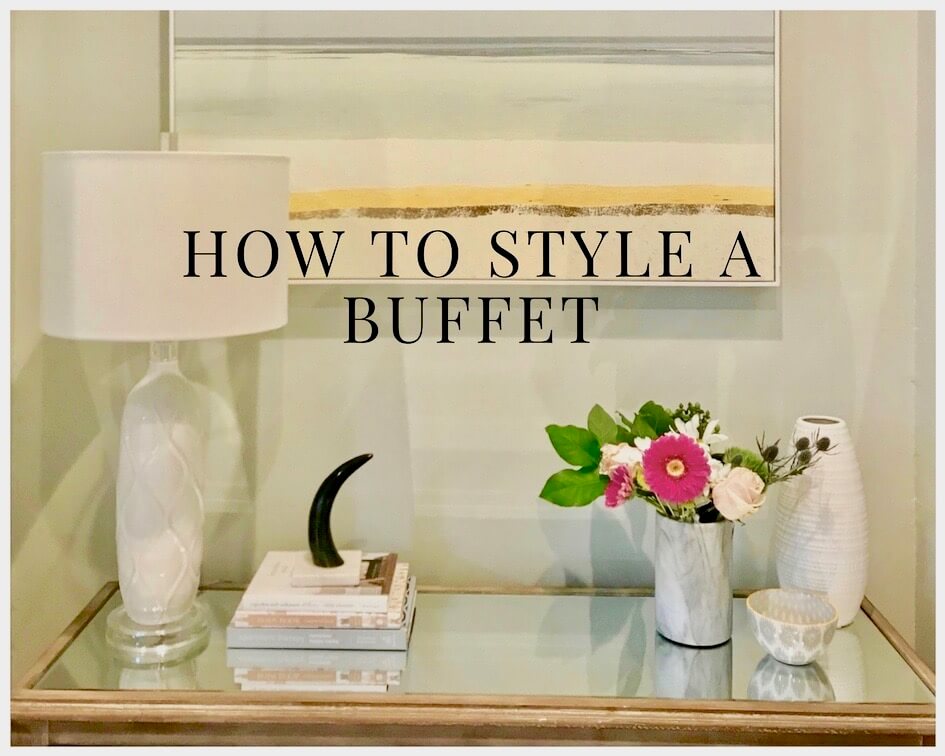 So, while this post is titled "How to Style a Buffet", it really should be called "how to style any surface" but that just didn't sound as pretty. I get asked ALL the time for styling tips – people often find that their surfaces (buffet, tv console, side table, nightstand, mantle, dresser, etc) are either too crowded or too empty. It's hard to find that balance of looking styled, yet natural.
A few key "rules" I like to follow when styling a surface:
Let one piece anchor the space
Stick to groupings of 3
Incorporate natural elements (plant or flowers)
Stack books to elevate / create mixed heights
Keep it cohesive with a color scheme
Here's are two examples of how this can be done:
The above buffet is about 60″ long so I wanted to create two small spaces so that it didn't feel overcrowded. The art (roughly 2/3 the length of the buffet – the perfect scale) anchors the space, while the two groupings create some visual interest. While everything is in the white/cream/grey family, I created interest by using various textures & materials (ceramic, marble, glass). The lamp provides more height and the flowers bring in a natural element. I've actually got another similar white vase that I swap out (it's short and squatty) and I'll fill both with greenery. So many options here!
The mantle above is a bit longer – about 70″ and so there was more surface space to cover. Ideally, I would like a larger mirror but this works for now. As you can see, I've stuck to the neutral pattern as well, but incorporated some brass, gold and wood to give it more of a pop. The tall, oversized eucalyptus really makes this space work for me. Again, you can see I used the marble + wood box to pair with the beads & candle (set of 3!) and the picture frames at varying heights keep it cohesive, yet interesting.
I hope this helps! If you follow these 5 rules for styling your surface, you can't go wrong! If you have any questions or need help styling your own space, feel free to email me.
Have a great week!