When I announced that we were moving back in December, I put together a design board that gave a general outline of the style and feel I wanted our new place to have. Lucky for us, our home has some killer architectural character – 14' ceilings, intricate molding, floor to ceiling windows with natural light & various built-ins. The bones are easy to work with but it did have some challenges as well, including a narrow/awkward living room layout, minimal storage and an overall small space of only 800 square feet.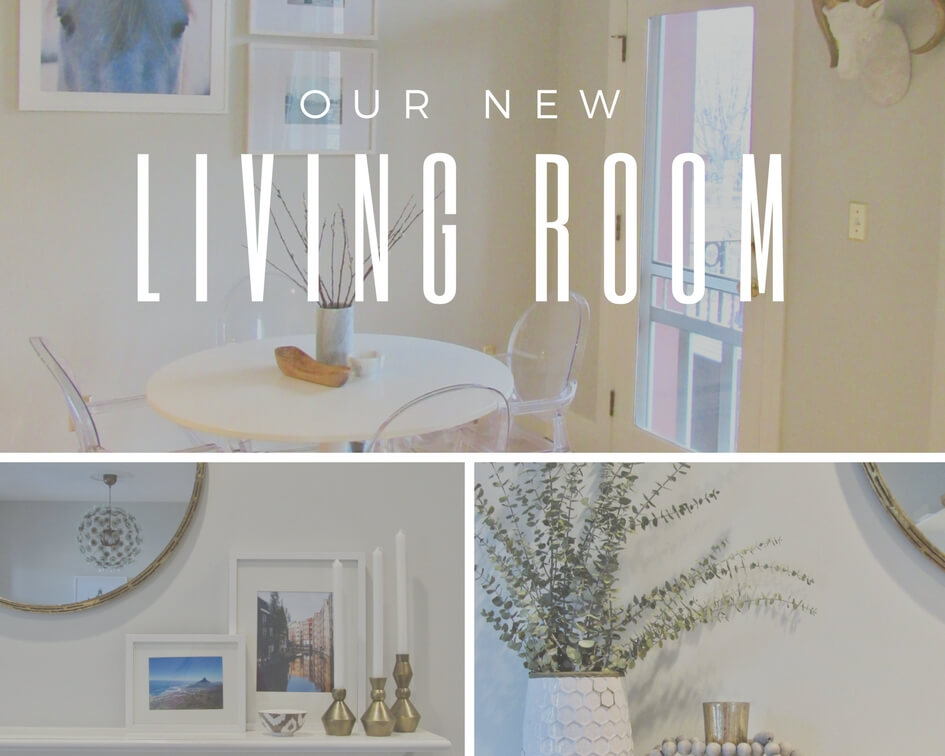 With three of us (including our Frenchie, Mela) living here, I knew that we needed our main living space design to achieve 5 main goals:
1.A bright, neutral color pallet
2.Added storage, mainly hidden
3.Comfortable seating for at least 4 (+ pup)
4.A distinct dining area
5.An open & spacious feel
Here's how I did it:
A bright, neutral color pallet: The walls are a very light gray, the trim, molding, windows & ceiling are all bright white. I stuck to a cream/white/gray color scheme for all of the furniture to keep it visually bright and light. I incorporated some natural elements (wood coffee table, woven baskets, eucalyptus) to keep the space from feeling sterile. Also, I mixed various textures to warm up the room and keep it interesting – we've got microfiber, linen, silk, velvet, faux fur & more. Texture was key here.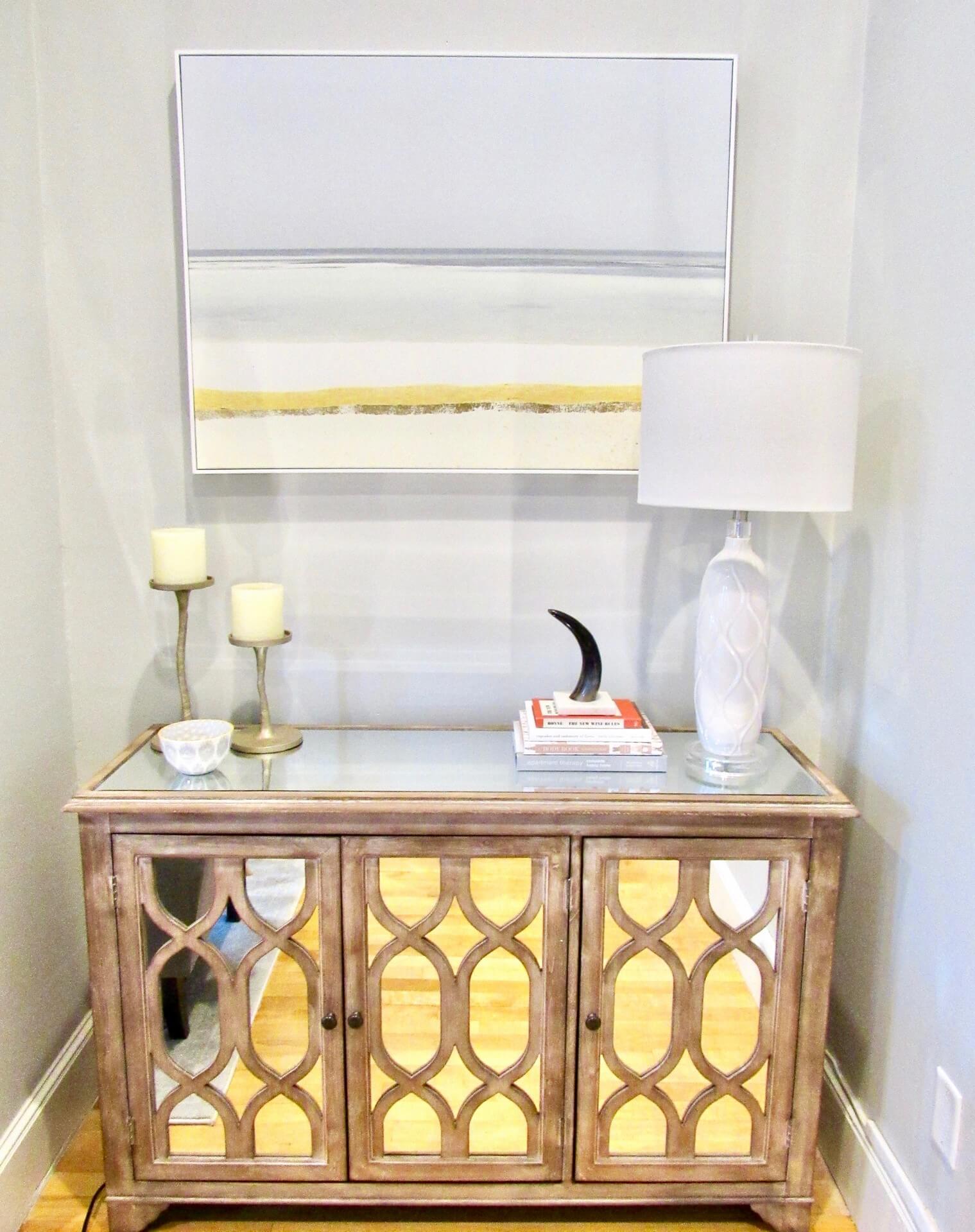 Added storage: Behind the sofa and in the nook are woven baskets that store extra pillows, blankets and various dog toys. The coffee table also has two secret drawers that store all of our remotes, candles, chargers, etc. The buffet was the biggest game changer in this room – we have over 30 bottles of wine and a full bar in there. We also use this to store cute cocktail napkins, bar tools & cozies.
Design Tip: We keep the buffet top styled on every basis (less clutter), but we display a few items on a tray atop the bar when we have friends over.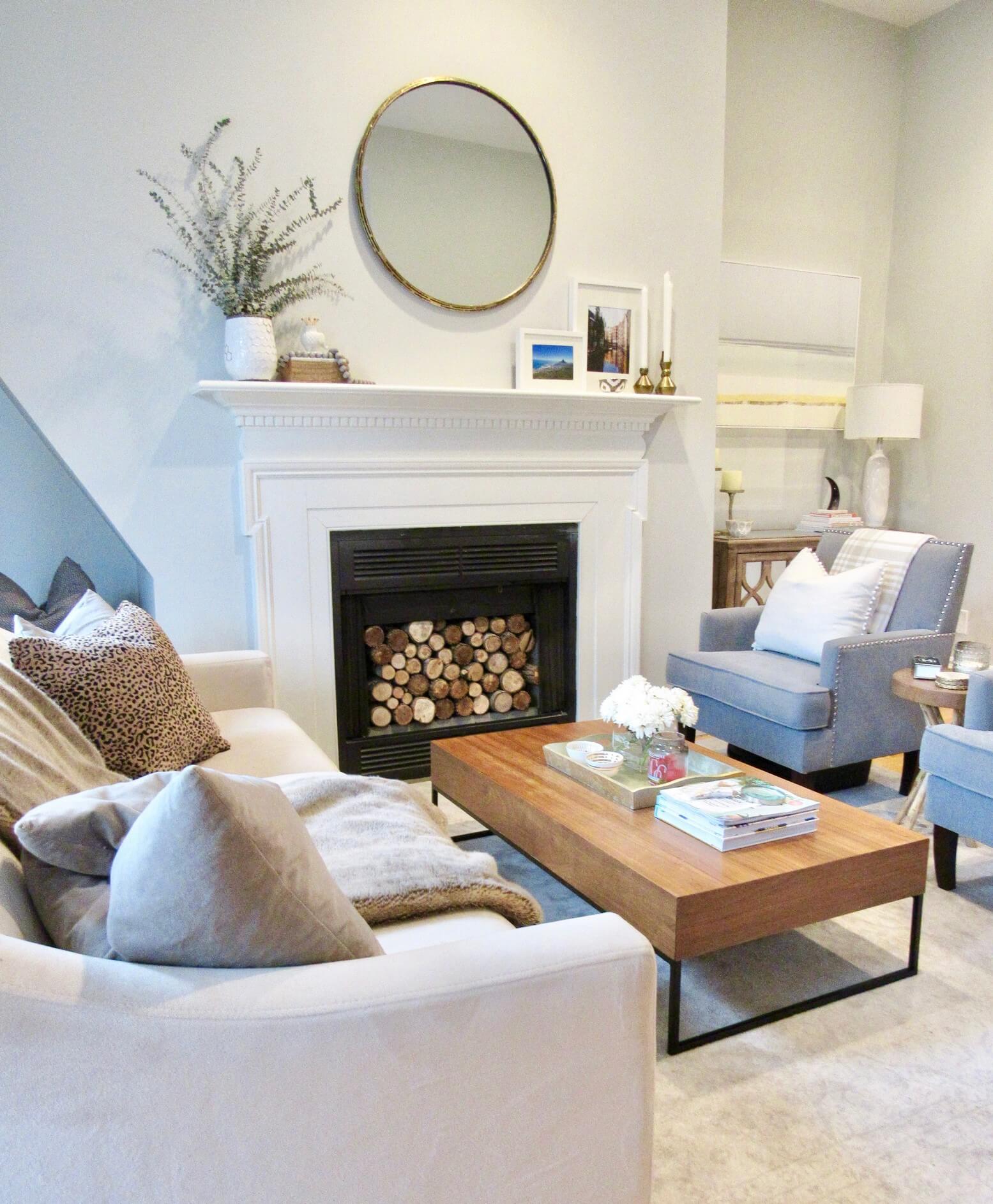 Comfortable seating for 4: Our sofa is only 72" and though it's not long enough for someone to sleep on (sorry out-of-town guests, you'll have to get a hotel), it fits 2 comfortably and 2 more can sit on the chairs. If we are expecting more or need more seating, we can easily push back the sofa and add a few ghost chairs (or ottomans) for additional seating. We've had 4 people hanging out in the space multiple times and it's always plenty of room.
Side note: Our space is too narrow to mount the television above the fireplace so we decided to place it on the wall across from the sofa. We rarely watch tv, but when we do it's usually just us two and this is the most comfortable layout.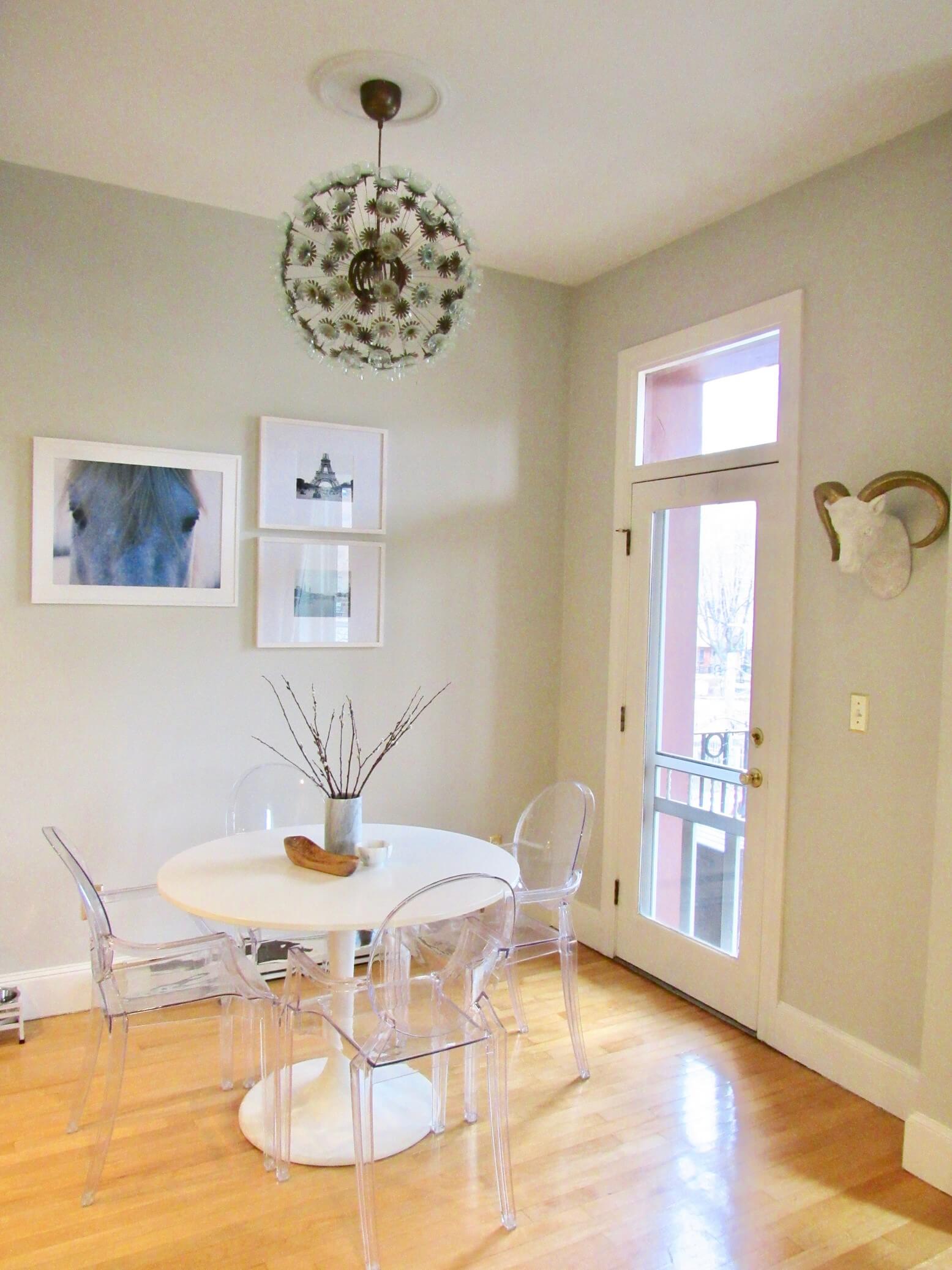 A distinct dining area: If we didn't have that pesky radiator on the back wall, I would have tried a bench/banquette against that wall and a rectangular table; however, I think that this 42" round tulip table works perfectly. I opted for ghost chairs for a few reasons – first, they take up minimal visual space so the area appears larger than it actually is. Can you imagine if there were four bulky chairs there? Second, they're light weight and can be moved around easily when needed. Also, we can push the table against that back wall when hosting to open up the walkway between the kitchen & deck and use the table more as a serving piece.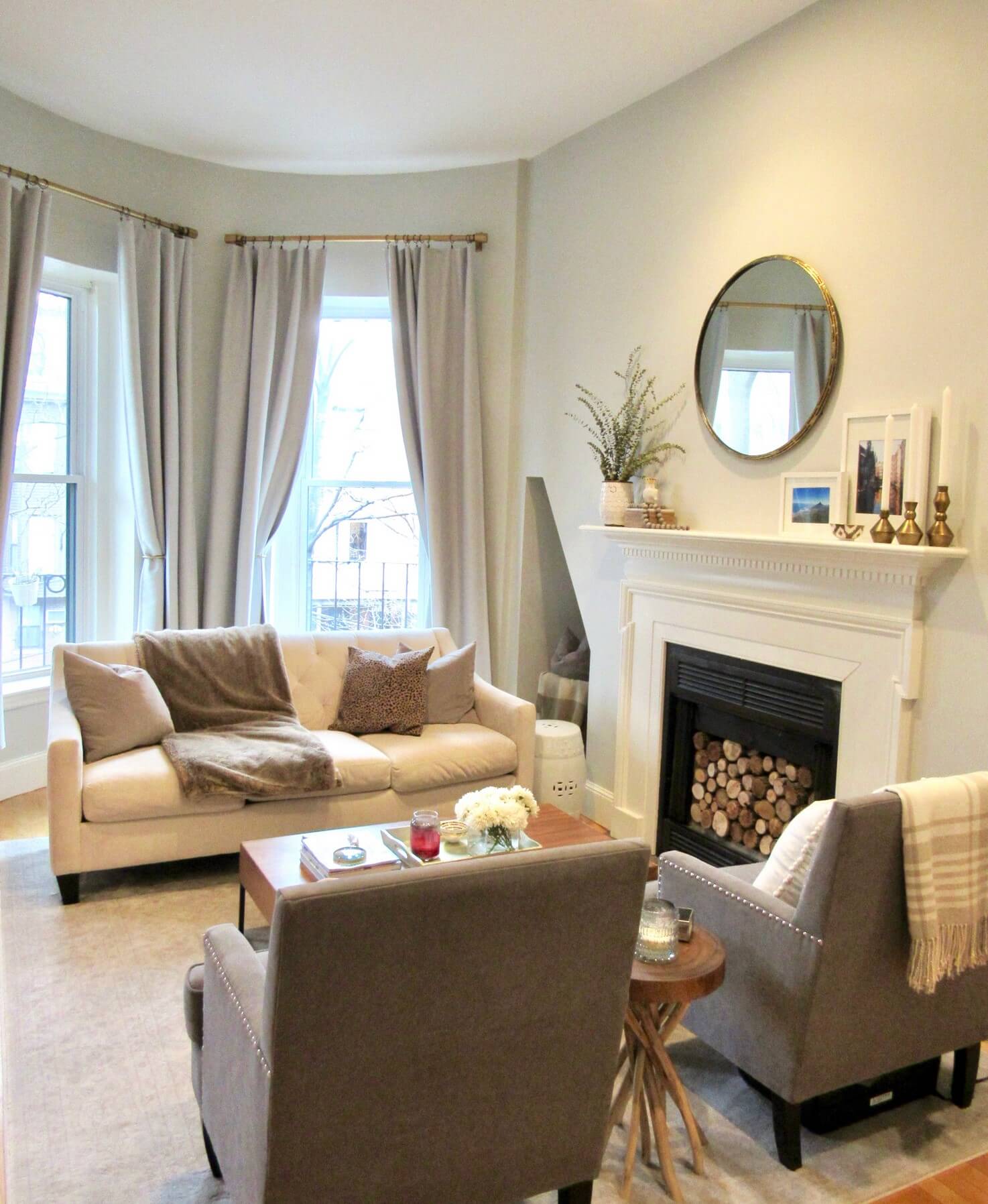 An open & spacious feel: A huge mistake that people make (especially when renting/moving) is not using furniture that's an appropriate scale for the space. Our sofa is only 72" but it's the largest we could go for this room, without the hallway feeling crowded. We purchased two chairs and anchored it all with an oversized rug. By centering the furniture in front of the fireplace, not the room center, we were able to create a "sitting" area and a "bar" area. We played with a few layout options here and this one works the best for sure. Note that we also went with low profile furniture so that the bright window light wouldn't be blocked.
Design tip: Ideally you want 36" for any walkway in your home to allow for a comfortable flow.
 So, there you have it, our little living room / dining room / bar space. Brownstones are always challenging to design because they're long and narrow but I think that we did a great job maximizing our space, highlighting the features of the space and making a warm, inviting home. We love it here!