If you've been reading along, you know that we are moving in a few short weeks. I revealed details of our new living room in last Monday's post and while we're keeping a few main pieces, I'm adding some new pillows, art and decor pieces. One of the best parts about moving is that you get to totally refresh your space! Our master bedroom  has needed a makeover for a long time but I was waiting to move because we are upgrading to a king bed (finally!). I'm still on the search for a new mattress but have been narrowing down the rest. In fact, I'm torn between two design options so I would love your input!
Option 1: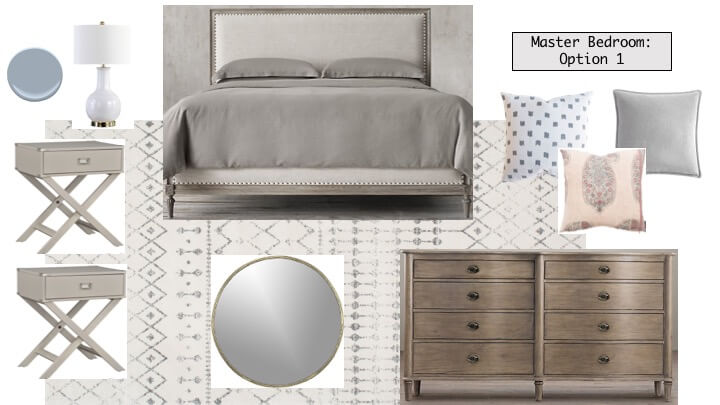 Option 2: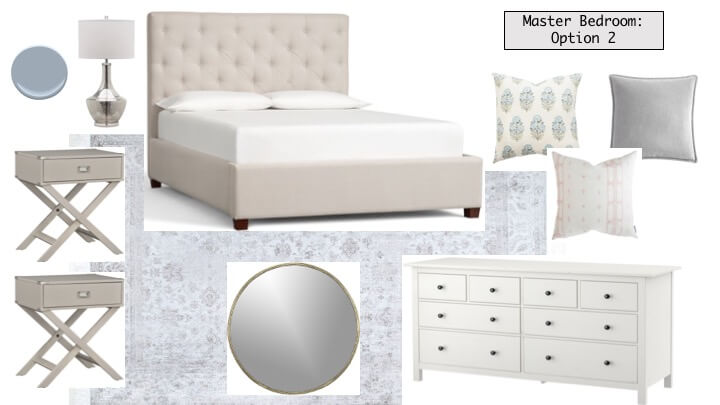 As you can see there area  few similar pieces but a lot that is different. We have set of grey campaign nightstands that I want to keep – they're simple, versatile and functional. I also want to use this round mirror that we have – it's heavy & really pretty in person.
For the bed, I'm debating between a classic upholstered cream bed and this wood upholstered beauty. Either way I will stick with all white bedding but add some color in with the pillows.  I'll likely do some gray, white and blush.
One main piece that we definitely need is  a new dresser. We'll have one long, big wall across from our bed that will hold this piece – one large enough to fit two sets of clothes (lucky for us we have a huge walk in closet as well). I'll either go classic white – with a muted gold hardware – or a light grayish-brown RH lookalike.
The room has a lot on natural light from two large bow windows and an overhead lights, so I'll stick with two simple lamps – either mercury glass ones that I have or a ceramic white. Not going crazy on lighting here, if you can't tell.
Whichever design I choose will dictate my rug choice as well, but I'll keep it relatively neutral either way. I am leaning towards this silver faded fringe, this gray & white Moroccan trellis and this jute braided rug.
Okay, so now that you've seen my options…what's your vote: 1 or 2?!