One of the biggest challenges about living in any urban city is limited space. Many newer cities have beautiful, luxury high rise condo options which are built with a functional layout in mind. While Boston has these options, they are less abundant and often lack character. To me, one of the most charming parts about living in Boston – and other European-inspired cities – is the option to live in a brownstone. When I think of a city brownstone, I often think of Sex and the City. I remember thinking "gosh look how small Carrie's apartment is" and "how the heck would you decorate a place like this?" All of you who live in similar cities, such as New York, Chicago, San Francisco and Baltimore, share this brownstone or row house lifestyle, which presents a plethora of design challenges. The most difficult one, to me, is working with very narrow living spaces. I got asked for advice on space planning in these type homes from almost every friend I know who lives in one. You can't imagine the frustration when you find a beautiful brownstone but only measure to find out that you can't even fit your sofa across the width of the room.

Adore Keri Russell's brownstone in Elle Decor.
Living in and decorating a brownstone-style home definitely has its advantages and disadvantages. On one hand, the high ceilings, large windows, arched doorways and intricate molding has such beauty and charm. On the other hand, the narrowness of the brownstones often leave us with 10′ or less of width to work with. In fact, my own brownstone is so narrow that the largest sofa we can even fit is 72″ wide – that's pretty small.
I think that the key to decorating a brownstone, or any narrow living space, is to have a solid plan prior to purchasing a single piece of furniture.  This may take some time to measure, create a layout, re-measure, re-arrange, measure again and figure out which way the layout truly makes sense. When you have limited space like this, every last inch makes a difference. Often times this can be frustrating, but I have had a lot of experience with this so I am here to help you and share a few key tricks + tips that have worked for me.

Love this beautiful space via Barker Freeman.
Tips for Decorating a Narrow Space
 1. Create Designated Spaces. This is really a key when decorating any room but especially those that are spatially challenged. With a long, narrow style through floor, you could do one continual space or two different spaces. An easy way to keep one continual space while designating areas is to use two different (but cohesive) rugs while using backless furniture as the connective piece. I recently used a daybed style sofa to connect two living spaces and it worked beautifully. That way, someone can sit on one side and be facing space A or sit on the other side and face space B. Does that make sense?
2. Keep Continuity. This is most easily accomplished with color scheme and style. For example, you wouldn't want one half of the room to be all white and modern while the other half is dark and traditional. I certainly wouldn't recommend anything be matchy matchy (I never do); however, when you stick with similar styles – such as contemporary furniture in creams, whites adn blues – the two spaces will become one. Continuity is key.
3. Keep Balance In Mind. I always think about balance and symmetry when designing a space, especially when doing space planning and furniture placement. You don't want one side of the space overcrowded while the other feels bare. Certain areas in a room, such as a fireplace, can look best with symmetry. If symmetry isn't the best route, try to create balance in the furniture weight (how heavy it looks in the space), the accessories and overall design. Don't forget to add pops of height!
4. Think Larger Scale. Contrary to what many people think, oversized accessory pieces can often make the space feel bigger. This doesn't mean bulky, but rather larger in scale. For example, a huge piece of art can actually make a wall feel taller and wider. A large mirror can reflect more light and make a room feel bigger. A large rug that can fit all of the furniture legs on it (rather than just the front two) can anchor a space and make it feel grander. You see my point.
5. Use Multi-Functional Furniture. There are certain pieces that can be used in various areas in a narrow space to eliminate an overcrowding of furniture. Additionally, these versatile pieces can be used in multiple ways and easily moved around. Some examples that I like to use are swivel chairs, open back sofas and chaises, sets of ottomans and low benches.
Here is an examples of a narrow living space layout: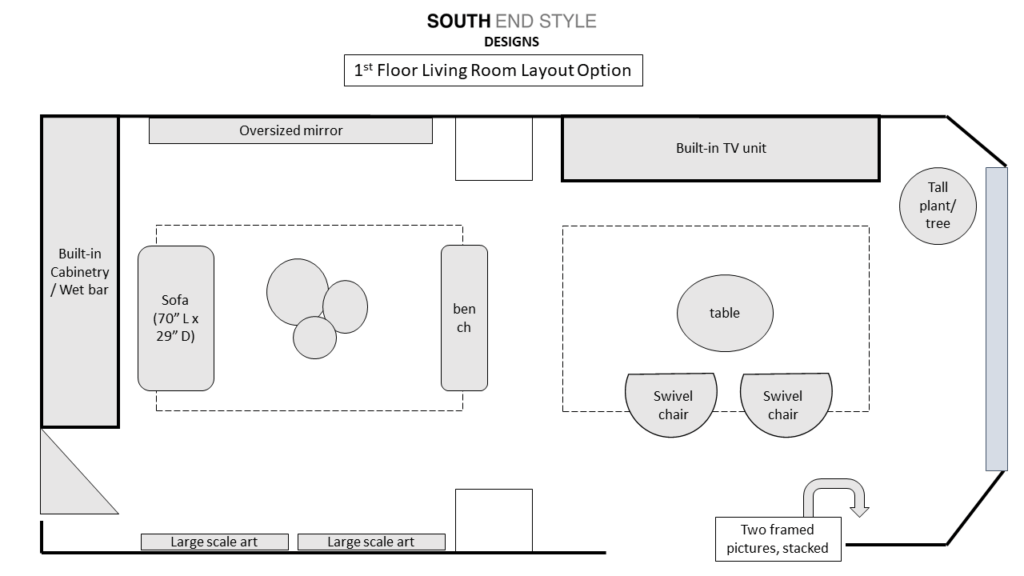 I recently put together this design plan for a client with a three floor brownstone. This guest floor has a bedroom (far left door leads to it) with a narrow, oversized living space with a built-in wet bar and tv unit. This is a through-floor living space, which is a bit longer and has been divided into two living spaces. You can see how the furniture is floating in the center of the room to create three different walkways around the space. This limits "empty" space in the center of the room and creates a "living" area and a "bar" area. Additionally, the two spaces are anchored by area rugs and both are floating, which again, allows for walkways in between and around the spaces. The first area is more of a conversational space, while the second is more for watching television. The two different areas are designed with similar color and style to keep continuity within the room. Additionally, a backless sofa (daybed style) is the connective piece of furniture between the two spaces. This way a person can sit here and face either direction.
As you can see, there are various ways to get around the challenges of a small living space. With some patience, planning and creativity you can easily create a cohesive, functional, beautiful space. I hope this has inspired you!