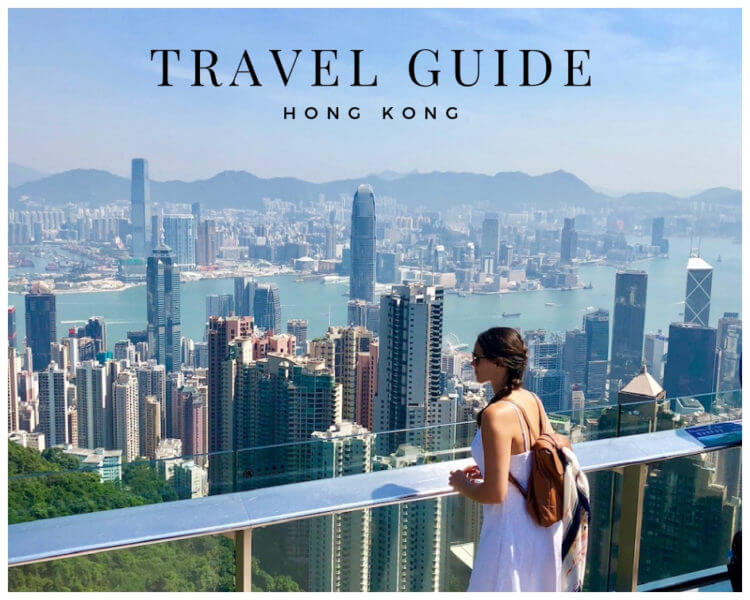 When we originally booked our two-week trip to Bali, we were unsure of where to have a layover. We initially thought maybe Singapore but someone told us that Hong Kong is a better way to break up the trip from Boston. Our flight was 15 hours from Boston to Hong Kong (direct, on Cathay Pacific) and then another 5 hours from Hong Kong to Bali. On our way over we only had a 5 hour layover and saved our long layover for the way back. Looking back, I am so glad we did this because I think that getting straight off of a long-haul flight to a mere 24 hours in Hong Kong would feel way too overwhelming and rushed. Since we had our trip reserved for the way back, we were well rested and already acclimated to the time zone.
Thought I don't consider this enough information to be a "travel guide", I will share below the places we went that I recommend and the places we wanted to go to but didn't have enough time. Hopefully I will have the opportunity to return to Hong Kong in the near future as there is so much more to see and I would love to explore more!
Where To Stay
The big debate here that you'll want to have with yourself/your travel partner is do you want to stay on Hong Kong Island or on Kowloon Island? The two are separated by a small water way, accessible via ferry (dirt cheap, less than 10 minute ride). The benefit of staying on the Hong Kong side is that you are closer to Victoria Peak while the benefit of staying on the Kowloon side is that you get the skyline view. Personally, we took an inventory of the places we wanted to go and areas we wanted to visit. For us, it made more sense to stay on the Kowloon side. I am so glad we did as most of the restaurants, shops & areas of interest that we bookmarked were on this side. I think they are both great options though, it just depends which fits your needs best.
+ Gateway Hotel, Kowloon Island: You can read my full review of the hotel here, but long story short – the location is perfect, the rooms were lovely, the amenities endless and overall an outstanding place to stay. In fact, I would stay here again next time I go.
What To Do
+ Victoria Peak, Hong Kong: There are a few ways to get to the top for the best views on the island. You can drive up, take the tram or hike. Heads up, it is insanely steep! Due to a time constraint, we took the star ferry across to Hong Kong island then grabbed a cab to the peak. Took the tram down and it was so much fun.
+ Shek O: Great village, great scenery, good food at reasonable prices and a big beach.
+ Star Ferry: World famous. Less than $2. Goes between Kowloon and Hong Kong. The ferries run regularly and it's easy to find.
+ Sky 100, Kowloon: An observation deck located in the ICC building on the 100th floor. Open 10am-10pm. $15.
+ The Ladies Market, Kowloon: The best street shopping in town (where everything is negotiable). Located on Tung Choi Street opens noon-10:00pm.
+ Sneaker Street, Kowloon: Parallel to Ladies Market; bargains of latest models (name brand sneaks).
+ A Symphony of Lights: Every night at 8 pm, you can check out this light + music show from outside of the Hong Kong Cultural Center, at the Golden Bauhinia Square promenade in Wanchai, or from a Victoria Harbour sightseeing ferries. A sight not to be missed!
+ Harbour City, Kowloon: Hong Kong's largest mall with over 450 shops, from low end to high end. The mall also has countless restaurants and hotels attached to it (our hotel was one of them).
+ Choi Hung Estate, Kowloon: One of the most Instagram famous sites you've likely seen with the extremely vertical living buildings. Hint: go early to avoid the crowd.
Where to Eat + Drink
+ Ho Lee Fook, HKG Central: Super well-known restaurants, doesn't take reservations but worth the wait.
+ Temple Street Night Market, Kowloon: A street food market, fullof food, fortunetellers, and pretty much anything else you can imagine.
+ Tim Ho Wan, 3 locations: Authentic dim sum; also known to be the cheapest Michelin star in the world.
+ Teakha, HKG Sheung Wan: Known for their famous pineapple bun, this breakfast spot is a must visit 
+ City Hall's Maxim Palace: A classic and boisterous dim sum experience
+Under Bridge Spicy Crab,Wan Chai: late night spot made famous by Anthony Bourdain
+ Dim Sum Icon, Kowloon: A dumpling spot known for making cartoon-like characters out of the food.
+ Tai Cheong Bakery, Kowloon: world famous since 1954, their baked egg tarts are claimed to be best in the world!
+ Ashley Road:  If you want to check out bars and restaurants then visit Ashley Road for a nightlife experience.
+ Ozone Bar, Kowloon: In the Ritz Carlton; 118th floor – Hong Kong side; highest bar in the world. Drinks very expensive but worth the view.
Random Tips + Tricks
+ Getting to/from the airport is very easy and efficient. At the airport, all taxis are color coded (red, green, yellow, etc.) and easy to find. They have an easy system and someone helps you get into the taxi and how much it will cost. It is very easy. From the airport to Kowloon center was about 270HKD (~$33) and took about 45 minutes without any major traffic.
+ Double decker busses are all over – and not necessarily for tourists, but for local transit. You can tell the British influence which I found to be so interesting.
+ The dollar was strong when we went. 13HKD = 1USD (at time of travel)
+ Hong Kong houses the most insane amount of shipping containers and docks I have ever seen. We were in awe – there were truly hundreds of thousands!
+ There are covered walkways built all throughout the city for monsoon season. It's really amazing – you can pretty much get to any place you need without being exposed to the elements.
Overall, I really enjoyed Hong Kong. It is easy to navigate since everyone speaks English and most of the signs are in English. It reminded me a bit of Cape Town but I suppose that makes sense because it was also under British rule (until the 1990s). In fact, many of the Hong Kong residents find that they relate more to the Brit's and don't associate themselves with mainland China people. It's a very interesting dynamic and culture. I will say that the one thing I was most surprised about in HKG is the amount of wealth – it is absolutely unreal. The cost of real estate, the high end designer stores, the luxury cars…they are in your face and everywhere. It's really next level wealthy.