Given that I live in a city that experiences a brutally cold winter environment for at least four months out of the year (sometimes six!), it is not too often that I have a desire to take a cold weather vacation. In fact, if you ask my husband, I am typically pleading for a warm, beach getaway! There's something about living in New England that really sucks the life out of you in winter. I'm not sure if it is the short days, the bitter cold, or the lack on sunshine, but a strong dose of Vitamin-D is typically what the doctor ordered.
However, every now and then it does sound appealing to visit a charming, cozy winter lodge. Something about the idea of a wood burning fire, hot chocolate, s'mores and seeing the snow fall is romantic and enticing. With that in top of mind, I want to share five beautiful places that I found and that I have booked marked (also on my Pinterest page) with hopes of escaping for a weekend this winter!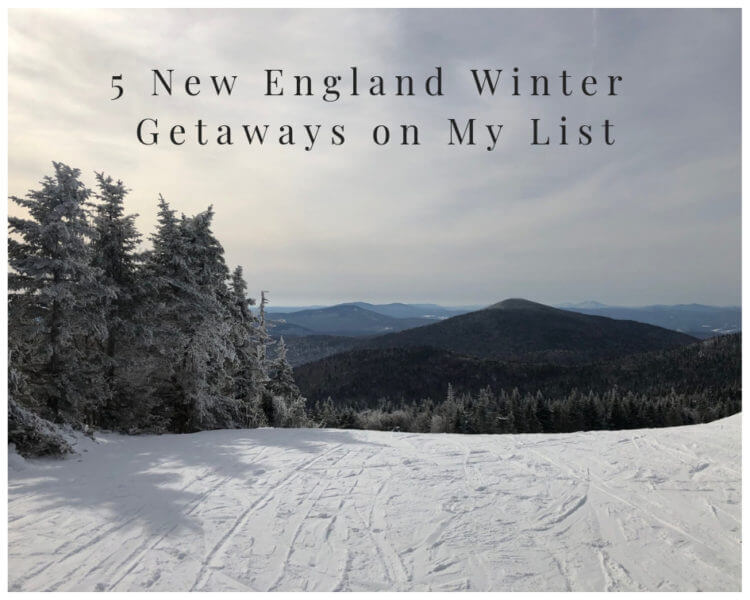 The Pitcher Inn: I have visited this charming Vermont inn quite a few times but only for Apres Ski drinks and dinner. Located in the cutesy town of Warren (near Sugarbush Mountain), The Pitcher Inn is quintessential New England. Every room is decorated differently but they most of them have wood burning fireplace, cozy quilts and wide plank wooden floors. They have a great restaurant on site as well as a cozy bar with a pool table, outdoor fire pit and large club chairs to relax by the fire. I can't wait to go back and stay overnight!
Sandy Pines: Okay so this may not be a true Winter escape, but I would definitely consider going in early Spring as well as all Summer. This place is probably #1 on my local travel list for 2019 as it is just the cutest! As much as I love the outdoors and I love hiking, I am not one for true camping…glamping is more my style! I could definitely survive here in late (late) Winter as there is a big campfire at every glamping site (though just small heaters so I assume they're closed in dead of winter). If you haven't seen this place, I highly recommend checking it out – let me know what you think!
The Lodge at Spruce Peak: Located on the premise of Stowe Mountain (the closest feeling "out West" style ski resort that New England has) is the Lodge at Spruce Peak, a luxury ski in-ski out resort. Being mountainside, the views are nothing short of spectacular and the vibe is what I like to call luxe-cozy. Think mountain cabins with large windows, oversized stone fireplaces and modern interiors. Within the property is an all-season pool, hot tubs, restaurants, fitness center, game rooms and an entire wellness center. Sign me up!

Woostock Inn & Resort: This beautiful resort, nestled in Vermont's Green Mountains, screams luxury. From the huge, tranquil spa to the four farm-fresh restaurants to the stunning main room with the oversized fireplace, this place leaves no stone un-turned. The rooms are beautifully decorated with rich colors, bold textures and luxurious linens. It is the kind of place that you just want to spend hours getting lost on the property. I may just have to save up to spend a weekend here for a truly relaxing escape!
White Barn Inn: What a charming bed and breakfast this place is!  Located in Kennebunk, Maine (which isn't typically thought of as a winter destination), this b & b is pretty well known. First off, the Inn has a AAA Five Diamond restaurant which is known to be just fantastic. The hotel only has 27 rooms which keeps with the quaint, attentive vibe that they are known for – think big soaker tub, luxurious king beds and stone fireplaces. Everything about this bed & breakfast feels very "New England" and I can't wait to go!