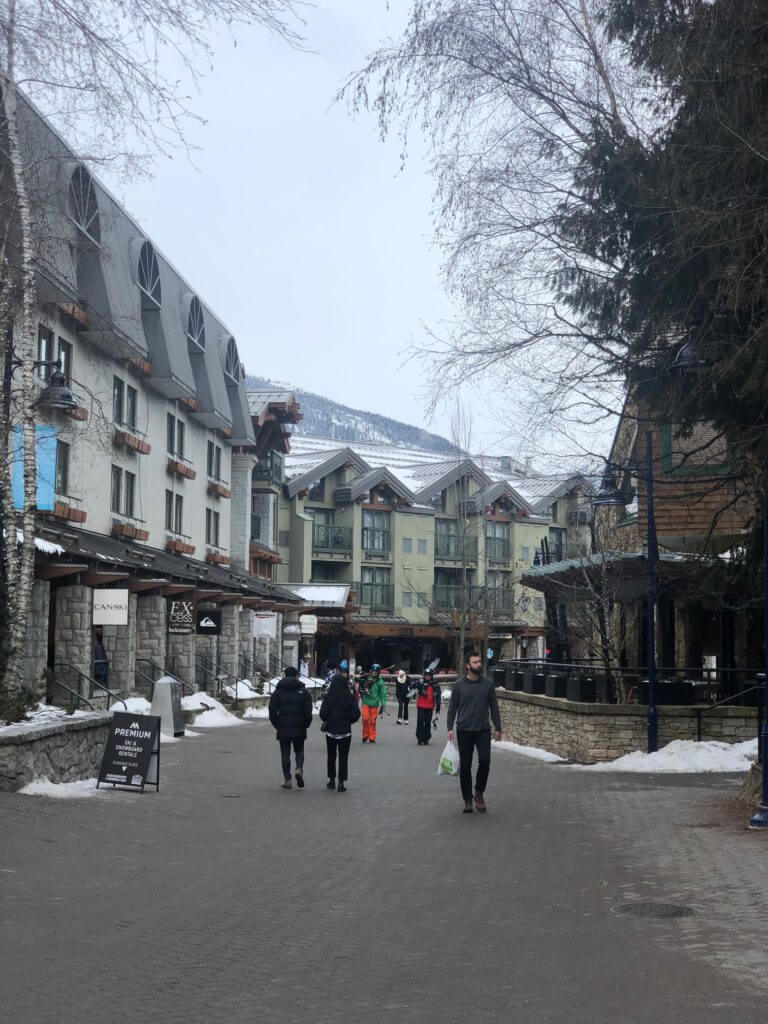 Downtown Olympic Village
The outdoor pool + hot tub area at the Four Seasons.
Daily sunrise views from our hotel room window.
How gorgeous is Whistler?!
Now, I have been to quite a few ski towns – Park City, Jackson Hole, Stowe, Winter Park, Breckenridge – and I can confidently say that Whistler is one of the best. The scenery is so gorgeous and the mountains are huge. This town is really special because it is essentially built at the base of the mountain. You can literally walk about 25 steps from the chairlift to the hottest Apres spot in town. The hotels, shops, restaurants and bars are all within minutes of the main gondolas. It makes getting around and meeting up with others incredibly easy and effortless. I just loved being able to walk everywhere and not have to once worry about renting a car or hopping into an uber. The people of B.C. are kind, friendly and so much fun! We all felt safe and welcome everywhere we went. Whistler would be great for a family trip, couples trip or girls trip – the city truly offers it all!
+
Crystal Lounge
: A cozy indoor pub with televisions, it's a great spot to enjoy beer and a bite after skiing.
+
Longhorn Saloon
– Hands down the best Apres ski around. In fact, it is the best Apres ski place I have ever been to! There is a huge outdoor patio at the base of the mountain and the place gets rowdy. There is a live DJ, fog horns, dry ice and champagne bottles being popped left and right. It is certainly an experience and a must do at least once!
+
Dub Linn Gate
: A super lively Irish bar with live music (not necessarily Irish). It is indoor/outdoor and right at the base of the mountain. We loved coming here post-skiing!
+
21 Steps
: In the lower village, this place is a solid choice for an easy, good meal. It is mainly comfort food (think steak and pasta) and is warm with a relaxing, yet upscale ambiance.
+
La Brasserie
: We stumbled upon this French place and it hit the spot for an easy, delicious dinner. We enjoyed red wine, steak frites and French onion soup. It is quick and very casual.
+
Basalt
: This may have been our favorite dinner in Whistler. They are known for their intricate charcuterie boards with all sorts of delicious additions. We opted to share a huge board, a steak entree, chicken pasta, duck pot pie and the most delicious brussel sprouts salad I've ever had. The interiors have a modern flare with a chill, fun vibe. Highly recommend!
+
Sushi Village
: We could not get a table here (they don't take reservations and waits are up to 2 hours) and were so disappointed! I heard so many rave reviews about this restaurant – the sushi, the drinks, the ambiance. I recommend going to put your name on the list around 5 to see if you can snag a table by dinner time.
+
Lift Coffee
: The most convenient place for a coffee and a breakfast sandwich as it's located right on the base of the mountain, across from the main gondola. It's cheap, quick and delicious. I had a goat cheese, egg & spinach breakfast sandwich with a flat white. Perfect for a pre-ski breakfast!
+
Tacos La Cantina:
This little street taco spot is over by Olympic village, a bit hidden. The tacos are creative and small (they suggest 4 per person) and run about $3/taco. The place has an alternative, eclectic vibe which was super cool and makes for an easy, yummy lunch spot!
+
Gnarly Roots Pizza
: I walked by a few times and it smelled incredible. Pizza is always a good idea and this restaurant has great ratings – it's on my list for next time!
+
Sidecuts
: This is the main restaurant at the Four Seasons. As with most Four Seasons restaurant, it is a bit overpriced but that was expected. The restaurant provides comfortable, cozy ambiance with comfort food after a long day of skiing. Next time I may opt for drinks and appetizers and head elsewhere for dinner.
Where To Stay
+
The Westin
(Whistler): This hotel hands down has the best location as it is less than 50 yards from the two main gondolas and the heart of the town. You can easily walk to the mountain, to dinner, to shop, etc. The hotel itself needs some updating but serves its purpose. The staff was friendly and the whole experience was easy and pleasant.
+
The Four Seasons
(Blackcomb): The FS is located in the upper village which is a bit quieter and further away. They do have a complimentary shuttle that takes you to/from the village and also a small chair loaf that connects you to the Blackcomb side of the mountain. As most FS resorts, the property is beautiful and you truly feel like you are in a winter wonderland. The hotel has some incredible winter treats to note, including the pop-up hot chocolate and s'mores bar, complimentary wine tasting and an outdoor sauna adjacent to the pool. I also visited the spa and had a very relaxing massage.
How do you choose? I say if you want space & convenience, choose the Westin. If you want luxury & comfort, choose the Four Seasons.
What To Do
+
Ski…obviously
! There are two mountains here – Whistler and Blackcomb – and they are connected by a peak-to-peak gondola. Your lift tickets will gain you access to both mountains so spend time on each. I preferred Whistler but they both were great.
+
Explore Olympic Village
: It was fun to walk around and see where the 2010 Winter Olympics were held. The village is full of shops, restaurants, stores and sites. The Olympic rings light up at night so it's cool to walk around once it's dark.
+
Mountain activities
: There are quite a few local companies that offer winter activities aside from skiing, including winter zip lining, snowmobiling, tubing and more.
+
Four Seasons Spa
: I spent a day at the Four Seasons Spa and enjoyed every minute. They offer a gym, outdoor sauna, indoor steam room, outdoor heated pool, three hot tubs and a relaxation room. While it wasn't the most luxurious spa I've ever been to, I enjoyed a quiet, relaxing day and felt that it was worth every penny.
+
Visit Scandinave Spa
: I did not make it here but it came highly recommended by many people. The spa offers various outdoor heated pools, hot tubs and saunas and it set in a forest area so you feel one with nature. It's important to note that the spa has a no talking policy – I would recommend bringing a book to enjoy.
+
Go Heli Skiing
: If you are an advanced, adventurous skier and have been considering heli-skiing, this could be your moment.  I didn't go but my husband went with friends and they said it was the best ski experience of their lives. The scenery of Whistler makes this the perfect place to go and since the USD was stronger than the CAD, they were able to snag a great deal.
A note about ski rentals: I used Can-Ski and it wasn't the best experience. The shop is convenient (located on floor 1 of the Westin); however, it is run by 20-somethings and it shows. The experience was incredibly chaotic, inefficient and painful. After waiting over 30 minutes for someone to help me, the kid gave me the wrong skies for my level so I ended up exchanging them after just one run. He said he had "never skied" and wasn't sure which would be best for me. Call me crazy, but that's the one premise of his job – to know about skis. Next time I'll try another store – just a heads up for anyone who needs rentals!
Who else has been to Whistler?! What's your favorite thing to do / eat / see in town?