I'm so excited to finally share more about some design and decorations that we have been working on for our living room. The living room / TV room combo is a large, open space that has given us a bit of trouble. We weren't sure how to make it all "flow" together and kept going back and forth with ideas so I am thrilled that we are finally making progress!
We are finishing up the plans for our living room which is the wide open space in the middle of the house. The focal point is a massive floor-to-ceiling stone fireplace and it's open to the kitchen to the left, the tv room to the right and the entry behind. This room is the first thing you see when you enter from all doors – the front door, garage door, basement door and back deck door. Needless to say, it needs to be a show stopper!
Our home is a bit of traditional (intricate molding, chair rails, white windows) mixed with cottage (stone, arches, natural textures) and a touch of modern (mainly in the lighting and art). We want this space to be a cohesive mix of all of the home styles that effortlessly merges them together. We are calling it "modern mountain lodge chic" – haha, if that makes any sense. See below for our design plan and I will share more once the space is completed!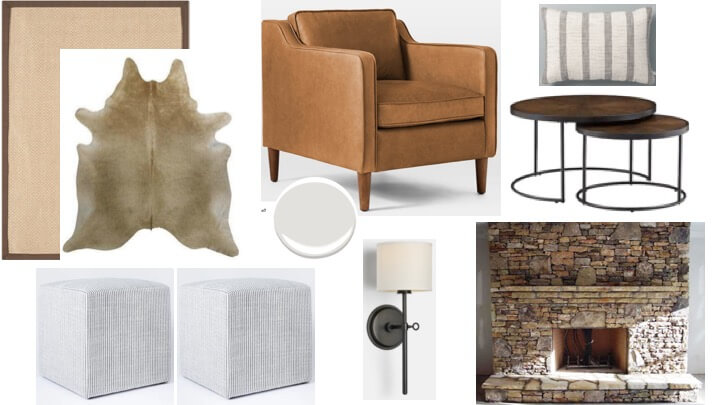 The Plan
+ We have a large natural fiber rug (custom 9′ x 10′) that will anchor the space and lay a natural/champage toned cowhide rug atop of it. These rugs will help define the space since it "floats" in the middle of the house.
+ Two leather club chairs will face the fireplace as the main seats for the room. The back of them will be parallel to the side arm of our TV room sectional, which will create a natural walkway behind the seating. This is important because the powder room and entry are behind the chairs so the room flows nicely.
+ We'll put two upholstered poufs across from the leather chairs that are lightweight and mobile. They can easily be moved to flank the fireplace, be used as footstools, used as side tables or be moved anywhere in the space for additional seating.
+ Between the various seats is a set of low, wood and metal nesting tables. Again, this set is lightweight so that we can move it around and repurpose as needed.
+ I found a set of throw pillows to put on the leather chairs – I like that they're striped (like the poufs) and gray and white (like the TV space). These really bring the two spaces together and make them look more cohesive.
+ On the hallway wall leading into the room we installed two keystick sconces that flank a piece of modern art.
Here is a sneak peak of the room for you: