Our living room is huge. It is something like 15′ by 27′ with 10′ ceilings. It's so large, in fact, that the previous owners had a 8′ dining table and a baby grand piano in the room. Hopefully that paints a picture of what we're working with over here!
Most of our house is pretty neutral – we have Benjamin Moore Classic Gray and White Dove painted in most of the home. We also have mostly beige, cream, gray and light blue decor. It's sort of a classic neutral with a touch of modern (especially in our leather club chairs and abstract art). The dining room already has a chair rail with detailed picture molding on the bottom half but because it was painted blue on top and white on bottom, it feels very traditional.
Our goal was to modernize the space while making it comfortable without being too formal. We wanted a relaxing yet sophisticated space, but not stuffy. The paint made all of the difference and it was an exciting snowball effect from there. We still need to get art on the walls and add new drapery but that's coming in phase 2 when we add our built-in butlers pantry with a double wine fridge and extra storage (hopefully this Fall!). See below for some before and after pictures.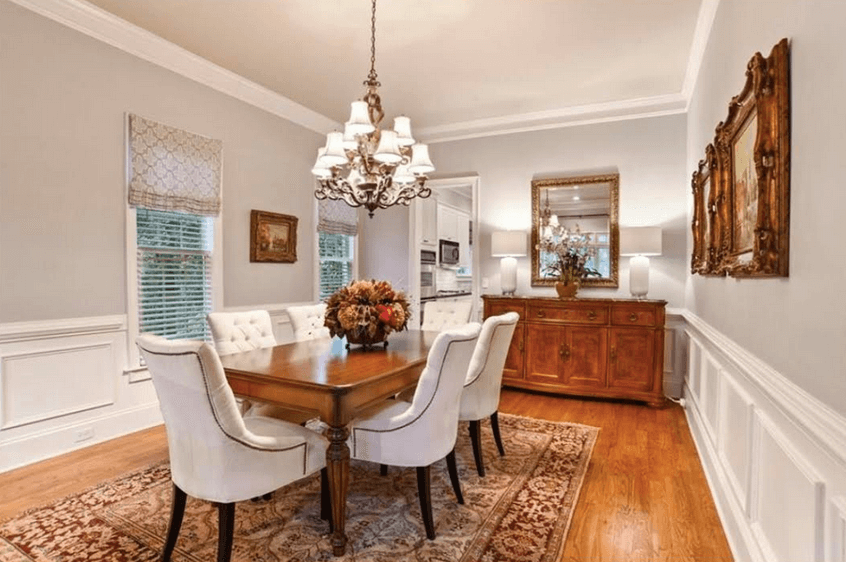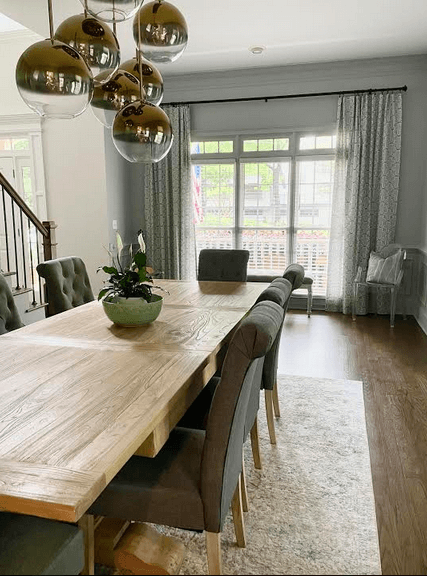 What a difference! With darker floors and a fresh coat of paint, the room immediately felt updated. We added in a new light fixture, a new dining table & chairs an anchored the space with a rug. The bench will likely be replaced with a console once the built-in wine bar goes at the other end. But for now, we are loving the change!
Sources: table (custom), chairs, chandelier, paint color, buffet, rug (homegoods find)