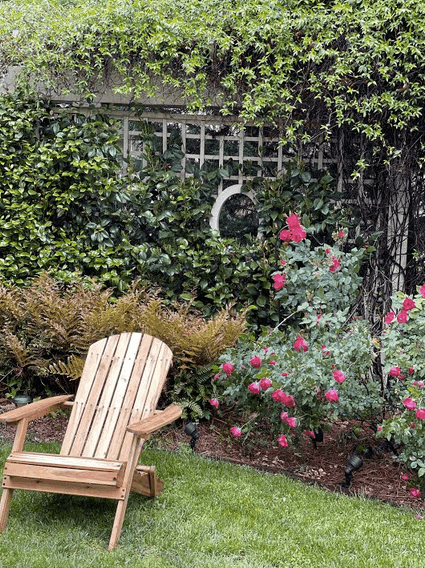 How gorgeous is this nook in our yard? We set up two adirondack chairs to enjoy a cup of coffee in the morning or an evening beverage. The knockout roses smell amazing and it feels like our own secret garden. This weekend is a big one! My brother and uncle are in town to celebrate Mother's Day and my dad's birthday, so we have some festivities planned. I can't wait for my brother to meet Duke for the first time, to celebrate my first Mother's Day and to help throw the big fiesta we have planned for my dad's 75th. What a weekend!
+ I'm making these chicken skewers alongside some crispy roasted potatoes, a Greek salad and some fresh fruit for our mothers day brunch.
+ So many cute dresses at Target right now – I picked up this midi, this nightgown dress and this striped one.
+ A cool roundup of Mother's Day traditions around the world.
+ This ceramic planter is adorable for Mother's Day gift…or just to own!
+ These monogrammed leather travel pouches are top of my mothers day wish list (hint, hint, Terry!)
This (and Last) Week on South End Style