Ahh, wine California wine country. This is a place that you can visit countless times and discover something new each time! I've been there three times total and each was a completely different experience. Each time we explored various wineries, restaurants and shops. Wine country is such a special place and it really is best spent going slow and enjoying each place, rather than rushing through trying to see as many wineries as possible in one day. Most days we scheduled 3 tastings so that we could get to know the staff, hear their stories and truly relax while sipping on some of the most delicious wine. Each time I return, I will be adding more vineyards, restaurants, stores and hotels to my list.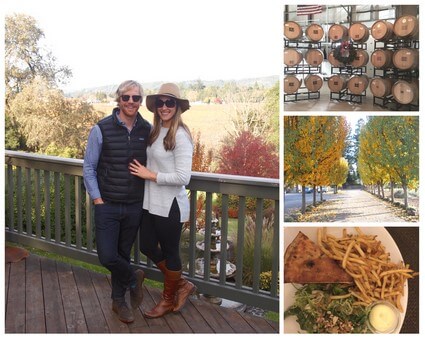 Favorite Wineries
+ Gundlach Bundschu, Sonoma: or "Gun Bun" as the locals say, is a fantastic winery to end your day with. It has a large, casual tasting room with a curved bar area, making it super easy to chat with other people. They've got a very large, open patio area with about 10 picnic tables for patrons to enjoy the space. It overlooks a small lake and has string lights hanging all around. Really feels like you're in a friends killer back yard.
+ Scribe, Sonoma: This winery sits beautifully up on a hill, next door to Gun Bun. This winery has a very relaxed, hipster feel with indie music playing and oversized blankets thrown on the ground for seating. I recommend getting the bread and cheese basket here as a snack to go along with your wine tasting. This is an ideal winery for a sunny day and when you have a few hours to kill. We enjoyed taking our time, eating snacks and taking in the view. Side note: Scribe is notoriously hard to get into, so be sure to make a reservation.
+ Three Sticks Winery, Sonoma: Located within an unassuming adobe style home right past the downtown Sonoma square. You'd easily walk past it thinking it's someone's private residence. Well, it is easily my dream home. The adobe was fully designed by an awesome interior designer Ken Fulk and has an eclectic, artsy vibe with decor of metals, wood & leather. It has, hands down, one of the best back yards I've ever seen.
+

Mauritson

, Healdsburg: Located near Passalacqua in Healdsburg, Mauritson is another great winery, especially for reds.  Their property is truly stunning, the red wine is delicious & the people are just the best. This is a family-owned winery that has a warm vibe that makes you feel like you're part of the family. The entire store of how the winery came about is really lovely and fun to hear. We are members of their wine club!
+  Passalacqua, Healdsburg: They've got a gorgeous, sprawling property in Healdsburg (north of Sonoma) and we did our entire tasting outside on their large back deck. I love wineries like this that feel intimate & cozy. We sat back in our adirondack chairs, sipped on some whites and enjoyed the view. We've been here multiple times and it always ends up being one of the most relaxing moments of the day.
+ Papapiedro, Healdsburg: Another Dry Creek favorite, "Papa P" is well known for their Pinot and Red Zinfandel. The tasting room is a bit different than others as it's not located on the vineyard, but rather in a small tasting room adjacent to a few other tasting rooms. This is a nice place to begin your day as their wines are smooth, the inside is heated and it's a quick turn around. We loved their wine so much that we joined the wine club!
+

Robert Sinskey Vineyards

, Napa: Lucky for us, we opted to do the wine pairings with lunch. Not only was their wine spectacular, but the food was surprisingly delicious. Each pairing was with a trio of small bites that were so tasty. Our host had such extensive knowledge about each wine and why it paired well with that specific food. I highly recommend a pairing tasting here, as it allows you to slow down and really enjoy the wine.
+ Bella, Healdsburg: Bella is particularly awesome because their winery offers tours and tastings in their wine cave. The property itself is huge with the hilly vineyards and a large lawn with chairs and games. My suggestion is to pick up lunch from The General Store, enjoy it outside on the picnic tables at Bella and then head inside for their wine tasting. They're known for their reds and they did not disappoint.
+ Rutherford Hill, Napa: This feels a bit more corporate than others as it's pretty big with a large indoor room and outside tasting. If it's a nice day, be sure to sit outside with the fire pits – it was cozy and comfy! This is a good starting point as we tasted a variety of white, red and rose.
Travel Tip: I recommend hiring a driver for the day so you can sit back, relax and enjoy the tastings.
Where To Stay
+ The Cottage Inn & Spa: This place is located downtown and is absolutely charming. It's walking distance to all of the best restaurants and bars, but is off the main square so it's very quite. I can't recommend it enough.
Where To Eat + Drink
+ The Girl & The Fig: Located in the heart of downtown Sonoma (on the square), this very popular restaurant has a french flair – think quiche and steak frites. The vibe is awesome, the wine is excellent and the staff is super friendly. Our favorite meal in Sonoma. Be sure to book weeks ahead to get a table. If  you can't get one, try a seat at the bar. We walked in and sat right down at the bar and had a great time.
+ El Dorado Kitchen: Located across the street from Girl & The Fig, inside a hotel, is El Dorado. The name is misleading as this is not a local Mexican joint. There is a hip, cool vibe with the open concept bar – dining room and the huge wood burning pizza oven. The had low, funky music and it totally felt very NYC. It's a locally sourced place with Mediterranean inspired dishes and the food is outstanding. The wine is, of course, amazing.
+

Bottega

: Located in Yountville (Napa County), Bottega is a pretty well known place. The restaurant is rather large with various indoor – outdoor seating options. The service was a bit slow when we ate there, but we heard that was unusual. The food is rustic Italian style – a few crowd favorites were the burrata salad, the short ribs and the bolognese.
+

Dry Creek General Store

: Located in the heart of Healdsburg, this place is one of my favorites to visit while in the area. The store itself is so cute and has been around since the 1890s! The sandwiches are to die for as are the deviled eggs. You can either eat here (inside or outside) or order your sandwiches to go and take them to a winery with you. If you're in the area, there truly is no better lunch spot. I can't recommend it enough.