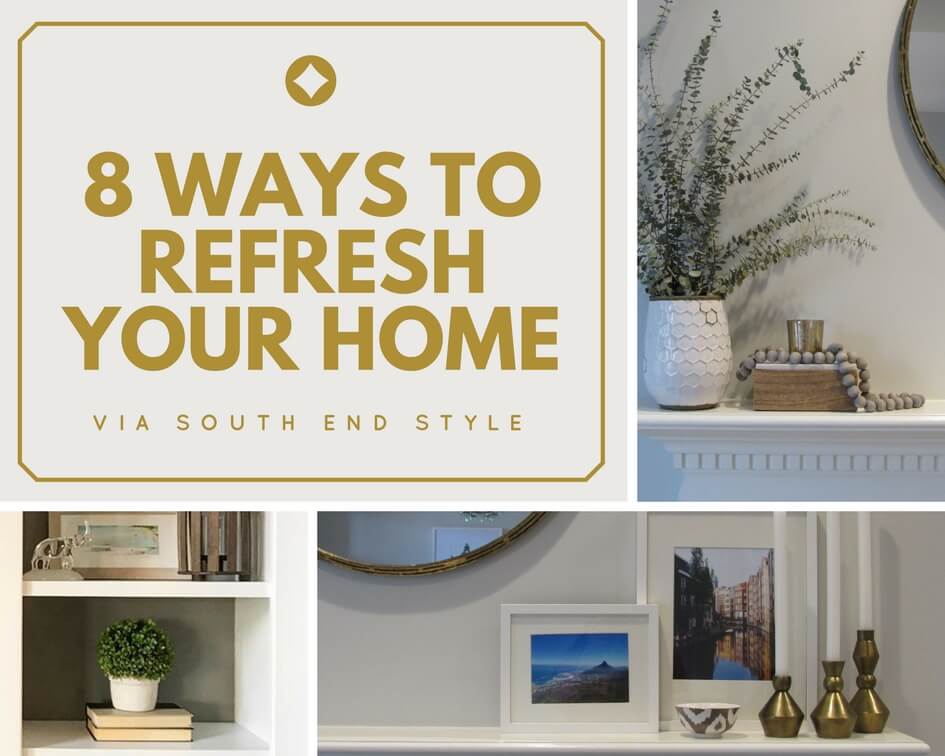 When it comes to home decor, I always have an urge to mix things up and refresh my space. In the past, I've shared ways to shop your home before if you're looking to update things but don't want to spend any money. As Spring slowly approaches, I always find that now is a great time of year to update our space. Bring in some lighter tones, purchase a few new pieces and make our home feel as light & bright as possible. Here are 8 easy ways that you can refresh your home today.
1. Refresh your art. Framed, gallery style abstract art is having a huge moment right now and I love it. Art is one of those things that is 100% subjective so really, you should purchase whatever speaks to you. If you need a few suggestions, I love this garden canvas and this abstract piece. If purchasing a new piece isn't in your budget, consider taking down a lot of your current art and switching things around. You will be surprised what a difference swapping pieces out can make!
2. While I'm typically one for fresh cut flowers, faux greenery is needed (Example: a bathroom with no windows). These boxwoods are an excellent styling prop for bookshelf styling, for the dining room table or atop a stack of books. If you have a vase that needs filler, try fresh eucalyptus (will dry nicely in place if you don't touch it) or stems such as these dogwoods.
3. You've likely seen various types of decorative beads in pictures recently. I just LOVE them and think they're such a versatile, beautiful way to decorate. I actually picked up the most gorgeous, light gray set in South Africa from a super chic boutique that I found in Cape Town (and they were under $10). My only regret is that I didn't buy like 4 sets for gifts! Studio McGee has a great option on their website as do a lot of sellers on etsy. You can drape them over books, set them around a jewelry box or flow them out of a vase. Really the opportunities are endless.
4. Natural wood tones have been my wood choice for quite some time, especially for those of us living in small spaces. Nothing will make your home feel smaller than oversized, dark wood. I like the light/natural wood as a more mature, masculine alternative to white. Some examples are this bench, which would look great at the end of your bad, and this mirror, which I may have to snag for our entry way.
5. Add in some blue + white patterns, in the form of dishes, vases or planters. A more modern subtle to the ginger jar, a planter like this one would be a great way to update your space for Spring. This light blue pattern goes with pretty much any decorating style, which is why I always suggest them. They're also great for sunrooms or outdoor spaces.
6. For a classic, modern touch to your home, try adding in some marble. One of my favorite material combinations is wood + marble, which just looks fabulous every time. An easy way to accomplish this is to display your wood cutting boards in your kitchen and then put a marble bowl in front. Or incorporate a bone inlay tray or mosaic bowl into the mix. I think this footed bowl may be the cutest thing ever. I purchased it myself and plan to set it by my wood bowl catch all (used for keys, chapstick, etc) alongside a marble vase I keep filled with fresh greenery.
7.  A tried and true favorite, and one I always recommend, is to swap out your pillows. Truthfully, blankets and linens fall in this category too – most textiles are seasonal.  Pastels are going to be huge this spring and pillows, like this lavender one, are a great way to display these hues. I am a huge fan of light blues, creams, greys & blush (just like my wedding pallet) in decor. It's feminine yet a bit subtle.
8. One last way to refresh your space is to style with books. Coffee table books are the perfect gift for any occasion because your home can never have enough! Whether it's decorating shelves, adding height to a vignette, stacking them on the coffee table, or displaying them on the nightstand, there is a way to use them! When I'm feeling bored with my space I always rearrange the books and it definitely gives a new feeling. I'm in search of 5-6 new ones for a styling project I'm working on. Favorites: Living with Pattern, Domino, Nate Berkus, The Nesting Place.
What's your favorite way to refresh your home?!