This is the last of my Ireland travel posts and I'm wrapping it up with "10 things to know before you go." If you've been following along, you know that our journey included a visit to Dublin, Killarney, Dingle, Galway and a road trip down the Wild Atlantic Way. Given that they speak English in Ireland, it is relatively easy to navigate; however, there are quite a few tips that I'm sharing with you that I found to be helpful before planning my own trip.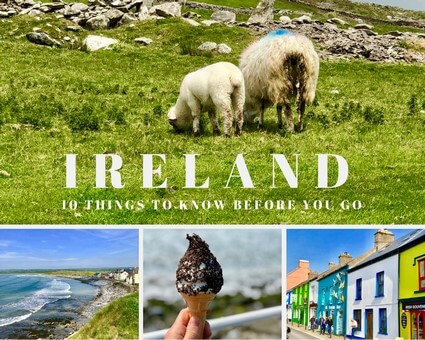 1. You need a car to get around. You can also expect to pay a lot for a car (read more here). As an example, we spent $450/week for Audi A3. The "economic" car was $375/week, so for us it was worth paying an extra $75 to upgrade into a nicer, larger and more comfortable car.
2. Say bye bye to your veggies. I only saw salad listed once on a menu. Most everything is fish or meat, potatoes or bread. If you eat mainly plant based and meat free (like me), you better get your fix before you head over!
3. The Irish people are some of the friendliest and most genuine people we have ever met. Every single person that we spoke with – from servers to cashiers – struck up conversation and gave us local tips.
4. There is soft serve ice cream everywhere. And I mean everywhere. We couldn't believe that every single restaurant, grocery store and even gas stations were advertising soft serve. Not sure why, but we loved it!
5. Ireland is surprisingly really spread out. Though it's a small island (roughly the size of the state of Indiana), most of the main cities hug the coast so they can be hours apart. Once you factor in the small highways, back roads and local traffic, it takes longer than anticipated to get from one town to the other. I recommend adding extra time just in case.
6. Have your camera ready at all times. Ireland is one of the most picturesque places I have been – around every corner is a view of cliffs meeting the ocean or a green landscape or a flock of sheep. There were certain drives (ex. Wild Atlantic Way, Slea Head Drive) that we wanted to stop on every turn.
7. Be patient like the locals. They have a slower pace of life and we really enjoyed adapting to it. For example, we waited 10 minutes before a bartender looked our way. Another time, our stick shift stalled out at least three times in the middle of an intersection (I'm talking a looooong 10 seconds) and other cars just waited. No honking, no yelling. It was such a welcome change.
8. Embrace the local cuisine. And by this, I mean Guinness and fish & chips. I personally love Guinness but fried food is not my friend. Neither is dairy. Well, news flash that is a vast major of Irish food. Was I craving salad? Hell yes. But did I survive without it? You bet. Embrace the local flavor!
Fun fact: only 125 calories per glass

9. You will encounter sheep. In fact, it would be hard not to as there are more sheep than people in all of Ireland. The country's population is just under 4.8 million, while there are well over 5 million sheep. They're a bit skiddish but friendly! And the baby ones are so, so cute.
10. Most of the time, it's raining. At least it will typically be cloudy and misting a bit. We were so incredibly lucky in that it didn't rain once when we were there. In fact, when we visited the Cliffs of Moher, it was 80 and sunny – a tour guide told us that he'd never seen a clearer day in over 40 years there!