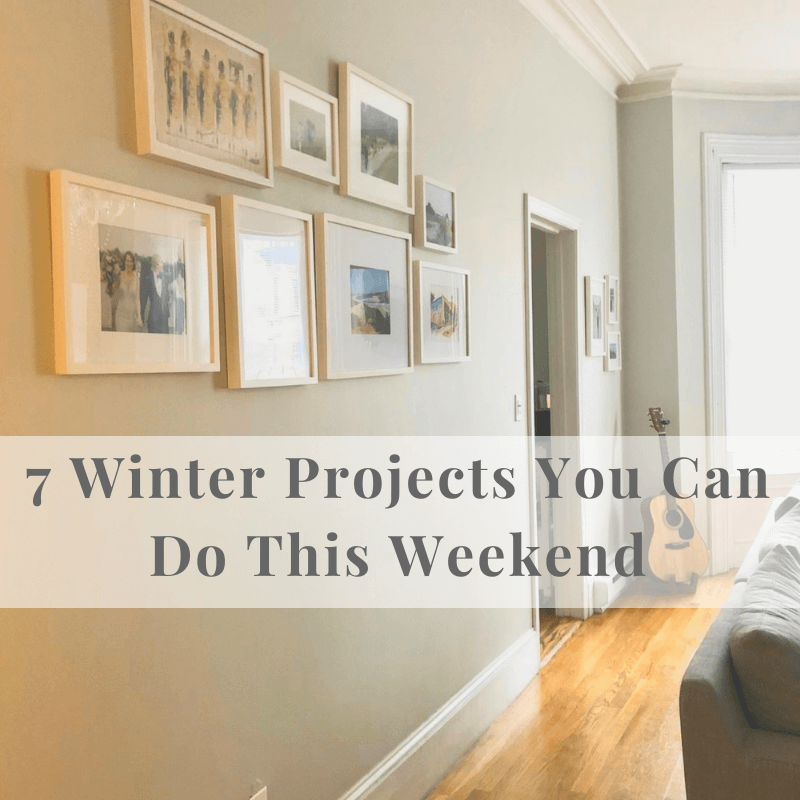 When it comes to Winter, the torturous weather can seem to drag on forever. There are only so many things I can do to keep myself busying during the cold, dark days! Every year, I try to take advantage of these winter months – that are mostly spend indoors – to better myself, my apartment and my life. There is no better time than this transitional period to eat healthy, exercise daily, sleep often and improve our everyday habits. The same goes for our home! Keeping things light today, I want to share some winter weekend projects you can do in your own home.
Clean out your closets – ahh, you had to know that Marie Kondo would be in this list. To me, there is no better satisfaction than purging items and re-organizing. Closets can be a big project to tackle, so I think that it's probably best to divide and conquer. It may be easiest to break projects up into one closet per day to make this task feel manageable. Pre-order items like huggable hangers, shoe organizers and sweater dividers to help keep you organized.
Paint a room – there is no better way to quickly and affordably transform a space than with paint! Whether that means painting an accent wall in your bedroom, re-painting an entire room, touching up trim or painting cabinets – they all have an impact. The key is to properly prep the space and invest in high quality paint to keep the cost low but impact high. Some painting tip can be found here.
Re-organize your kitchen – now's the perfect time to remove chipped plates (cute new ones here) , toss non-matching cups  and replace your plastic with some glass storage containers. Between cabinets, drawers, pantry and the fridge there are so many areas to micro-focus on and get organized. Be sure to donate all of your worn items to a local charity rather than throwing them away!
Deep clean your bathroom – if I'm being honest, I like to do this a few times per year. My recommendation is to take everything out of the cabinets and drawers, sort through expired / worn / unused items (donate where you can!), deep clean the cabinets and then organize it all prior to putting it back in your vanities. If you have a small bathroom like me, try to organize with these containers or these acrylic containers.
Swap out your sheets and towels – Let's be honest, linens have a shelf life and often times that's only a handful of years. Winter is a great time to sort through yours bed linens, bath towels, kitchen towels and any other blankets, etc. and treat yourself to a refresh. Be sure to donate your old stuff – animal shelters are an ideal place as they are always looking for used linens.
Create a gallery wall – what a fun, easy, inexpensive way to update any space. Give some personality to a blank hallway, decorate the empty walls of a bedroom or add some character to a stairway! I love to use different shapes and sizes of the same frame – like these frames – and then add my favorite pictures. The best part about gallery walls is there's no right way to create one. Just get started and let the creative juices flow!
Update accessories in a room – Maybe you live in a rental unit or you are trying to keep the expenses to a bare minimum. Whatever the situation may be, there are various small changes that can maximize the design impact in a room. For example, change out the hardware in any cabinetry, swap out lighting, update the pillows or re-arrange accessories. Check out stores like Anthropologie, HomeGoods, Ballard Designs, West Elm or local boutiques for affordable, in-stock accessories.
What home project is on your weekend agenda?