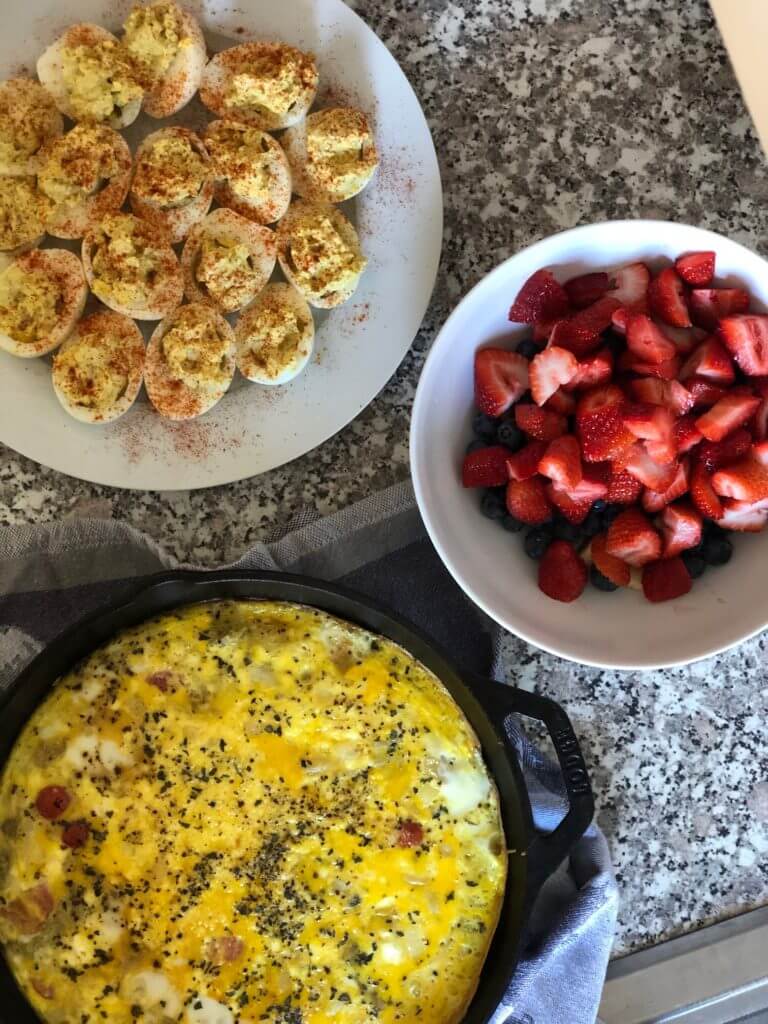 Growing up, my mom cooked dinner almost every night for us. I can always remember having a hot, home cooked meal on the table after school. My grandmother – arguably the world's best cook ever – would always cook for Sunday night dinners, holidays and everything in between. It's safe to say I was destined to be a home chef!
Given the current circumstances with the quarantine, I find myself cooking and/or preparing almost every single meal of the day which is a new challenge. We have been trying to order takeout at least once or twice per week to support our local businesses, but the reality is I'm spending more time in the kitchen than usual. Here are some ways that I have been able to cook consistently, while keeping time and cost down.
Grocery shop smart. I like to write out my menu for the upcoming 5-7 days and write my grocery list based on dinner. Our breakfast, lunch and snack items are typically the same so those are part of my weekly staples. I prefer to get pantry staples & frozen items from Trader Joe's and meat and produce from Whole Foods, though with the recent quarantine, I'm just going wherever is most convenient.
Breakfast on repeat. We are creatures of habit and always keep basics on hand for smoothies, oatmeal or eggs. Depending on your household's preference, it's helpful to make a dish that lasts for the next few days. For example, egg cupcakes or a veggie frittata, overnight oats or freezer smoothie packs. Being able to wake up and just grab something pre-made makes mornings that much easier.
Keep lunch simple. We always have 3 options: reheat leftovers, make a salad or eat a sandwich. At the beginning of the week, Ispend About 15 minutes chopping all veggies (bell pepper, cucumber, hard boiled eggs) and washing toppings (chick peas, cherry tomatoes) and make a vinaigrette to keep on hand all week. Each day, it takes me less than 5 minutes to assemble a salad – so easy! We also have either sliced deli meat or homemade tuna salad to make an open faced sandwich if desired. Nine times out of ten, I go for salad and T goes for leftovers.
Make snacking easy. It's no secret that when we are hungry, we reach for whatever is there. I typically keep the following healthy basics on hand: fresh fruit, chopped veggies & hummus, hard boiled eggs, almonds, popcorn. Now that we are in quarantine, we are snacking more so I try to keep additional (healthy) snacks on hand like Greek yogurt and berries, homemade turkey meatballs, healthy deviled eggs, trail mix and egg cups. The snacks that I prefer to avoid (mainly because I have no self control) include chips, ice cream, cookies, goldfish, etc.
Get creative with dinner. Dinner is the meal where I typically spend more time cooking. Now that I am not going to the gym after work and commuting back home, I have an extra hour or so every day to spend preparing dinner. No matter what I make, I try to make extra for leftovers or the next meal. Here are a few examples:
Today's leftover salsa chicken is used for the main protein in tomorrow's taco soup; here's a great recipe.
Today's leftover broccoli is used to make a batch of veggie egg cups for a weekly breakfast option.
Today's leftover roasted sweet potato sliced are chopped up and used as a topping for my lunch salads, mixed with arugula, beets and feta – yum!
Today's leftover rice & beans is used for a grain bowl base tomorrow – add a protein and some veggies for a hearty meal.
Today's leftover ground turkey from taco night is used in an Asian stir fry with fresh veggies and rice for tomorrow's dinner.
Careful with desserts. Similar to snacking, this can be a dangerous road to go down. We love to keep dark chocolate on hand because, the majority of days, a small piece of dark chocolate after dinner keeps us satisfied. Occasionally, I'll buy a pint of cream (Ben & Jerrys dairy free is our go to) or some popsicles, but I try not to make a habit of it. If I have a big sweet craving, I would rather make a delicious treat myself! Given all of the free time we have now, I have been enjoying baking more – homemade banana bread, pumpkin bread, chocolate chip cookies or an apple crisp.
Now that I've shared my best tips for easy meal planning with some delicious recipes, I'd love to hear yours!