Hello again! I have been silent on the blog front for a few weeks now, for many reasons. I've felt uninspired. I've been tired. I've been working like a dog. I've been helping renovate my in-laws home. Most importantly, I've been trying to listen and learn about the Black Lives Matter movement and just felt like writing about random, frivolous topics here was tone deaf and insensitive to those suffering.
I'm still listening. I'm still learning. I have a long way to go but I strongly support the Black community and will continue to do so in the best way that I know how. I figured that, given all of the heavy news that is going on in the world, it wouldn't hurt to lighten things up again with some easy reads. So I'll be sharing more interior design inspiration (I've got a lot coming since we are moving again), travel inspiration and various other light-hearted topics, like today's: easy meals to cook when you don't feel like cooking.
Now, I'm not sure about you but since the pandemic began (my last day in the office was March 10th), I have been cooking up a storm. I grew up with a mother and grandmother who cooked daily so I love to cook and I'm pretty darn good at it, if I say so myself! Even still, there are days that I am exhausted or feeling uninspired in the kitchen so I have my "go to" recipes that I can easily throw together.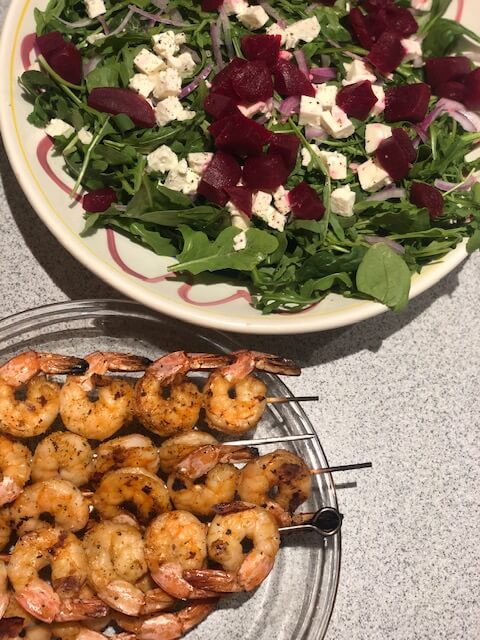 grilled shrimp with arugula + beet + goat cheese salad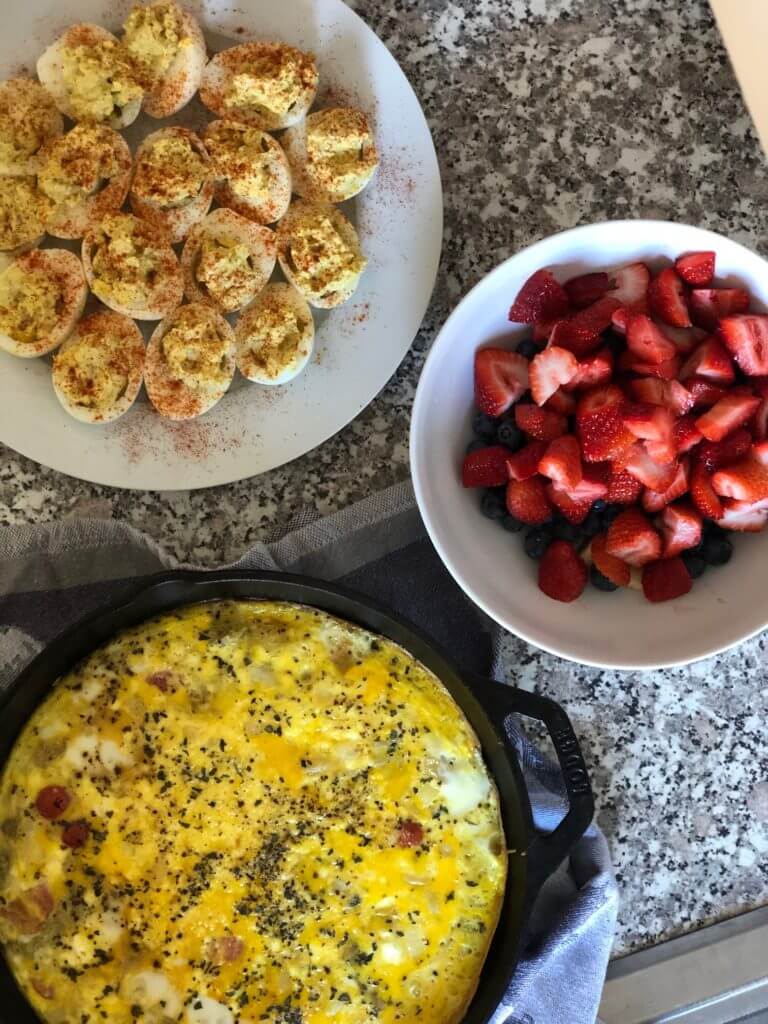 Veggie + bacon frittata, deviled eggs, fruit salad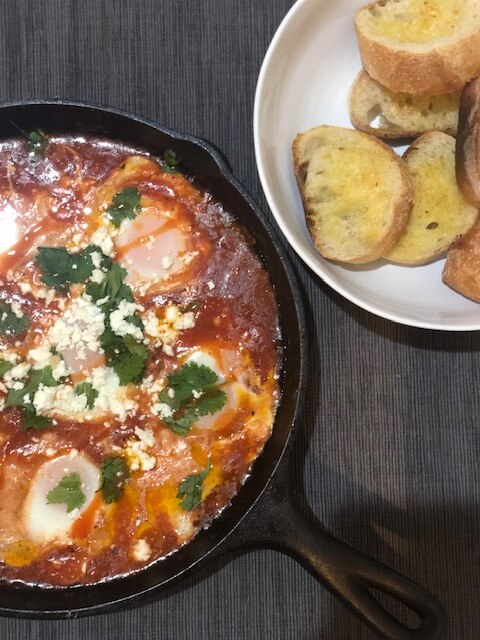 homemade shashuka with eggs + fresh loaf of bread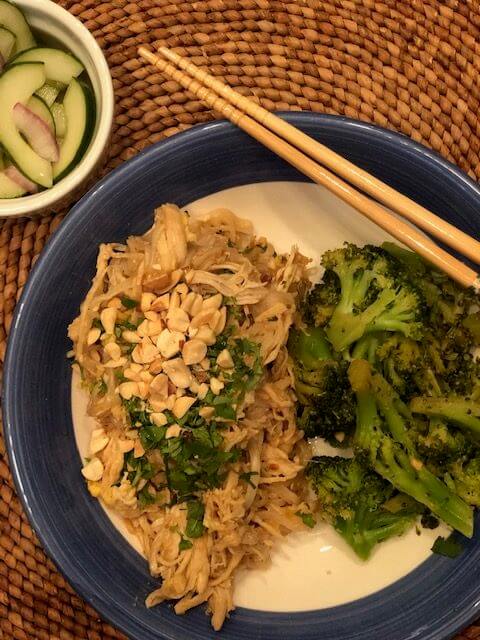 homemade pad chicken pad thai with broccoli and cucumber salad
Easy Recipe Roundup
+ Tacos! Easy and everybody loves 'em. A few favorites: hard shell with ground turkey, soft shell with grilled fish and a mango/pineapple salsa, soft shell with grill shrimp and avocado.
+ Light pasta (Banza is my fave). Add shrimp and pesto. Or ground meat with marinara. Or keep make a simple cacio e pepe. Or go veggie heavy with cannelloni beans and fresh spinach. Or create an Asian pad thai (my favorite recipe). Toss in a few exciting flavors from sauteed mushrooms or artichokes. Serve any of these combos with a simple salad.
+ Baking sheet creations. One sheet, minimal clean up and it always tastes good. Favorite combinations include chicken sausage, onions and peppers…chicken, potatoes and broccoli…salmon, asparagus and chopped sweet potatoes…shrimp, red potatoes and green beans. You can pretty much take any combination of protein + veggie + starch, season it up nicely and bake at 375 for 20-30 minutes and it will be delicious!
+ Grilled anything. Fish, shrimp, chicken, pork loin, steak, veggie burgers – you name it, we grill it. I love grilling because it is easy, there's little clean up and everything tastes better on the grill. For veggies, we throw them in the grill basket or cast iron for the perfect sear – zucchini, broccoli, mushrooms, onion, asparagus, sweet potatoes, red potatoes, etc. For dessert you can grill any fruit and top it with a scoop of cool whip! I especially love grilled pineapple and peaches.
+ Any 5-ingredient or less bowl (usually made with frozen items from Trader Joes). Examples: cauliflower rice, egg, ground turkey/ cauliflower gnocchi with spinach and marinara / shashuka started with egg and fresh crusted bread / stir fried rice with any bag of frozen veggies and a protein…the list goes on!
+ Soup…perhaps not the best when it's super hot out, but good for a cooler night. I like a quick chili, a taco soup, white chicken chili, chicken soup with frozen tortellini, minestrone soup. Really any broth-based soup where you throw in a ton of vegetables and let the simmer do it's thing!
+ Crockpot favorites. The easiest of all ways to make dinner – especially when wanting to meal prep for the week. I love making salsa chicken in the crock pot and then serve it multiple ways throughout the week – in tortillas as tacos, over a bed of lettuce or in a soup.
+ Breakfast for dinner. Or if you're looking for some easy, delicious brunch recipes. Frittata are a favorite – simply saute onions in a cast iron pan, toss in chopped veggies of your choice and add about 8-12 eggs, scrambled. Once the sides start to bubble, toss it into a preheated oven and bake for about 20 minutes. I also love making protein pancakes (served with real syrup and fruit) or any egg sandwich creation – avocado toast, bacon egg and cheese, egg and sausage – you name it, I've tried it.
I hope this list was helpful and gave you some quick and easy ideas for meals, most of which are pretty healthy. What's your "go to" meal when you don't feel like cooking?