After feeling cooped up in the city for the past few weeks, we were itching for some space and fresh air. Somehow neither of us had ever visited The Berkshires so we decided to rent a car, book a hotel room and go! Though I am usually a big planner, we just decided to be spontaneous and go on a whim. The Berkshires is a collection of small towns on the Mass / New York border about two hours directly west of Boston. It is an easy drive that takes you down one highway and the perfect distance for a quick getaway.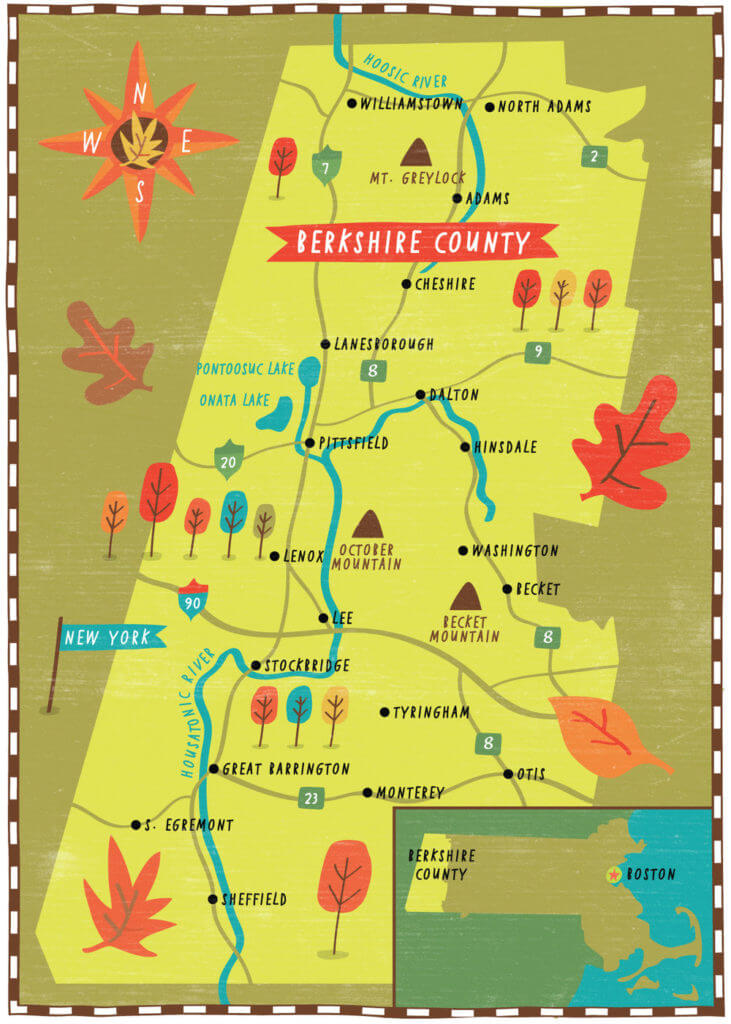 A great illustration of the Berkshires by Nate Padavick.
For reference, we stayed in Lenox but spend time in Great Barrington, Stockbridge, Lenox and Pittsfield. Everything is pretty close and easy to drive to other little towns. Though we packed a lot into our 36 hours there, we had quite a few recommendations for spots that we didn't get to. Below is a roundup of recommendations for places we went / places we were told to go and a ton of pictures to show you how beautiful the area is! The leaves were just starting to change so we saw a few hints of yellow and red but nothing compared to what it will look like during peak season. We found the Berkshires to be charming, quiet and tranquil – the perfect escape from the city!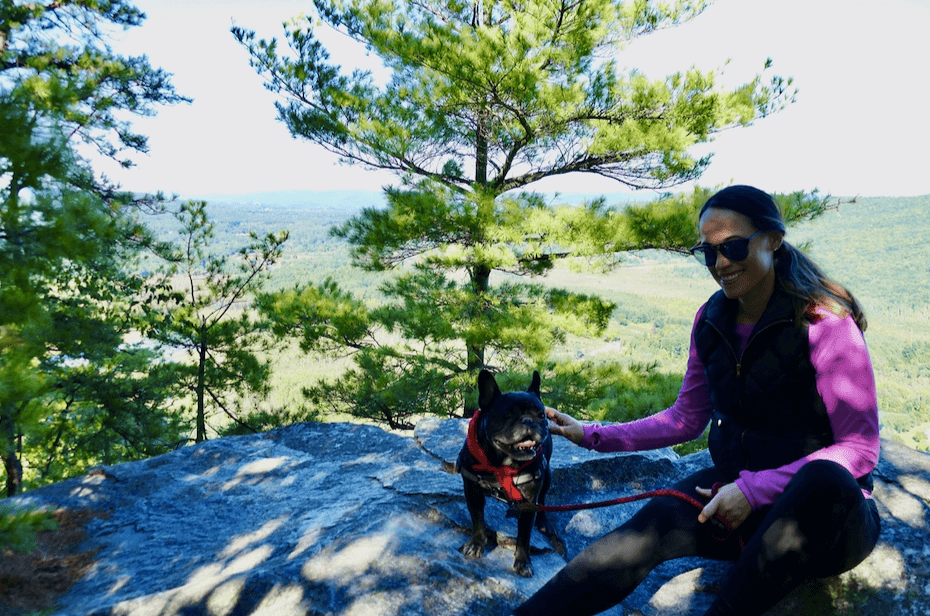 Where to Eat & Drink
+ Brava in Lenox: tapas style and highly rated across the board. They don't take reservations so pop in early to snag a table.
+ Alta Wine Bar in Lenox: a cute American-Italian style restaurant in the square. We enjoyed a delicious dinner here with excellent service. Definitely recommend.
+ The Bistro Box in Barrington: American style dinner spot that came recommended
+ The Barn in Egremont: a fun spot to swing by after dinner; they typically have live music from 8-11pm.
+ Haven Cafe in Lenox: a top rated brunch spot in downtown
+ Lenox Coffee in Lenox: the perfect in-town place to grab a coffee and a treat
+ On a Roll Cafe in Lenox: a casual breakfast restaurant that was near our hotel. The food was good but the service was sub-par, just an honest heads up.
+ Berkshire Mountain Bakery in Housatonic: one of the most famous spots in town and for good reason! Pick up fresh baked bread, take & bake pizzas, croissants or delicious spreads. It's reasonably priced and worth the trip to stock up on some baked goods.
+ Guidos in Pittsfield: a gourmet grocery to pick up snacks or food to go, perhaps on your way to Tanglewood or the Botanical Gardens
Where to Stay
+ Courtyard Marriott in Lenox: we stayed here to use points and it was a centrally located, clean hotel perfect for the weekend.
+ Miraval in Lenox: the sister resort to the famous Miraval in Arizona, this is a healthy, retreat style all-inclusive resort. It's very pricey and I would go in Summer when you can enjoy the pool and outdoor areas.
+ The Cranwell in Lenox: a famous, high end hotel in the area.
What to Do
+ Tanglewood: the outdoor music venue where the Boston Pops (our symphony) spend their summer. Grab some chairs, pack a picnic and enjoy a beautiful night under the stars with live music.

+ Bartlett's Orchard in Pittsfield: great for apple picking and cider donuts.
+ Windy Hill Farms in Great Barrington: a beautiful nursery + apple orchard. We went here for apple picking, donut tasting and the pumpkin patch. Affordable and beautiful.
+ Berkshire Botanical Gardens in Stockbridge: 15-acres of botanical gardens, green space and plant collections. Less than $8 per person and you can bring in lunch to picnic in the park.
+ Lee Premium Outlets in Lee: if shopping is your thing, the outlets are easy access coming into and leaving town.
+ Monument Mountain in Great Barrington: the perfect hike for those with children or animals. We took our pup for a 4 mile loop that was pretty easy (mostly forest trails, minimal rocks). There are 3 different paths, depending on the type of challenge you're looking for.
+ Mount Greylock in Adams: located in the Northernmost part of the Berkshires, this is the highest point in Mass. It boasts great views of Mass, Vermont and New York and loops into the Appalachian Trail