If you follow me on Instagram, you probably know that I spend quite a bit of my winter time up in Vermont. I really enjoy the area because it's snow bunny resort meets charming small town.  There are countless activities to do around the area, depending on the season, and as it grows in popularity as do the restaurants. This is an easy winter escape from Boston (less than 3 hours driving) yet it feels like a million miles away. One of my favorite things to do after a long day of snowboarding is to sit in the Castlerock pub with an ice cold local brew & listen to the live music. It's just the best ending to a fun, tiring day!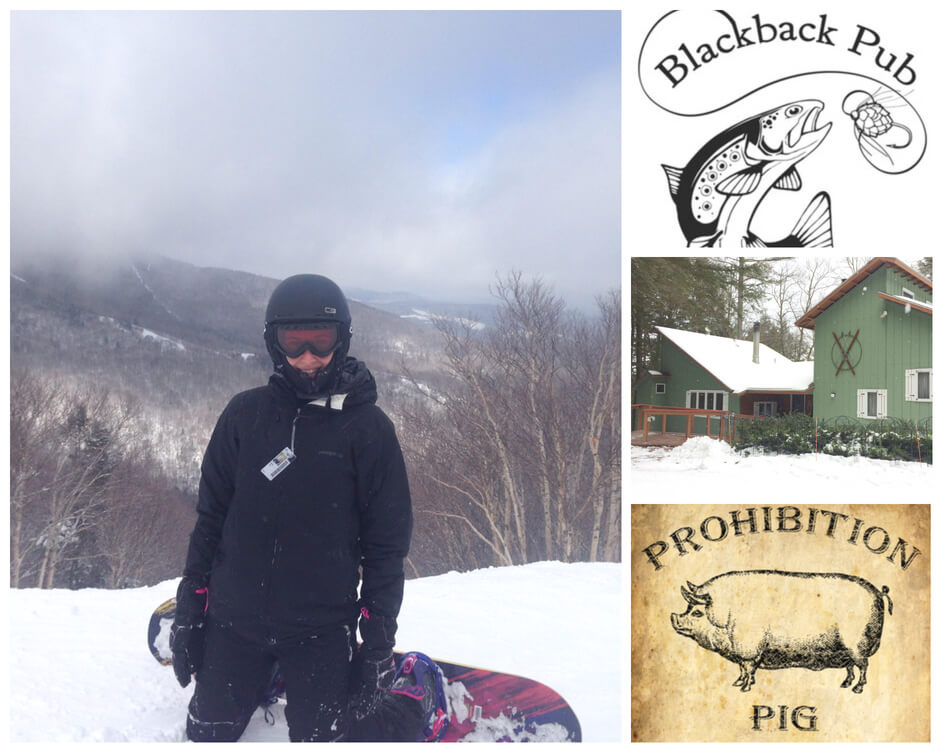 What To Do
+ Ski / Snowboard: On Sugarbush Mountain you can take lessons, join ski school or ski in the woods. Whatever your comfort level!
+ Snowshoeing: A fun alternative to spending a day on the mountain. There are rentals and tours from the Von Trapp lodge.
+ Mountain Biking: A nice non-winter activity is to explore the mountains via bike.
+ Explore Town: The town of Warren is small & adorable. There are plenty of cute shops, local stores, breweries & restaurants.
Where To Stay
+ Ski Houses: We've got a ski house in Warren, VT which is about 20 minutes outside of Sugarbush Mountain. Many people either rent seasonal homes or rent via AirBNB to get condos closer to the mountain for easy access.
+ Sugarbush Resort: When you're on Sugarbush resort, you've got access to mountain lodging, resort condos, fitness center, fireside dining & casual bars & restaurants.
Where To Eat + Drink
+ Warren General Store: Perfect for a yummy sandwich & homemade treats. You can sit at the community picnic tables, next to the coal burning fireplace, and enjoy the local company.
+ Ben & Jerry's: Located in Waterbury (a couple of miles away) is the official factory. Here you can tour the factory, learn the history of Ben and Jerrys and, of course, sample some ice cream!
+ The Prohibition Pig: Also in downtown Waterbury, this local BBQ spot is the one of my favorite restaurants in town.
+ The Reservoir (in downtown Waterbury): A great spot if you want to grab a drink, shoot some pool, listen to music or sit down to eat some bar food. It's usually pretty crowded and fun people watching. They have good bar food, including buffalo wings, turkey burgers and fish tacos. This is a great place to stop on Friday night on your way into town.
+ Bluestone Pizza (in downtown Waterbury): Everyone keeps raving about their wood fire pizza, but I must admit that we haven't tried it yet though it's high on our list. They have a million different types and given that American Flatbread is the closest pizza joint in the area (still a good 25-30 minutes away), I'm so happy to see this place here!
+ Alchemist Brewery (in downtown Stowe): While it's not exactly a "hang out" spot, you'll want to trust me when I say you should go here and try some beer in the tasting room. Alchemist was made famous on their "Heady Topper" double IPA but they've stayed solid and cranked out a ton more local favorites, including Focal Banger. You can also buy their beer directly here, which is nice since it's typically hard to find in town.