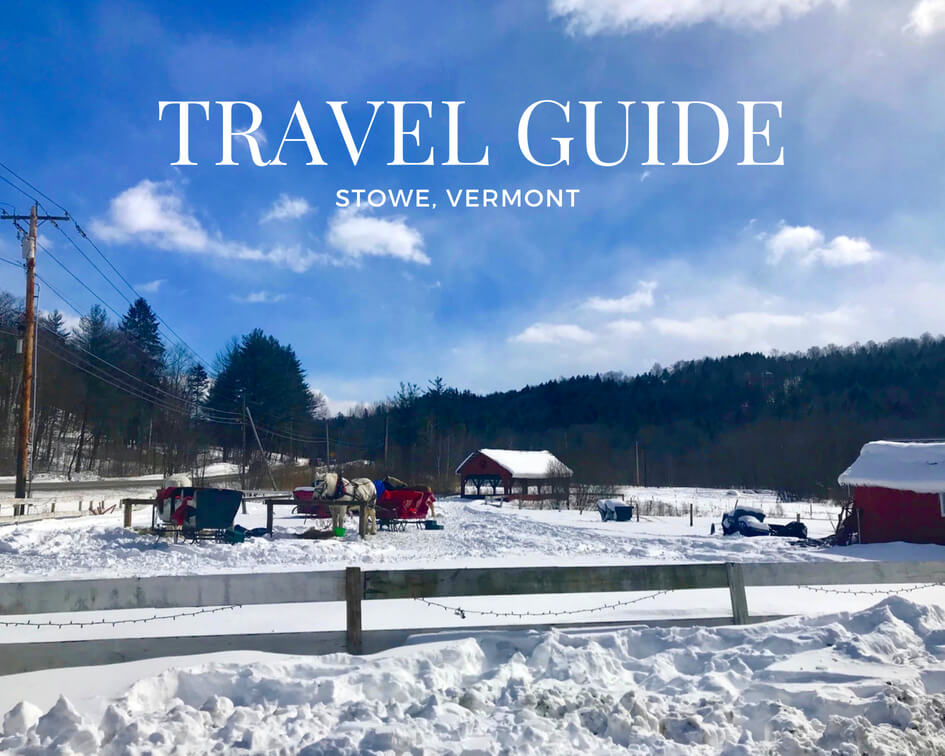 One of the best parts about living in Boston is the close proximity we have to many wonderful areas – New York City, the White Mountains, Cape Cod / Nantucket / The Vineyard, Montreal, Philly, The Adirondacks & more. A weekend favorite of ours in winter is definitely the easy three hour drive up to Vermont for a fun-filled ski weekend. Last year we spent a lot of time at Sugarbush, but this year we have primarily been at Stowe. We both like it better as the mountain is nicer, more updated, more organized and there is a lot to do for everyone – even if you don't like to ski!
What To Do
+ Hit the mountain: So, the obvious thing to do when you come to Stowe is to go skiing or snowboarding. You can get a day pass, a season pass or an Epic pass (we have). Stowe has the highest peak in Vermont and definitely has that "resort" feel if that's what you're looking for.
+ Some non-ski winter activities include cross country skiing, horse sleigh rides and ice skating at Stowe Mountain Lodge.
+ A few family friendly activities are Ben & Jerry's factory tour, the local movie theater and a spa day at Stowe Mountain Lodge (highly recommend).
Where To Stay
+ Stowe Mountain Lodge: At the base of the mountain, this is the absolute best location you could stay in and by far the most convenient. While it's not cheap, this is a good route for those who can afford it and want to have everything at their disposal – ski lessons, ice skating, gym, spa, etc. It's a really beautifully built resort.
+ Stoweflake Mountain Resort & Spa: This resort is built within the heart of Stowe, so you've got access to the local downtown shops, breweries, restaurants & more. It's similar to Stowe Mountain Lodge in that they've got a gym, spa, dining, etc. but it's not located on the mountain.  A nice alternative.
+  Topnotch Resort: We have quite a few friends who have stayed here and really enjoyed it. They've got rooms, suites and homes to rent at the resort. It has a lot of activities as well, including tennis, horseback riding, a spa and more.
+ AirBnB/VRBO: This is what a lot of people do as Stowe can be extremely pricey. If you're here for a long weekend or with more than four people, this may be your most economical route (a lot of condos have ski busses that will pick you up on the way to the mountain).
+ Ski House: For us locals, this is the best thing to do. Going on on a "ski share" with a group can be a more economical option than staying even two weekends out of the whole year. We pay a seasonal fee and the house is ours to use, whenever we like.
Where To Eat + Drink
+ Green Goddess Cafe (in downtown Stowe): A cute local restaurant with a coffee shop feel. They've got sandwiches, homemade soups, salads, smoothies & coffee. It's a casual, fun place to grab a bite with a friend or dine solo. My favorite for lunch.
+ The Kitchen (in downtown Stowe): Great local spot with sandwiches, salads & soups. It's a great place to grab "to go" food for the mountain or for hiking. We've actually never dined here but I've heard great things.
+ TThe Skinny Pancake (Stowe Mountain Lodge): Though it wouldn't be my first choice, i'ts the perfect place for a quick breakfast around the mountain. It's located in the lodge area which is super convenient, but inevitably overpriced.
+ The Matterhorn (near the mountain): This is the best après-ski spot in town and if you ever visit Stowe, you have to go here after the ski day for a drink. It does get really crowded so get there by like 4:00 for a spot if you can. They typically have a band and it's a very fun, lively crowd. I even hear they have good pizza!
+ Mansfield Lodge (at the base of the mountain) : Probably the most convenience of all places, you can't end a ski day without stopping in here to good to grab a beer and thaw out after a day on the mountain. They also usually have a live band and it's fun for an hour or so until people head home to get a hot shower.
+ Idletyme Brewing (in downtown Stowe): This local brewery is best when it's nice out as they have a huge outdoor bar and patio with fire pit. You can sip on beer flights and munch on bar food (burgers, sammie's, salads) and have a beautiful afternoon.