Last year when I was finishing up the fireplace renovation at my clients home in Georgia, I also worked on their children's bedrooms. They have two girls, ages 4 and 7, and a baby boy, almost 1. Well, I finally went back for a final site visit last weekend to photograph the girls bedrooms. The rooms were just as cute and darling as I'd remembered and both of the girls are loving their spaces. As most sisters are, they have a little bit of friendly sibling rivalry so we wanted to make sure that each one's room was different than the other, but equally amazing. I just love how their personalities come across in their room – sweet, spunky and sometimes sassy. My kinda girls! Here are the finished products.
Room #1: Sloan, Age 7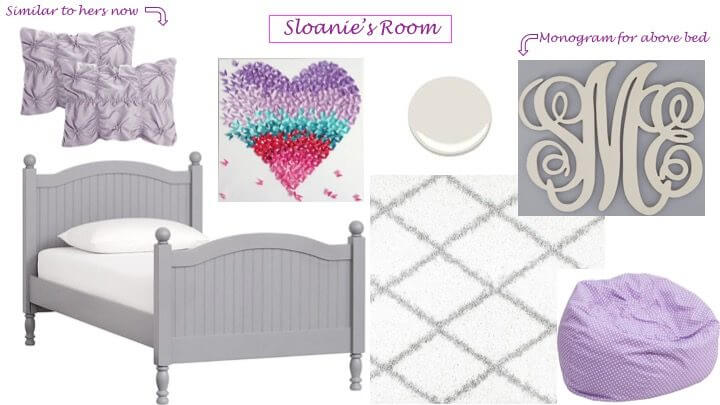 A reminder of what this room's design board from Aug 2017 looked like
Sloan's favorite color is purple so that was my starting point.  The layout was pretty easy to figure out since there is really only one place that the bed fits with the dresser across from it. The ample natural lighting helps brighten up the room and brings out the grey undertones of the purple walls. We chose various shades of grey and white accents with silver hardware. She is already a University of Alabama fan (her mama went there and uncle works there) so you'll notice the cute elephant touches here and there. This is definitely a room that she can easily grow up with – I can already see her years down the road changing the wall color and bedding and making it her own. Such a darling little girls room!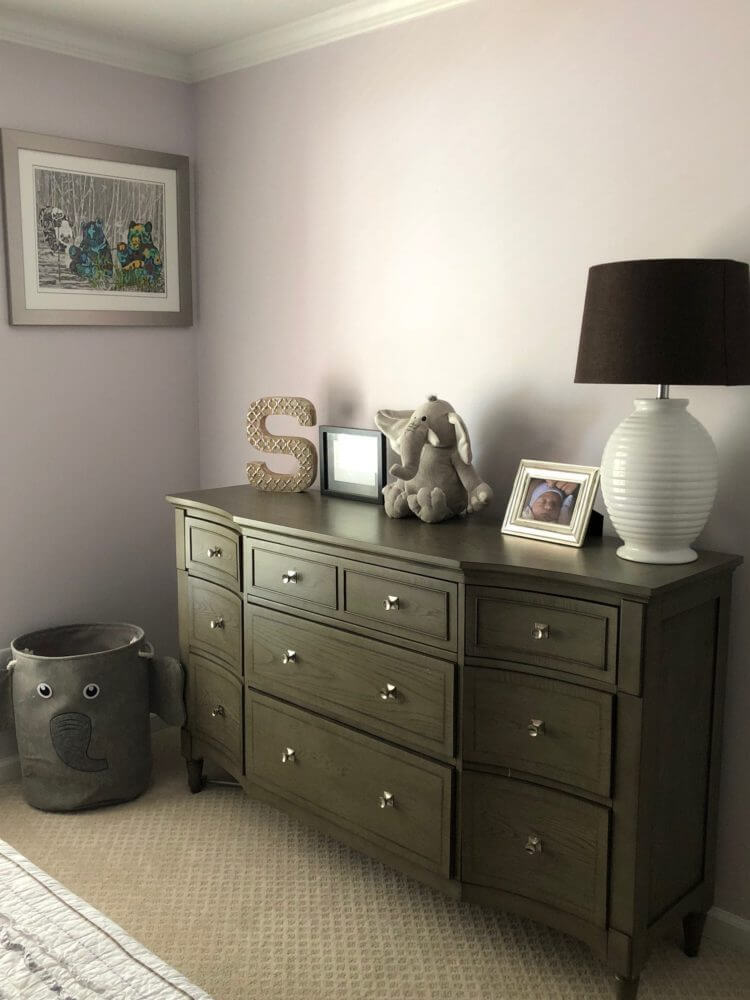 (fyi: that frame is coming down about 6″)
Room #2: Brooklyn, Age 4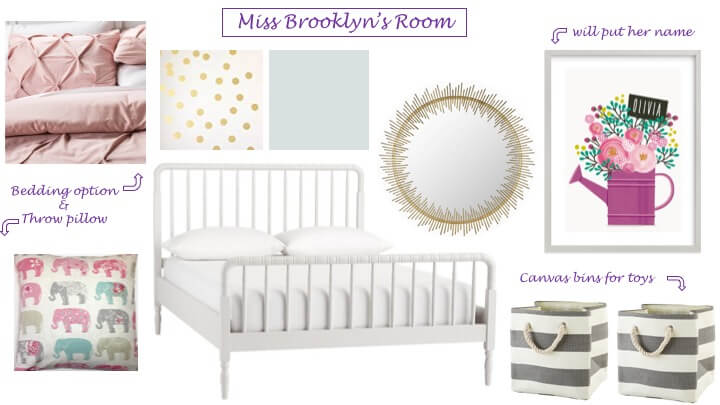 A reminder of what this room's design board from Aug 2017 looked like
The rooms are mirror images of each other and connected via a Jack & Jill bathroom, so the layouts were quite similar. This little girl's favorite colors are pink and gold; however, her mom wanted to avoid an overly pink room. What we didn't want was a cheesy or tacky little girls room so we chose a beautiful mint green color and opted for pink in doses, as an accent color. The gold dots on the wall are my favorite part of the room (they are actually removable gold stickers that I found on Amazon).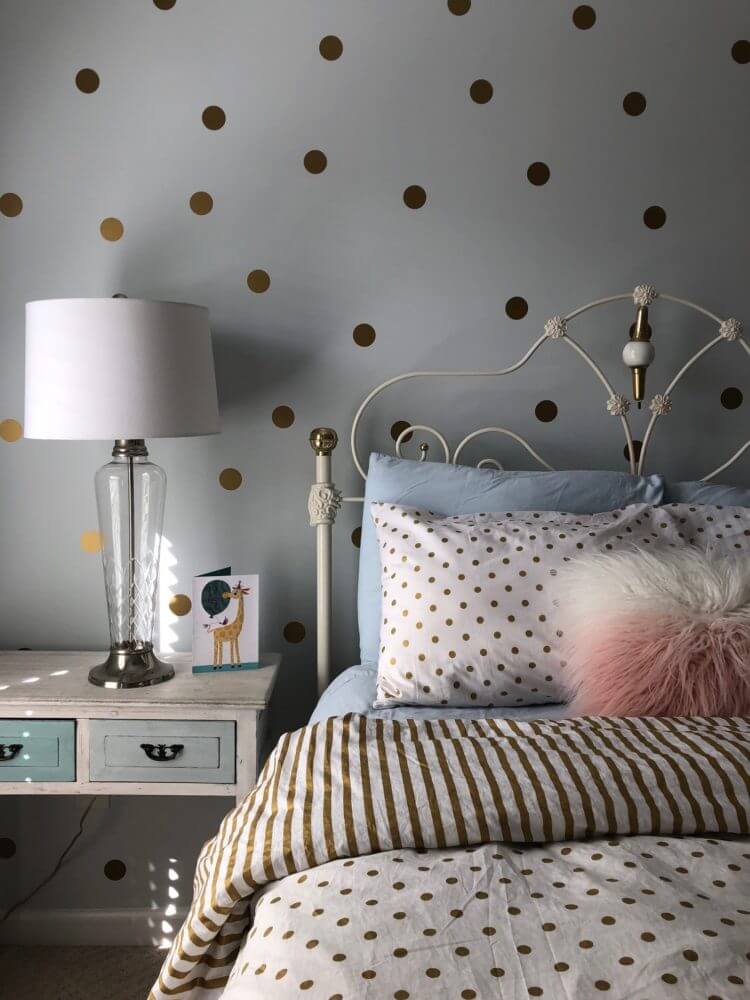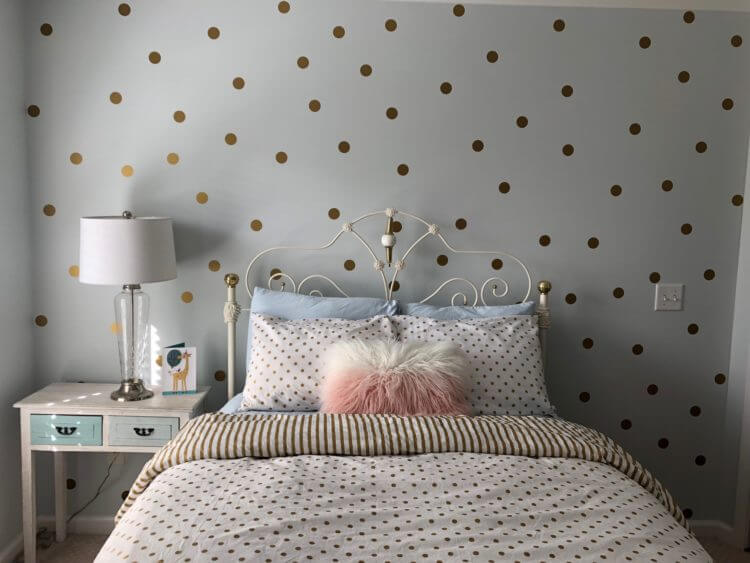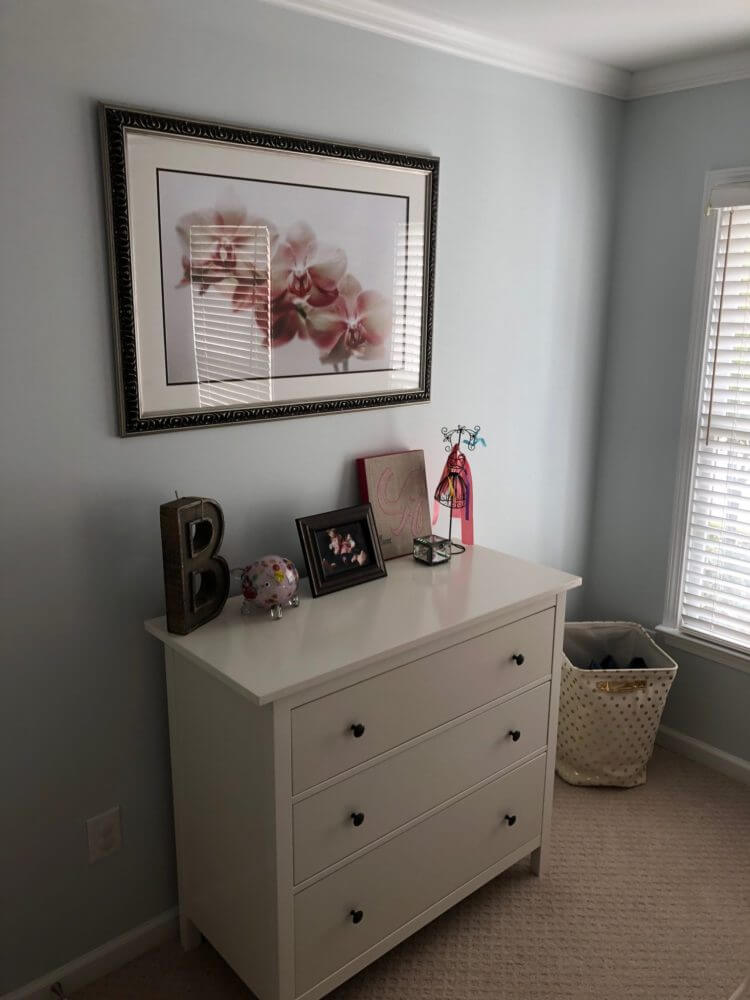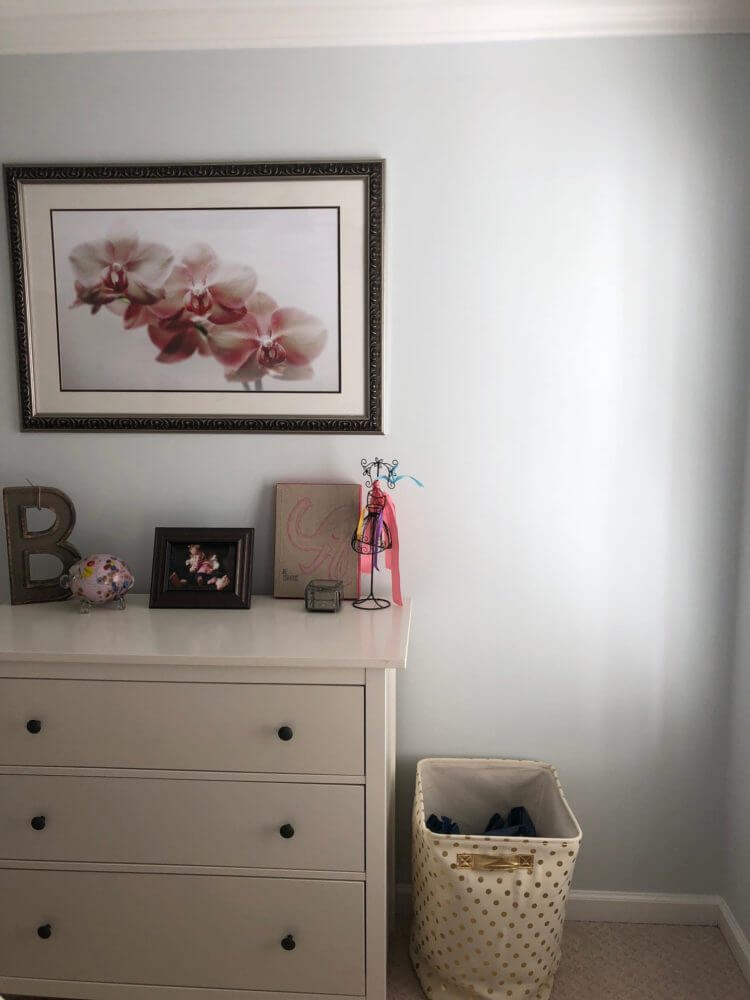 These bedrooms turned out so well – they are each so cute and individual to the specific girl and her distinct personality. We chose neutral, good quality base pieces (beds, dressers, nightstands) in hopes that the furniture could grow with the girls as they get older and their taste changes. Also, the versatile pieces can be swapped between rooms which will allow them to "shop their home" and make it feel new simply by updating linens, artwork and accessories.
Sources
Purple + Grey Room: headboard, similar / similar nightstands / dresser, vintage / lamp / furry pillow
Pink + Gold Room: similar bed / nightstand (old) / bedding / dresser / furry pillow / gold dots