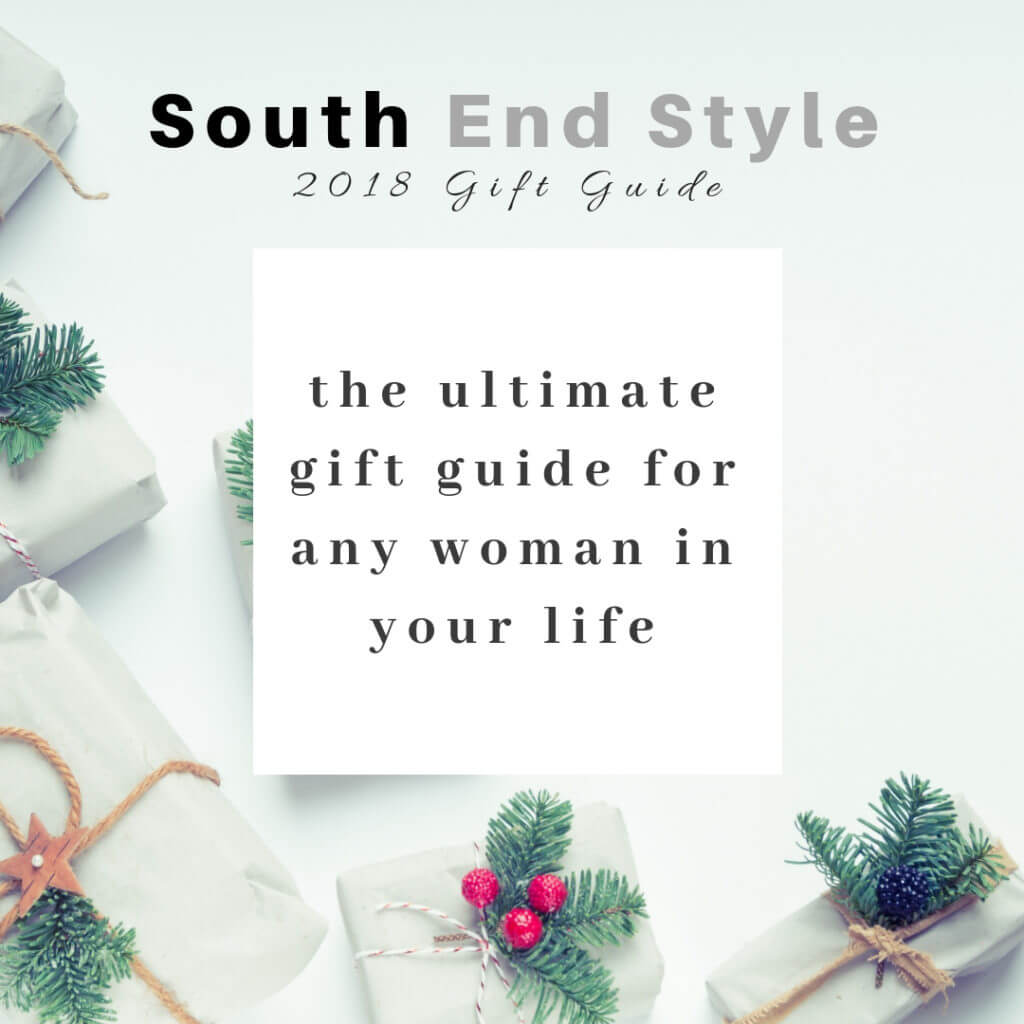 I am SO excited to share with you this second gift guide (did you see last Monday's gift guide?) as it is one that I really feel like applies to so many different key women in life. In the past, I would easily get carried away with many different gifts, but the past couple of years I have tried to choose quality over quantity. This could be one nicer, splurge gift or an inexpensive gift that is given with intent. I don't know about you, but to me it really is the thought that counts. I love buying a gift for someone when it's an item that I know they would never buy for themselves, but they will love it.
Whether it's the mama bear in your household, your rockstar sister/sister-in-law, your wife who does it all or your best friend who always has your back…these are all great gifts to buy for someone who deserves a kind, thoughtful gift. More often than not, these selfless women spend more time on others than themselves. Surprise her with something awesome. Show her how much she means to you. I promise she will love it!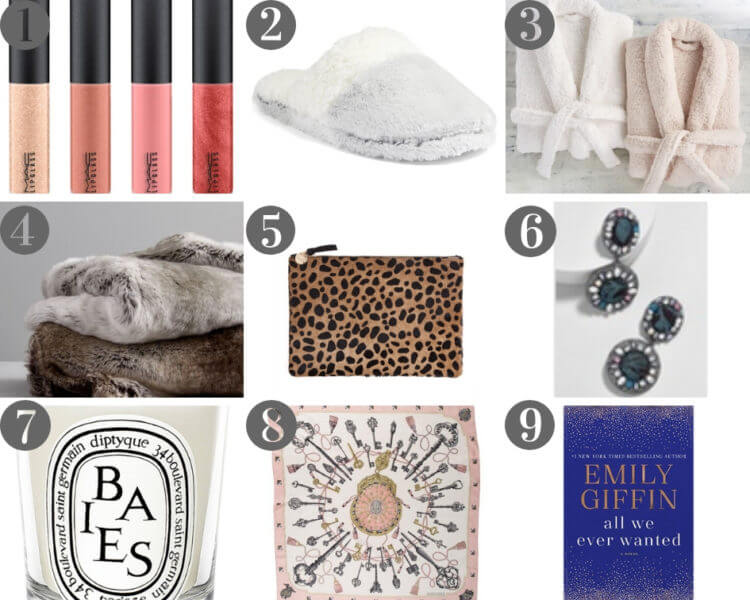 1. An ideal small gift set for any female, this lip gloss set is perfect for stocking stuffers, coworker gifts or girl friend gift exchanges. There are 3 color combo options to choose from.
2. Cozy slippers are a cozy necessity, but not one that most people buy for themselves. These are the most comfy ones!
3. Every woman needs a robe or two. This teddy one is ideal for winter as it's warm and cozy. I'm also liking this lighter weight one for everyday use.
4. If she's a homebody or lives somewhere chilly, these faux fur blankets are so cozy and luxurious. These are excellent gifts for any woman at any age!
5. This classic leopard clutch has been on my gift guide three years in a row for a reason. I get more compliments on this piece than almost any item in my closet. It goes with any style, any outfit, to any event. Trust me when I say she will love this!
6. Who doesn't love a cute new pair of earrings? These drop earrings are under $40 and perfect for the holiday season or any special occasion.
7. A nice scented candle is a wonderful gift – they warm up any home and are perfect for stocking stuffers, for mother-in-laws and for girl friends (y'all know I love these ones also).
8. Now I know that an Hermes scarf is a huge splurge but this is a classic, timeless piece. They come in hundreds of colors and styles and you can find beautiful vintage ones at discount designer sites.
9. A good book is always a solid choice, especially if the woman in your life likes to read or will be on a plane after the holidays. A few of my recent favorites include When Life Gives You Lululemons, All We Ever Wanted, One of Us is Lying and The Perfect Couple. These are all light reads but the Amazon book list gives hundreds more suggestions.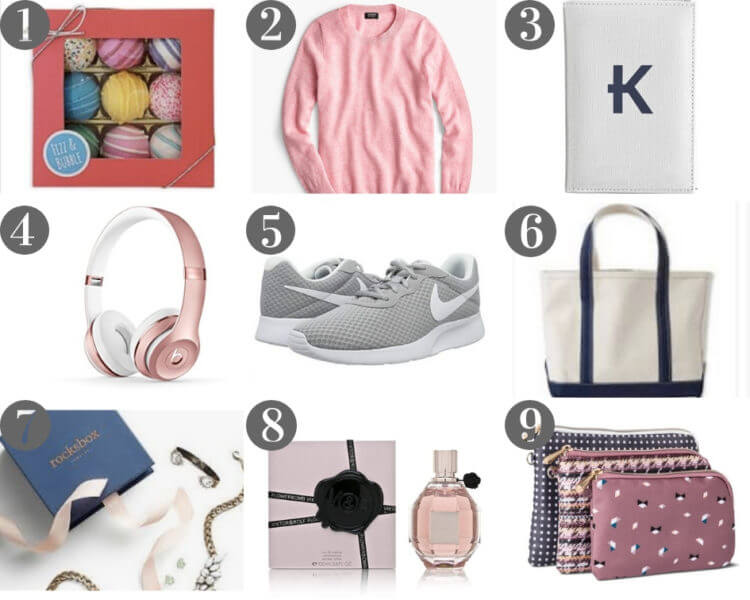 1. These bath bombs pretty much guarantee the most relaxing end to any evening. Perfect for any mother or working woman – let's be honest, we all love ending the day with a nice, hot bubble bath!
2. A classic cashmere sweater is a wardrobe staple fitting for any woman. Any color will do.
3. A new passport cover is a cute gift for anyone who travels or has an upcoming trip! I love this floral one, this monogrammed one, and this Louis one.
4. This is a definite splurge, but such a great one. A chic pair of rose gold headphones is perfect for anyone who travels, works out, listens to music or likes to relax. Check back for these on Black Friday as they typically go on sale!
5. A new pair of sneakers is always a fun gift to receive! Most women need a few pair and love being surprised here – if you're unsure, opt for gray, black, light blue or light pink and stick to Amazon so you can exchange easily.
6. The classic L.L. Bean tote is a gift that is practical, stylish and versatile! This bag is perfect for grocery shopping, running errands, overnight trips or days at the beach. It comes in 3 sizes with 3 handle lengths and monogramming available.
7. Give the gift that keeps on giving with a subscription box. Whether it's a jewelry one, a health food one or a wine club one, these can be sent monthly or quarterly and are a really special (and ongoing) way to show how much you care.
8. New perfume is always on my Christmas list! I find it to be one of the most annoying things to spend money on and the most amazing to receive as a gift. Be sure to find out what scent your recipient likes though – most ladies are particular in this department.
9.  A toiletry and makeup bag set is such a great gift – we go through these often and can always use new ones for all of our beauty products. These monogrammed ones are also really cute and offer a nice personalized touch.
Be sure to follow along this holiday season via my gift guides page. Next week I'll be sharing my top picks for that special someone who deserves a little bit extra this year.