When we originally booked our trip to Aruba, we had multiple people recommend that we must do a snorkeling trip. Terry and I have been fortunate enough to snorkel in some pretty amazing places, including Bali, Costa Rica and Puerto Rico. I've also been in the Cayman Islands which was equally amazing. Needless to say, we love water adventures and were ready to schedule our snorkel trip!
When our friends at The Tranquilo Aruba offered to partner together, we jumped at the opportunity. To be transparent, we had three different complimentary snorkeling offers but went with Tranquilo for a few reasons. First, the tour is run by a local family (a man for 21 years and his late father prior to that for 20 more) and we always love supporting small businesses. Second, it was one of the smaller sized excursions which meant there were less than 10 guests to the four staff. We are so glad that we chose them as our experience was even better than we hoped!

The boat met directly across from the Renaissance Marriott (where we stayed night one). It's very easy to find the marina as it's next to Lucy's Bar, a popular waterfront bar & restaurant. The Tranquilo boat itself is a bright red boat, easily identifiable. We were immediately greeted with a warm welcome from Anthony, the owner and Captain. We signed in, placed our sandals in a bucket and hopped aboard for the initial welcome and safety demonstration.
The boat had various places to sit – from an indoor cabin to covered benches to some comfortable lounge areas on the bow. Y'all know me – I love the boat life so I immediately plopped my happy ass right up front, laid back and enjoyed our slow cruise to the Spanish Lagoon. The initial cruise lasted about an hour and took us by the airport (not exciting but we did see a plane landing which was cool), the Flamingo Beach and various mangroves. During the ride, they had the island music playing which totally set the relaxing mood. They also had a full open bar the entire time, which was if course fun!

On board, we had our skipper (Anthony), two deck hands and the resident boss, Buster. He's a jack Russell terroir and splits his time between getting back scratches and barking at fish. Anthony grew up on this part is the island so the coral reefs were basically his back yard growing up.  Our first stop was in the Spanish Lagoon, where we spent 45 minutes swimming around. The water was shallow with great visibility, but there wasn't a huge variety of fish.
Next, we hopped on the dingy to a second location where he dropped us off and we basically drifted down (about 20 yards behind the dingy). The reef was 10-30' deep and had incredible fish – we saw schools of fish, intricate coral, eel, etc. We were so glad that we did this portion of the excursion as it was beautiful with great variety.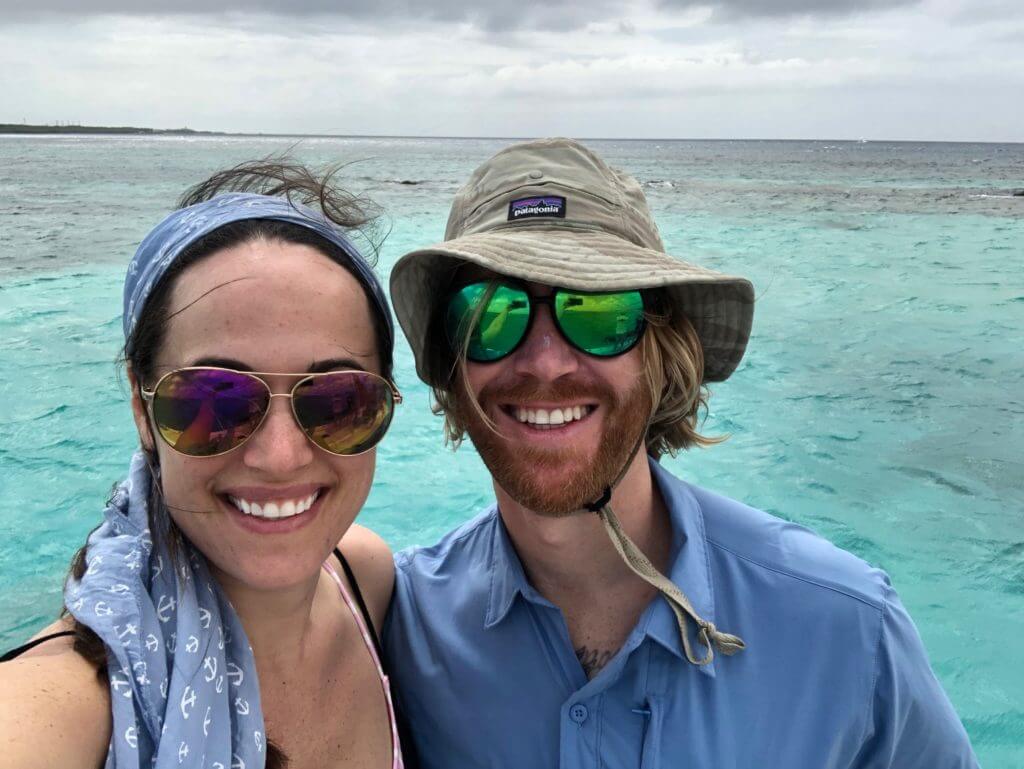 On our 1-hour trip home, Captain popped up the sail, put on more tunes and poured some refreshing cocktails. They also served us lunch, which included his famous split pea soup, various sandwiches and cookies. It was delicious and the food tasted that much better after we had been snorkeling around for a couple of hours.
All in all, we had an absolute blast on this trip. The scenery was beautiful, the people were wonderful and the drinks were tasty. We loved how small the group was as we had outstanding service and were able to get to know everyone. The vibe was relaxing yet fun and we would totally do it again!

Have you been snorkeling in Aruba?!
Thank you to our friends at The Tranquilo Aruba for sponsoring this post. Though we received a complimentary excursion, thoughts and opinions are my own.