If you've been following along with my Instagram or blog the past month or so, you know that Terry and I went on a quick weekend trip to Aruba to escape the brutal Boston winter. I've said it before and I'll say it again – this was our best idea yet! Getting away in the month of February or March is truly a lifesaver when you live in New England and it is pretty much dreary and cold from November to May. My favorite part about Aruba is how simple it was to get to – an easy 4-hour direct flight from Boston! While we typically aren't ones to repeat vacation destinations, we both agree that this could easily become an annual staple while we are living in New England. I'm already counting down the days til our next trip!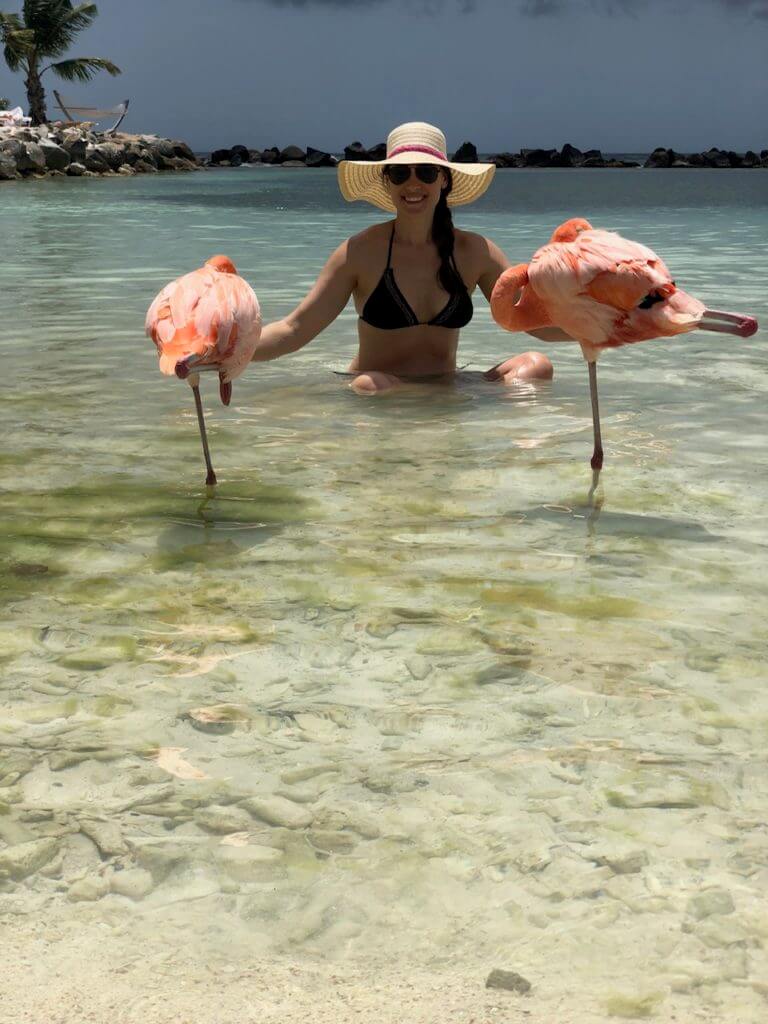 What To Do
+ Flamingo Island: This is such a fun spot! It's free for those staying at the Renaissance Marriott but has a fee for all others. You are taken to the private island by boat and can easily spend the entire day there.  The island has an adult only beach and family beach. It also has a gym, spa, restaurant and two bars. Towels and beach chairs are provided so you just need to show up! The location isn't the best as it's near the airport (can be loud) but other than that, it feels remote and the flamingos themselves are worth going. It was a really unique experience.
+ Explore downtown Oranjestad: Filled with colorful buildings, art galleries, Dutch architecture and a whole lot of history, this is a great place to walk around if you need a break from the beach. Here is where you'll find most of the upscale shopping and the "I Love Aruba" sign.
+ Go Snorkeling: We had an amazing day with Tranquilo Aruba, but there are countless companies that offer half day snorkeling trips. This is fun activity for people of all ages and it's a great way to see the island. The water is crystal clear which bodes well for a day of viewing fish and coral.
+ Get on a Boat: Aside from snorkeling, there are various boats that offer sunset sails, meals on the sea, booze cruises and more. We had quite a lot of recommendations, including Pelican Adventures, The Monforte and The Jolly Pirate. In my opinion, you can't go wrong with on a boat so decide which one best fits your needs and hop aboard!
+ Head to the Beach: This is likely the reason you came to Aruba! There are countless beaches on the island, all with a different vibe. Palm Beach and Eagle Beach are two of the more populated ones, lined with hotels, restaurants and excursion companies. Flamingo Beach is the private beach associated with the Renaissance Hotel. Baby Beach is a more remote island located on the Southern tip of Aruba. Take your pick!
+ Rent ATVs: This was one thing on our list that we did not have enough time to check off, but we are already planning to do it next time. There are many ATV rental companies that take you to more rugged parts of the island and allows you to explore cliffs, waterfalls and natural swimming holes.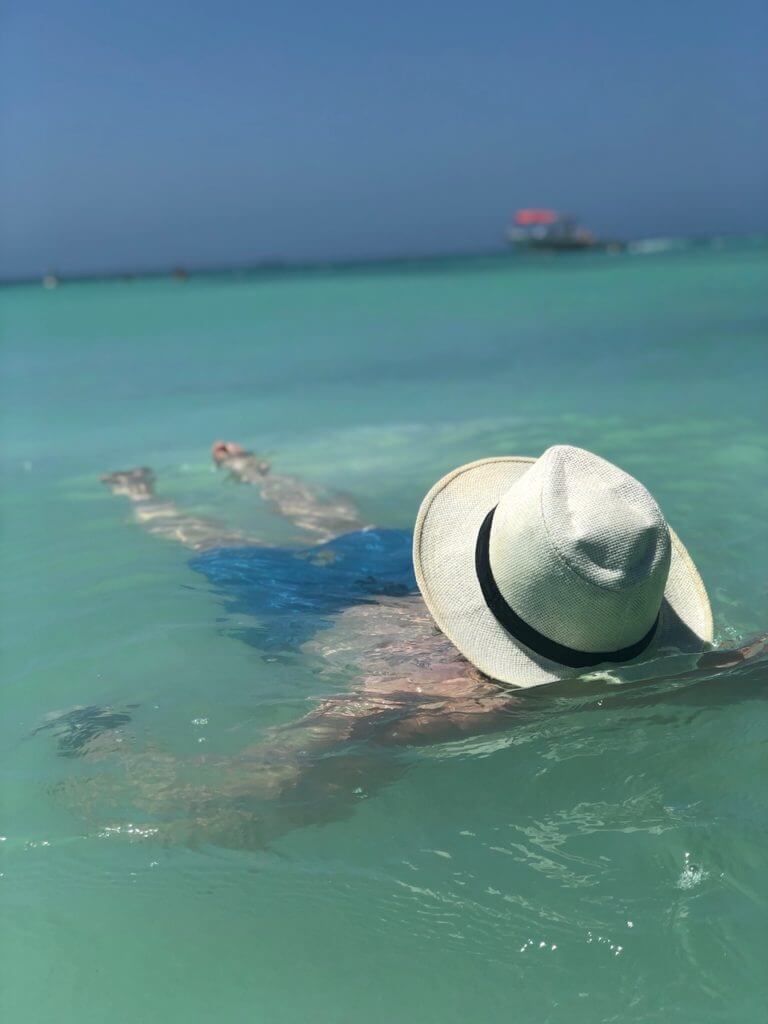 Where To Stay
+ The Renaissance: We stayed here on the first night to experience Oranjestad and Flamingo Beach. While I highly recommend staying here for one night in order to experience the flamingos, be sure to pick a room on the beach side! We made the mistake of not doing this and ended up in the Marina side, which essentially felt like we were in a strip mall. Needless to say, we won't be making that mistake again.
+ The Marriott Stellaris: We stayed here for two nights and there were a few things that we really loved about it. For starters, it is a time share property so the amenities were much nicer than most chain hotels. The pool, spa, lobby and fitness center were all top notch and very well kept. Additionally, there are so many restaurant options here so if you are having a lazy beach day and don't want to leave property you have many options.
+ The Ritz Carlton: We actually tried to stay here but it was sold out two of the nights so it didn't make sense for us. Given that you can use Marriott points to stay here (at the time of the trip, they were the same amount as the Marriott), this could be an ideal option for a more adults-only getaway.
+ Anywhere on Palm or Eagle Beach: To be honest, I bet a lot of these hotels are the same. Anywhere that is located on "hotel row" along the water of Palm or Eagle Beach is a great location, has a beautiful beach and has gorgeous sunset views. There are many hotel chains here so I say take your pick and it's likely a good decision.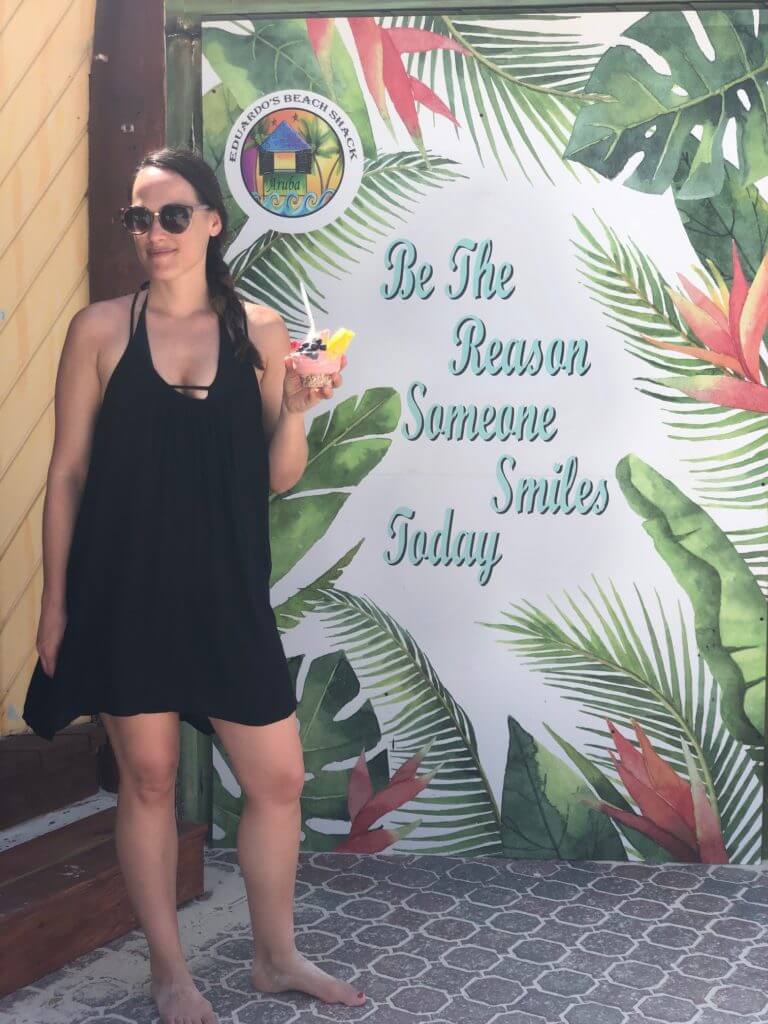 Where To Eat + Drink

+ Ruth Chris: This chain is located within Marriott Stellaris, which makes for an easy night out. We love sitting at the bar in fancy steakhouse restaurants and this proved to be a great choice. The food is delicious, the service is stellar and the vibe is casual-chic which we enjoy.
+ Waves: Honestly, it's an average, somewhat overpriced lunch spot but I think that's par for the course when dining beach front in Aruba. The fish tacos were great and the service is quick and easy.
+ Zeerover: If you're looking for a casual, waterfront seafood and cold beer kinda night, this is your spot. It is authentic, fresh and delicious.
+ Nos Clubhuis: This is a low-key beach-front restaurant with tables on the sand. The food wasn't the best we had, but it's an easy place to grab some fresh fish at a decent price. They had live music as well, which was a nice touch.
+ Driftwood Restaurant: Located in Downtown Oranjesta, this place came recommended for dinner. You can opt to go deep sea fishing and catch your own fish, which is such a cool touch!
+ Pinchos Bar and Grill: This restaurant is somewhat of a hidden gem, located on its own dock underneath string lights and with views of the coast. It's the perfect choice for a romantic meal on the water or for sunset. Trust us, you'll want to order their fish (I had outstanding Mahi-Mahi) and enjoy dining al fresco.
+ Gianni's Italian Restaurant: Italian cuisine may seem like an odd choice while at the beach, but sometimes a girl is craving pasta! Located in the heart of restaurant row by Palm Beach, this is an easy spot to grab some pizza and wine and sit outside to people watch.
+ The Dutch Pancake House: When in Aruba, you must have a Dutch meal! This is the perfect spot for breakfast and the food is just like what we ate in Amsterdam.
+ Atardi: One of the fancier restaurants on the island, this is a beach-front dinner spot on the Marriott Stellaris property. This is such an ideal spot for a sunset view so be sure to book your table prior to sunset!
+ Eduardo's Beach Shack: Walkable from Eagle Beach or Palm Beach, this place is a must visit. They're famous for their açai bowls and smoothies, made with the freshest produce around. There are many vegan and organic options as well. Everything we tasted was delicious and so colorful.
+ Madame Jeanette's: We didn't eat here because we snag a reservation, but this was the most recommended restaurant to us on the island. Make a reservation way ahead of time and if you are able to dine there, let me know how it is!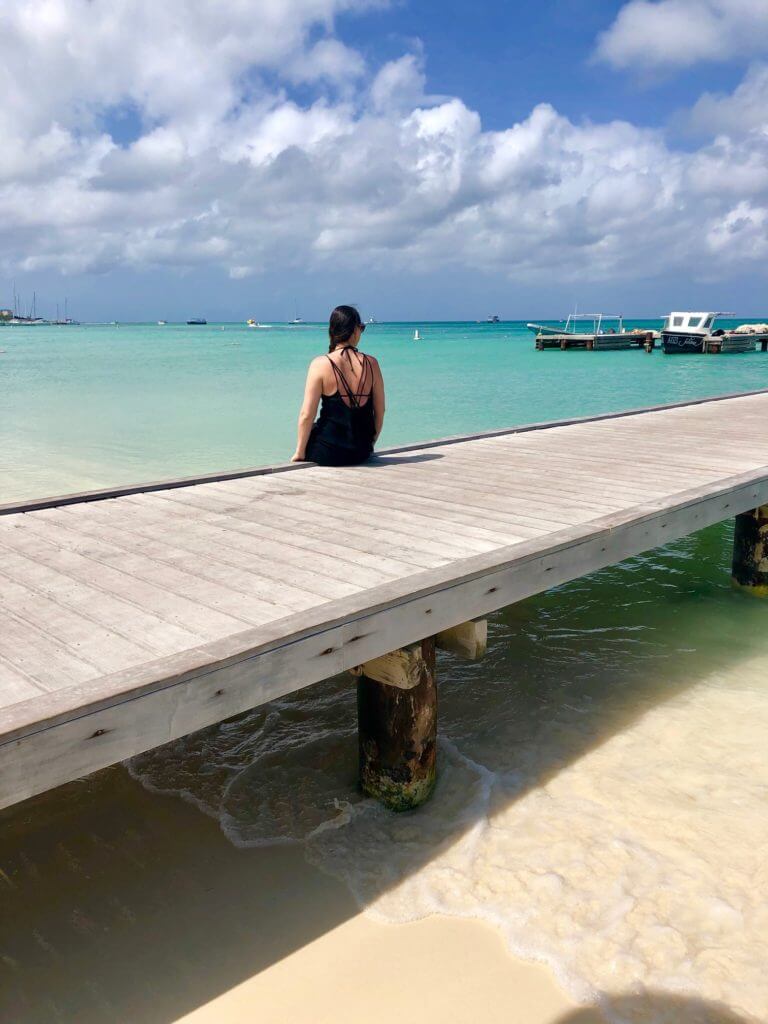 What's your favorite part about Aruba?!