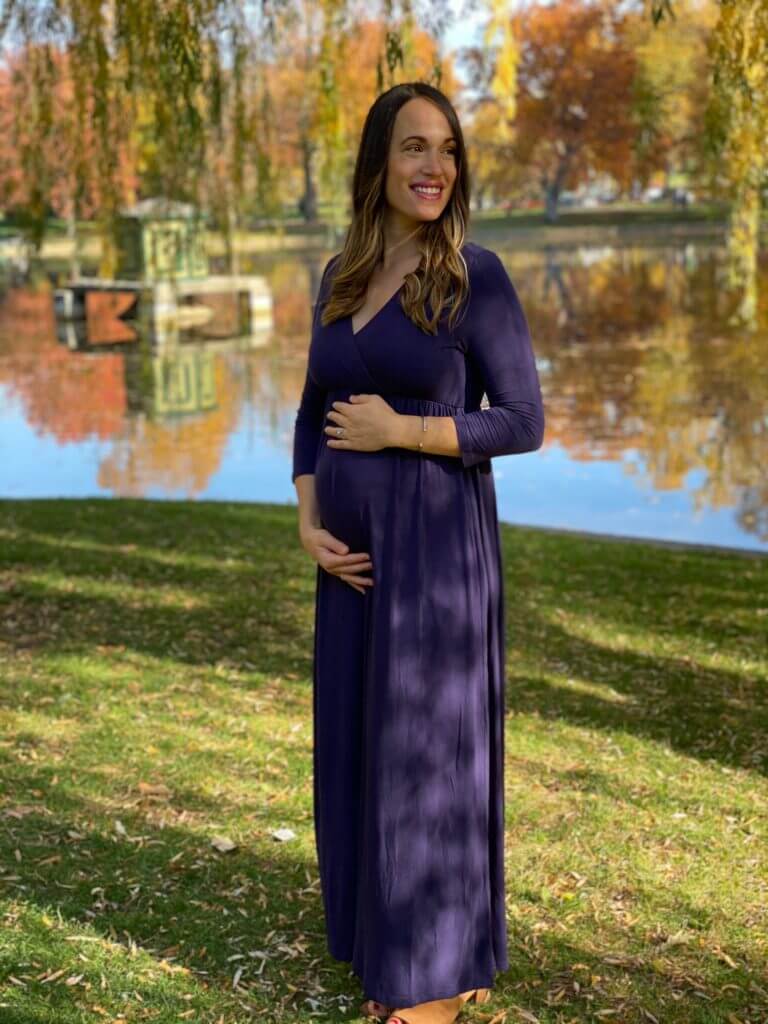 When I reread my 1st trimester recap post, it feels like that was many, many moons ago. Being pregnant in the Summer was nice because we spent so much time outside but I look back and think, how did I deal with all of that nausea? Truth be told, the nausea continued greatly into my second trimester until about week 21-22. Luckily the 24/7 feeling has subsided but I still experience this symptom regularly. I've come to terms that this is just how my body reacts to pregnancy and that's okay. I can suck it up and deal with it!
I have always heard people say that the second trimester is the "sweet spot" and I totally understand why. Around week 20 (about halfway), my energy levels sky rocketed, my sleep improved and I started feeling back to my old self. This trimester has also been fun because there are so many "firsts" – the first baby movement, the first time Terry joined me at an appointment, the first time a stranger asked if I was pregnant. It has been fun and exciting experiencing all of the changes these past 12 or so weeks!
+ Energy: I'm back, baby! I have been working out daily and feeling great about it. Some days I'll just go for a long walk, while others I'll lift weights, do a yoga class or spin on the Peloton. No matter what I do, I just try to move my body and keep active. The more mobile I am, the better. The only downside has been that I stopped running at week 25. I tend to push myself – hard – when I run and it has been causing slight pain to my pelvic floor so I'm listening to my body and signing off.
+ Heartburn: I feel so lucky that I have never experienced heartburn in my life before because this prenatal heartburn is no joke. It came on with full force around week 25 and has been running rampant in my body. Even the most non-acidic foods are wreaking havoc on my body. Tums are my new best friend and I'm back on the first trimester ginger ale (ah, memories). The heartburn is so bad that it causes nausea most days which leads to – again- first trimester vomiting. I'm hoping this is a quick phase that will pass because yikes – this came outta nowhere!
+ Insomnia: What an unexpected – frankly unpleasant – side effect this has been.  The insomnia has made work especially difficult as I am in my busy season and have to limit myself to 1 cup of coffee per day. I've been trucking through but truth be told – I exhausted. Between my full-time job, helping my husband with his start up, moving cross country and planning for the holidays, life is busy right now. Last Sunday, I was so tired that I took a nap for over 5 hours during the day, ate a bowl of soup and went back to sleep for the night. If that's not my body's way of saying "slow down", I'm not sure what is!
+ Body Symptoms: My sciatica comes and goes and when it comes, it's back with a vengeance! I have noticed a direct correlation between exercise and sciatica so the moment it flares up, I back off of cardio and focus on strengthening, mobility and stretching. I've had a sciatica issue my whole life and I knew it would appear during pregnancy, but I expected it to come later in the 3rd trimester, not this quickly.
+ Movement: This has been the BEST part of pregnancy so far and the most exciting milestone for us! Once I felt those first little flutters (that sort of feel like a gas bubble in the belly) around week 22/23, they ramped up and little Baby Koz is now moving nonstop. We've got an active baby, that's for sure! I feel kicks, punches, head butts and bumps all day long and I love it. It is both exciting and reassuring and has allowed me to feel much more connected to the baby. They've become to pronounced that you can now see them through my shirt and I have been able to catch some on video. It's so sweet!
+ Wardrobe: I've said it before and I'll say it again – a huge silver lining to being pregnant during covid is that I have so much flexibility in my wardrobe. I'm no longer going into an office, on-site with customers or traveling for work, which means I'm able to be in comfortable clothes every day. This has been such a blessing in that I have yet to purchase one piece of maternity clothing. My goal was to make it until the 3rd trimester to have to bite the bullet with purchasing a few maternity jeans / tops and looks like I'll make it there. I would like a couple of pairs of jeans for winter (and let's be honest, mine won't button) and a couple of tops. While everything fits, I need a few longer solid color tops to wear. Luckily all of my shoes and winter jackets still fit fine which is amazing!
When it comes down to it, I cannot wrap my head around the fact that we are about to be entering the third trimester. On one hand, I feel Like I've been pregnant all of 2020. On the other, I feel like it's flying by too fast. Though I've had some physical challenges and tough symptoms the entire time, I am overall loving being pregnant. The way my body is changing, the feeling of growing a life inside me, the way my skin & hair feel, how much nicer people are…I am just really enjoying it much more than I anticipated!!
Previous Pregnancy Posts
Working out while pregnant – 1st & 2nd trimester