I'm back for my third monthly report of my happiness project. If you're new to South End Style, you can catch up by viewing my previous posts –  month 1: vitality and month 2: marriage. I started this project when I stumbled across Oprah's podcast and heard Gretchen's review of her year long happiness project.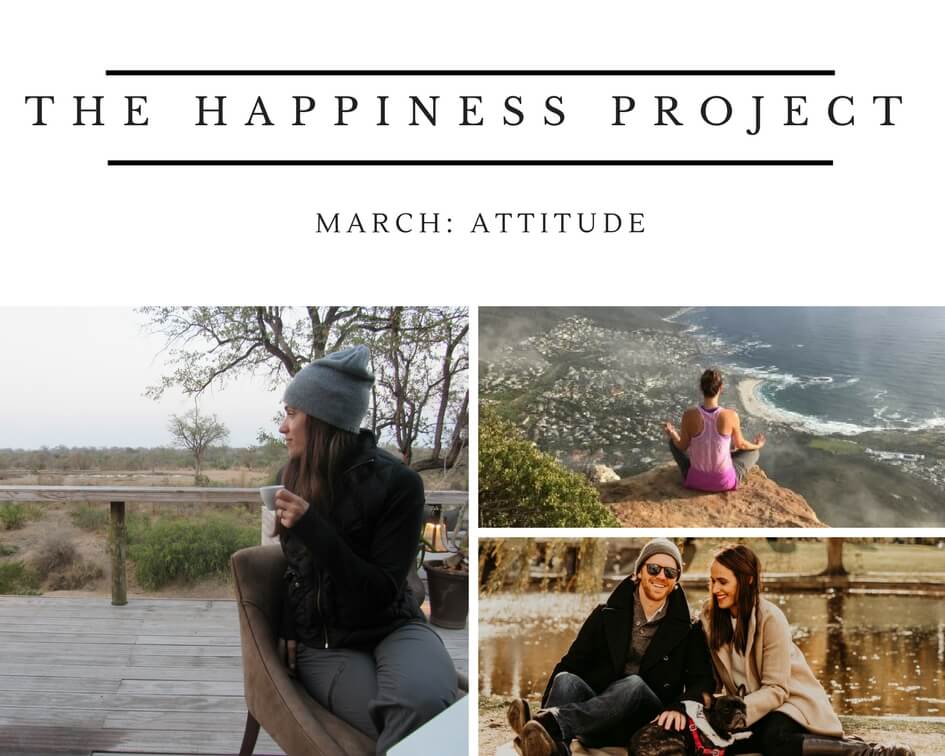 This month was an easy one for me to choose. Attitude is everything. It affects how we treat ourselves, how we interact with others, how we handle obstacles & challenges, and how we lead our lives, every single day.
One of my favorite quotes: "Attitude is everything. Life is 10% what happens to you and 90% how you react to it".
Ain't that the truth. 
Part 1: Lighten Up
A couple of months ago I was having a conversation with a family member who I really respect and admire. Somehow, we got on the topic of attitude. He asked me if I find myself sometimes noticing a pattern of negativity. Was I naturally saying "no" when invited to do something or thinking "I don't want to do that" if asked to help out or assuming "that's too much work" when I was proposed with something that strayed away from the plan. When I said "yes" to every single question he asked, he told me – you need to lighten up! Nobody wants to spend a lot of time with someone who's too intense or too rigid. This conversation has run through my mind every day since and I have made an active effort to train myself to say "yes, I'll try it" or "sure, sounds fun" when these situations arise. It's hard to "lighten up" when you've got a lot on your plate or when you're naturally type A (like myself), but it is such a critical change to try and make.
The Verdict: I have found myself saying "yes" when I was thinking "no" multiple times, and you know what? Each time, I ended up spending a wonderful evening with friends or enjoying a new activity or having really great conversation. While this change is a work in progress, it is positive one for me and everyone around me. I find myself thinking "hey, just lighten up" at least once a day. It's working! 
Part 2: Practice Positivity 
I'm breaking this down into three parts because it's really a large topic to practice positivity and it encompasses many different habits, ideas and goals.
Part 1: It's all in Your Mindset: I wish I could say I am one of those "glass is always half full" people – sometimes I am, sometimes I'm not. A wise psychologist I know once said that if you're thinking negative thoughts you simply "change the channel in your head" and that a key way to maintain a positive attitude is "fake it 'til you make it". Both of these sayings hold true to me and I strongly believe both of them. Instead of saying "ugh, it's cold in Boston AGAIN", I try to think "Hmm, it's cold out. Glad I'll get to wear my favorite sweater again!" Most situations can easily be turned into positive ones, so this is where practice makes it a habit. If you ask me, we all could use a lot less complaining and a lot more positivity.
Part 2: Positive People are Key: This. Is. Critical. And it starts with yourself. Think about the 10 people you see most often – your spouse, your family, you friends, your coworkers. Are they positive? If not, perhaps you need to reevaluate your time spent with them. Not everyone's attitude is a positive one and that's okay (hey, we all have bad days)…but those who exude positivity (in a real, authentic way)  are the type who we should surround ourselves with. Upon starting this month's topic, I immediately noticed who these people in my life are. Lucky for me, my husband has one of the best attitudes – he's optimistic, he's compassionate, he's loving and his attitude is totally contagious. This is one of the qualities I love most about him and where he really helps to balance me out. It's truly a breath of fresh air to be around him! I also have one friend who stood out way above the rest of having an attitude that we should all emulate. Though I don't see her regularly, I know that my conversations with her will always leave me in a great mood. Even though she's facing some incredibly unfair and devastating challenges right now, she really is a beacon of hope. Have I made my point clear on this one?!
Part 3: Spread Kindness: If you were alive in the 90s then you heard Oprah say it more than once – helping others feel good helps us feel good. This is the foundation of being philanthropic. So, if we can't physically help others, let's at least help them by having a good attitude. You never know the challenges others are facing so that should make it all the more necessary to try and be kinder than usual. Some easy way to do this are to strike up a conversation with a stranger, smile more, pay the person's toll behind you, or call a loved one just to say hello…it doesn't take but a simple act of kindness to totally turn around your day and your entire outlook on life. Fact: research shows that people get a mood boost from contact with others. 
The Verdict: Of course, this is a lifelong work in progress. Practice makes perfect here. For me, I am working on #1 every single day, as it has the most immediate impact on my everyday happiness and overall attitude.  But I can't expect my attitude to be the best it can be without #2 or #3 – and those we can control 100%. It's never too late to work on this!
Inspiring Attitude Quotes:
It's not an act of gratitude but a practice of gratitude.
A positive attitude gives you power over your circumstances instead of your circumstances having power over you.
You can't always have a good day. But you can always face a bad day with a good attitude.
Change your attitude, change your words, change your behavior.
Happiness Habits Implemented
From January: A weekly "Power Hour" where I basically get sh*t done and head into the weekend feeling uber productive and relieved. Also, I went through another phase of de-cluttering where I swapped out our seasonal clothes and donated a large bag of items to Goodwill. I can't lie – it felt so good to cleanse our closet again!
From February: Sticking hard with showing love via the partners' love language. We both have made a solid effort to acknowledge the other in this way and it really makes each person feel more loved. Even when your relationship is in a really great place, you can always find more ways to show love 🙂
Have you started your Happiness Project?!