It's no secret that we have done our fair share of moving while living in the city. In my six (almost seven!) years of living in Boston, I have moved from Back Bay to South End to Brookline back to South End and then two blocks over (again in South End) to where we are now. Regardless of where we have lived, one thing remains constant – we love to host! Whether we are having friends over to grill out in Summer or watch the Dawgs play in Fall or simply come hang, we always have friends over. In fact, I would say that out of our friend group we have always been the place that people typically gather. And we love it! I have discussed tips for maximizing hosting items, ways to decorate in small spaces and even items I recommend splurging on for these types of situations. Today I'm keeping it simple with some general tips for hosting in small spaces.
a killer charcuterie board is a must for any occasion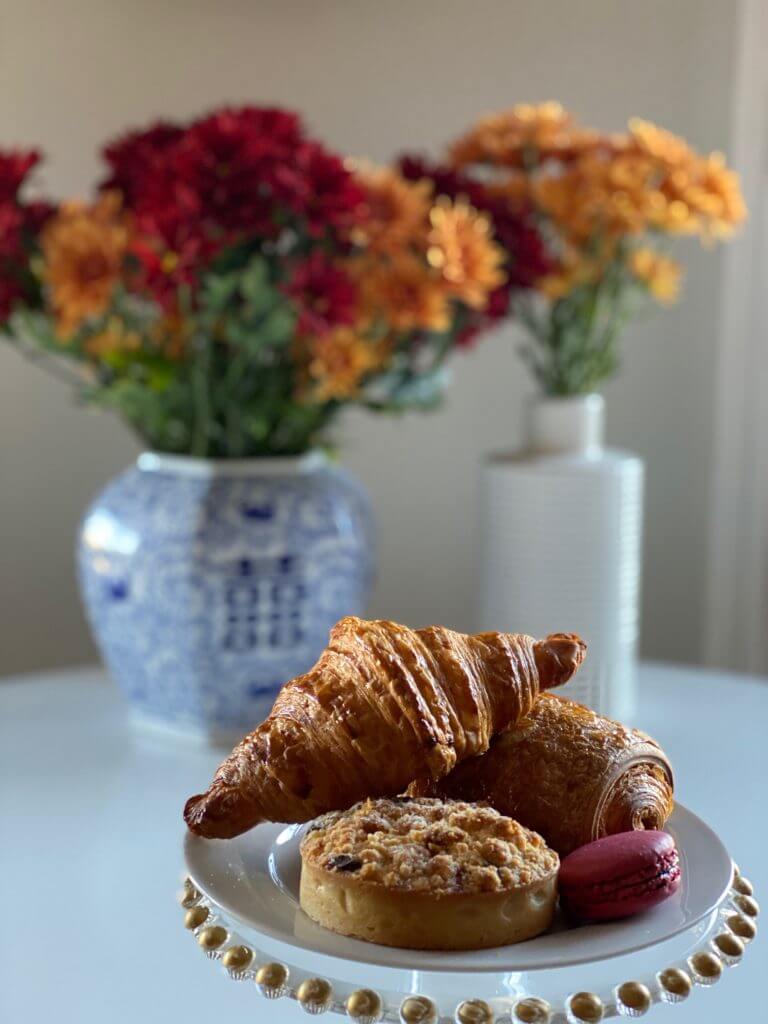 breakfast treats set out for our guests before they arrive
Perfect your layout: I like to make sure that my furniture is set up properly for the space. When we are having people over to sit down and eat, I like to pull out our dining table to make it more accessible but when we are hosting something more relaxed, I push it against the wall to create an easy space to place food and/or drink. Same with the chairs – I try to make our small space feel as functional as it can for that night.
Have a designated drink area: Personally, I like to keep the drinks to the kitchen or the outdoor space. That way people have easy access to ice, water, a fridge or a cooler. Drink setup can get messy so I shy away from keeping drinks in the area that people will be lounging / hanging out. Every space is different so do whatever works for you! It's important to remember that the drink area can get crowded so make sure you're not shoving everyone into a corner.
Keep food simple: When it comes to preparing food for other people, I like to stick to what I know as tried and true. I've got a handful of recipes and go to menus that I can make with my eyes closed and are total crowd pleasers. I also have a few local restaurants and store bought items that have never failed me. Feeding a crowd? I like a taco bar, BBQ family style or burgers as they're easy and easily customizable.
Set the mood: Are you having a low key dinner party? Dim the lights, throw on some classical music and light a nice candle. Hosting a morning brunch? Open some windows, add some fresh cut flowers and put on a lively playlist. I'll typically keep fresh flowers around the house, make sure candles are lit and music is on when the first guest arrives.
Have a drink yourself: There is nothing more awkward than going to someone's home and they're not eating or drinking! Set the tone with the style you want to have. When I host people, I like to kick my shoes off, pour a glass of wine and make my guests feel as comfortable as possible. After all, aren't we here to have a good time?
Speaking of drinking, I recently tried out Winc and want to share a few things with you. Winc is a monthly subscription service that allows you to sample new wines and expand your palate. You take a simple 6-question quiz to help the team understand your taste better and then they send you a box of wine chosen to match your palate. Once you taste the wine, you rate them to provide feedback to the team so they know what to send next time. If you want to try Winc, click here to access  my $22 discount + complimentary shipping which comes out to 4 bottles of wine for $39! This would be a great gift for any wine lovers, by the way!
Thanks to the team at Winc for sponsoring this post. Though I was gifted the wine, thoughts and opinions are my own.