Hello and Happy 2019! I must admit, it was very relaxing to take the past week off and sort of do a blogging "detox"…I hardly posted on social media, barely read any blogs and didn't even open my own site. I need this type of rejuvenation period at least once or twice a year so that I can take a break, gather my thoughts and come back refreshed and ready to go! Starting next week I will have a lot of great new travel content every Wednesday, including various hotel reviews, city guides and tips & tricks among other things. You can also be sure to visit my Travel Guides section or search for a particular destination as I have 50+ posts on that page.
As I do the first of every year, I like to highlight my travel goals (2017, 2018). While my actual travel "wish list" is about 100 times longer, I have a couple little things called a job and money to worry about, so these "goals" are a bit more realistic and the top five places that I think I can (hopefully) swing. So, without further adieu I want to share with you my top five for 2019. Two are already booked, one in thisclose to being booked and the other two are still on my "I hope I can find enough vacation time to pull this off" list.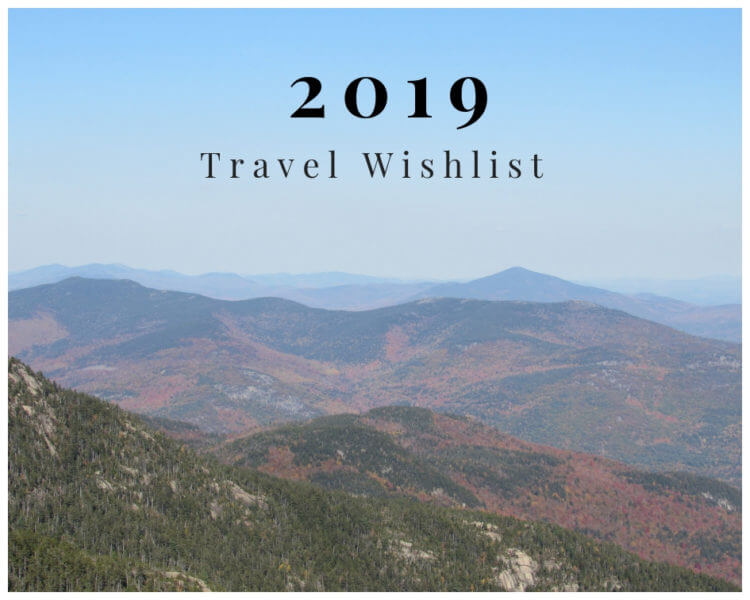 COPENHAGEN
I'm not sure why but Copenhagen, Denmark has been high on my list for quite some time. Perhaps it's the picturesque colorful row homes along the waterfront or the idea of frolicking around the city in the snow, but it has always given my the impression of a charming, old world-feeling European city. I absolutely love London, Paris and Reykjavik and so I imagine that I will love this city as well! A fellow travel-loving gal pal of mine (who I visited in Dublin last May) is meeting me over there and the two of us will be spending four nights there in early April. The weather should be transitional so we are keeping our fingers crossed for warm-ish weather, but either way we have a lot of places on our list.
ARUBA
Every year, around mid-March, I get a serious itch to head somewhere warm. We are typically three to four months into a cold, dark Boston winter and the seasonal depression hits hard (it's no joke here in New England, y'all!). Back in 2016, I went to Panama with some girlfriends but other than that, I haven't planned ahead enough have a warm weather trip on the books. Well, not this year! My husband and I booked a long weekend to Aruba in late March. I have heard nothing but outstanding reviews about this southern Caribbean Island – from the beaches to the people to the restaurants…everyone I know just raves about it. I'll be sure to provide my feedback once we're back home.
PORTUGAL
Over the past 10 years, I have been fortunate enough to visit Europe over 10 times and have been to 11 countries. I have gone white water rafting in Switzerland, bike riding around Amsterdam, winery hopping in Italy and street wandering in Paris, to name a few. Portugal is the one country that I have yet to visit but keeps popping up on my radar! I followed along when Abby went in 2017 and then when Merritt went in 2018, I really got the itch! The terracotta roofs, the colorful homes, the winding cobblestone streets – Portugal looks stunning! Not to mention the incredible wine, food and ocean front views. I am hoping that I can swing a 5-7 night trip in either June or July to the beautiful country of Portugal, especially the cities of Porto and Lisbon.
BERMUDA
Ahh Bermuda…the island that has been on my travel wish list for the past five years of living in Boston. It's so close (only a two hour direct flight) yet I have yet to be able to go. Because the island is at peak climate in Summer, I am usually spending my weekends in Boston, on the Cape or on the Vineyard. The white sand beaches, crystal clear water and pink flamingos have always been a big draw for me to Bermuda but it is quite pricey. Everyone who I know that has been compares it to Switzerland or Iceland – basically prepare yourself for a very expensive weekend. Nonetheless, it is one of the places that I would like to visit while I live in New England so it remains high on my list.
KENYA + TANZANIA
It's no secret that our 2017 honeymoon trip to South Africa was a highlight of my life. The trip remains as my all-time favorite vacation with nothing else even coming close. Going on a safari had been my #1 bucket list item for my entire life and being able to experience it with my husband was just icing on the cake. That said, we both have had a huge desire to return ever since we left. This time we would like to spend 10 days witnessing one of the last great migrations left in this world – in the Serengeti. The ideal time to go is late August or September so we are aiming for the weeks around Labor Day. This trip is, of course, very expensive and requires a lot of time off of work so if the stars align and we can make it work, you can bet your bottom dollar that we will be heading back to Africa in 2019!
What's on your 2019 travel wish list?